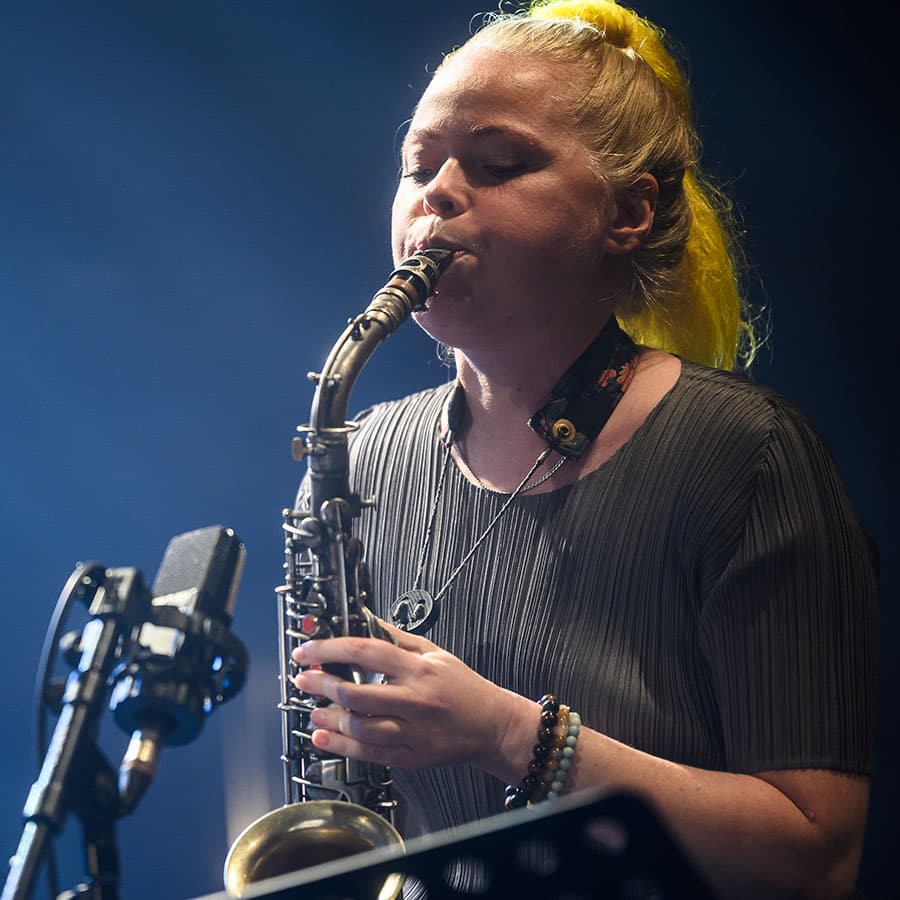 For this 36th edition of the Vilnius Jazz Festival, Antanas Gustys, creator and artistic director of the event, has concocted an eclectic program featuring Lithuanian, European and international artists.
In 1987, after scouring the festivals of various Eastern Bloc countries, Gustys decided to create a festival in the Lithuanian capital, dedicated to contemporary jazz played by local musicians such as saxophonist Petras Vysniauskas. Having become increasingly international since the country's independence, the festival has never deviated from its artistic line, attracting a loyal audience of three generations who are curious about new things and trust the artistic director's choices.
This year's festival kicks off with Fleitu 3, a highly original Lithuanian group: three flutes played by two women and one man musicians, offering a soaring, meditative sound whose undulations occasionally give way to a melody supported by the threaded sounds of the other two flutes. From the song of whales to the chirping of birds and the sound of wind in the trees, the three flautists conjure up an impressive palette of sounds.
This is followed by two blowers who know each other well: Lithuanian Liudas Mockunas and Swedish Mats Gustafsson. The aesthetic is distinctly more free. Gustafsson, on flute and clarinet, and Mockunas, on tenor, play with contrasting tessituras, and triturate the sound of their instruments. Then Mockunas switches to contrabass clarinet, from which he draws telluric tones and a beautiful solo that makes the instrument sing in an unusual way. In the meantime, Gustafsson has switched to electronics before returning to the flute, while his partner picks up a clarinet, resulting in a fine high-pitched duet. Mockunas then delivers a furious solo on soprano sax, soon joined by Gustafsson on baritone sax. Then the two blowers are joined by Tom Blancarte (b) and Christian Windfeld (dm), and the quartet continues to explore uncharted sonic territory, alternating sweetness and fury.
The following day, another Lithuanian, drummer Marijus Aleksa, takes the stage solo.
On a set of tuned toms, he begins his solo with the mallets in an increasingly rapid rhythm, varying the power of his strokes. It's both rhythmic and highly melodic, and we can't help but admire the sense of construction of this solo, which evolves by integrating various bells and then cymbals. This is a very interesting drummer-percussionist to discover, even if his occasional use of electronics may leave one indifferent.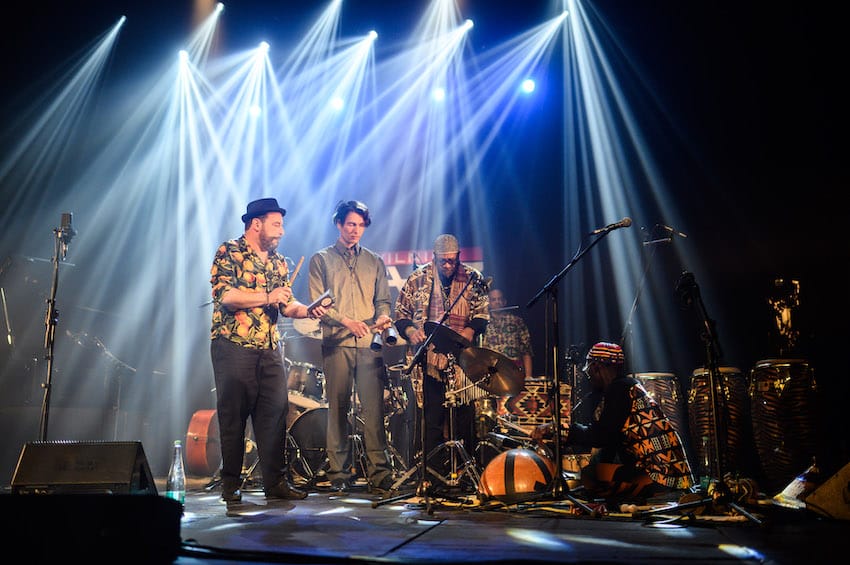 ©Photo Vygintas Skaraitis / Don Moye 5tet
With Don Moye and his quintet, we're in a completely different mood: it starts with gongs and voices coming frombackstage, before the musicians enter the stage one by one, each adding a rhythm to the previous one. It's very visual and very African in its melodic approach. Then the trumpet makes a sort of call that becomes a melody supported by the piano, drums and double bass. This is clearly timeless jazz, where the chabada is king. Moye knows his classics like the back of his hand, and demonstrates this in a series of 4/4s with his young bandmates. The musicians periodically return to percussion, and it's clear that Moye has decided to take us on a journey through contrasting soundscapes where rhythm is always king, but where melody also has its place in a festive atmosphere that owes much to Africa.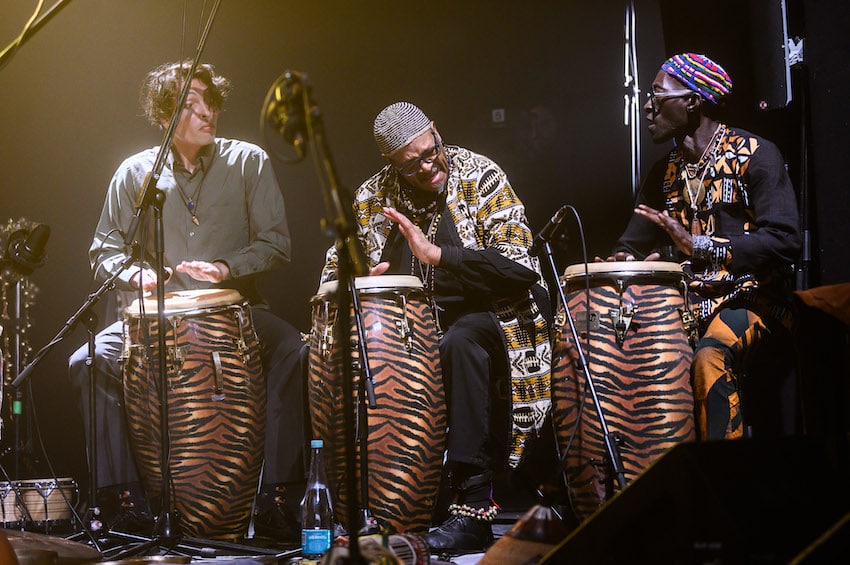 ©Photo Vygintas Skaraitis / Don Moye 5tet
On the third evening, American pianist Brian Marsella takes the stage alone, starting off gently with increasingly sonorous chords in the lower registers. Then a melody takes shape, and clusters and pearled notes in the treble disrupt the whole, alternating with the melody, which has become swift. The pianist plays essentially in the forte, with a sometimes brutal touch that contrasts with the pearled treble.
Then it's back to the melody, majestically slow, with Hebraic accents that remind us that Marsala played a lot with John Zorn. Invoking the shadow of Thelonious Monk on several occasions, and even evoking stride piano, he is a major pianist with an impressively varied language that transcends eras.
He is followed by an international trio featuring musicians from three continents: British blower Shabaka Hutchings, Moroccan guembri player and singer Majid Bekkas and American drummer Hamid Drake.
The flute kicks off the concert, soon supported by the guembri and drums, which quickly impose a hectic rhythm while Bekkas chants lyrics in Arabic. Against this backdrop of Gnawa music, it's the guembri that leads the way, with its art of bouncing in the lower register. His two companions closely follow this shifting base, over which the flute unfurls harmonious twirls, while the drums play a sort of continuous solo as accompaniment. The music is very intense, evolving into an obsessive, dance-like rhythm that leads to trance.
The afternoon of the following day was devoted to young Lithuanian jazz groups, one offering a very free aesthetic, the other a slightly muddled jazz rock, the third flirting with electro in a sometimes soaring, sometimes noisy ambience. The most original was tuba player Mikas Kurtinaitis, who played a noisy, playful solo with several instruments linked by pipes.
The evening began with the Trio North by Norway-based Danish saxophonist Mette Rasmussen. The saxophonist's cutting alto tone and dazzling phrasing are reminiscent of Ornette Coleman. Accompanied by Ingebrigt Haker Flaten, a bassist of bouncing solidity, and Olaf Moses Olsen, a drummer of power and finesse, the leader leaves plenty of room for silence in a meditative discourse that becomes denser and angrier. The alto's low-pitched descents are impressive, followed by high-pitched spun tones. The saxophonist has a solid rhythmic base, and a stop chorus full of rises and falls, growls and moans confirms this. This trio has a great sense of sound architecture and energy management, not least on a dance theme of majestic musicality.
Louis Sclavis's quartet, which follows, begins in a rather meditative way, with the leader on soprano sax on music that at first sight seems very written. Sclavis then lets his partners express themselves, including Sarah Murcia on double bass for a solo of great depth, punctuated by Benjamin Moussay's delicate chords. The leader then returns to the forefront for an orientalizing solo, followed by the pianist in a percussive vein only accompanied by Christophe Lavergne's drums. Then it's the bass clarinet's turn to take center stage on a theme with a crystal-clear melody. One of the hallmarks of this quartet is its enormous group sound, to which each of the protagonists contributes fully, especially the double bass. Another striking feature is the space Sclavis leaves for his young partners. A beautiful ballad on piano confirms this, and the bass clarinet is extremely tender, as in many other themes where melody is king.
An international quartet kicks off the final evening with a lyrical piano/trumpet duet, soon joined by the bass and leader Mario Costa's and drums. A pointillist piano solo follows that of the more voluble trumpet. The next track is more introverted, with the drums playing a colorist role in harmony with the trumpet, until Bruno Chevillon makes his double bass sing in a resplendent solo. Then comes an uptempo tune where Benoît Delbecq plays an electric keyboard while Cuong Vu's trumpet tirelessly explores harmonies. This is followed by a sumptuous ballad in which the magnificent sound of the trumpet is brought to the fore. A surprise followed: Liudas Mockunas was invited to join the quartet, bringing his boundless energy and devastating tenor sound.
Lakecia Benjamin has a flair for stagecraft, to say the least, and it's by haranguing the audience that she begins her show, dressed in a silver outfit. This is followed by a melodic-rhythmic flow of alto saxophone supported by a first-rate rhythm section. This is followed by a spoken word tribute to women in jazz, in which the saxophonist quotes Angela Davis before launching into a frenzied improvisation. The next track is clearly funky, in a vein reminiscent of Maceo Parker. Then comes "My Favorite Things", a tribute to Coltrane that recaptures much of the energy of the original version, including a duet between the saxophonist and E.J. Strickland's frenzied drums, followed by a monumental piano solo. "Amazing Grace", preceded by a dishevelled bluesy stop chorus, adds a spiritual dimension to an emotionally rich concert. Lakecia Benjamin is clearly into excess, and this overflowing generosity galvanizes the Vilnius audience, who give her a real party. The 36th edition of the Vilnius Jazz Festival comes to a close with an eminently festive finale.
©Photo cover by Vygintas Skaraitis – Mette Rasmussen
©Photo Header by Vygintas Skaraitis – Hutchings Bekkas