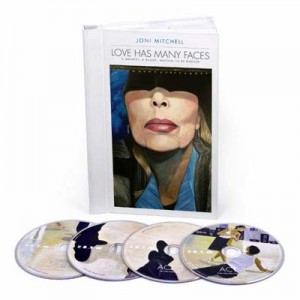 Twenty-odd albums in a 40-year career, summed up in 53 tracks written and recorded since 1968, the year of her first album, "Blue".
Roberta Joan Anderson, aka Joni Mitchell, fulfills our every need with "Love has Many Faces", released in late 2014. Besides the four CDs,the boxed set includes a 50-page booklet of the Lady's commentary on the recording sessions, the lyrics to all the songs she selected herself and the detailed list of all the musicians on each track, making us appreciate the Canadian singer's line-ups, drawn from the best rock and jazz musicians on the planet.
A dream come true for fans and the perfect gift for those who haven't yet experienced one of the greatest composer/singers of 20th century music.
---
Joni Mitchell « Love has many faces » (Rhino/Warner)
Une vingtaine d'albums en 40 ans de carrière, le tout résumé en 53 titres composés et enregistrés à partir de 1968, année de son premier opus « Blue ».
Roberta Joan Anderson, alias Joni Mitchell, nous comble avec « Love has many faces » sorti fin 2014. Le coffret comprend, outre les quatre Cd's, un livret de 50 pages avec les commentaires de la Dame sur les séances d'enregistrements, les paroles de toutes les chansons sélectionnées par elle et la liste (line-up) détaillée de tous les musiciens présents sur chaque titre. Où l'on réalise les différents castings mis en place par la canadienne constitués des meilleurs musiciens de la planète rock et jazz.
Un rêve pour les fans, un cadeau idéal pour celles et ceux qui ne connaitraient pas encore une des plus grandes compositrices/chanteuses de la musique du 20e siècle.