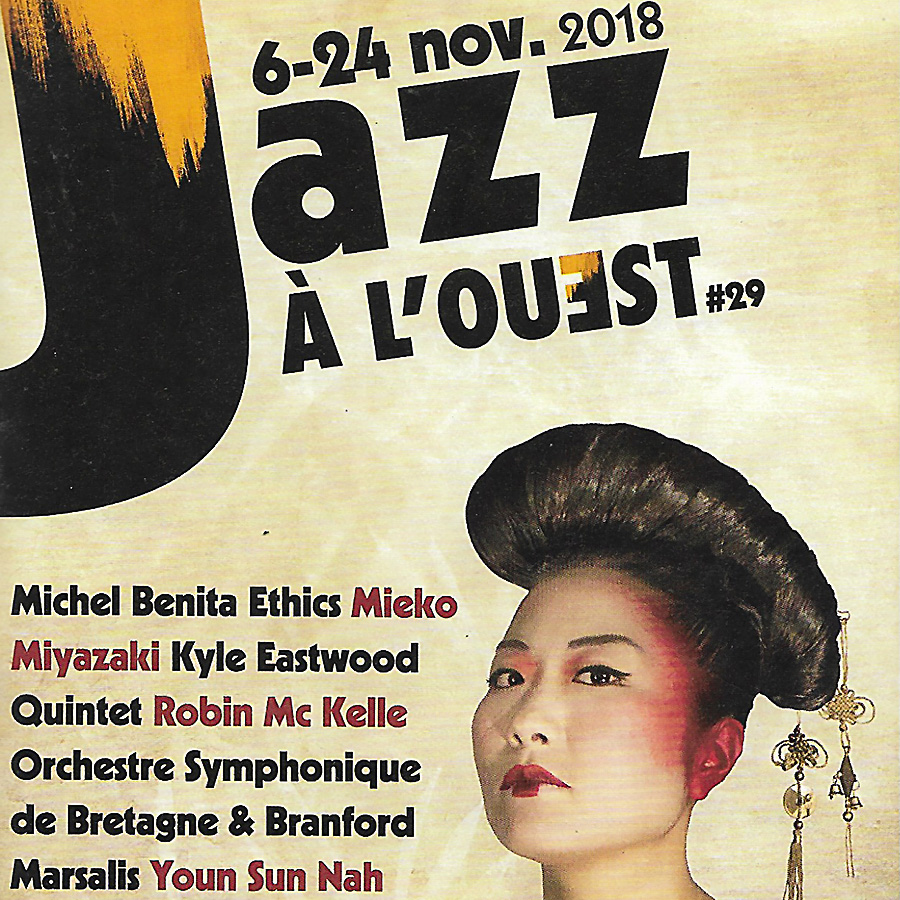 29th edition – More than 20 concert venues in and around Rennes (France) – some forty events – headliners: Branford Marsalis, Youn Sun Nah, Kyle Eastwood, Robin Mckelle, Michel Bénita – different forms of expression: concerts of course, but also dances, calligraphies, tattoos, conferences ….
Through the report of some of the concerts, I invite you to visit this festival.
To start, the  Orchestre Symphonique de Bretagne invites Branford Marsalis to perform a work by Guillaume Saint-James, composer and saxophonist himself.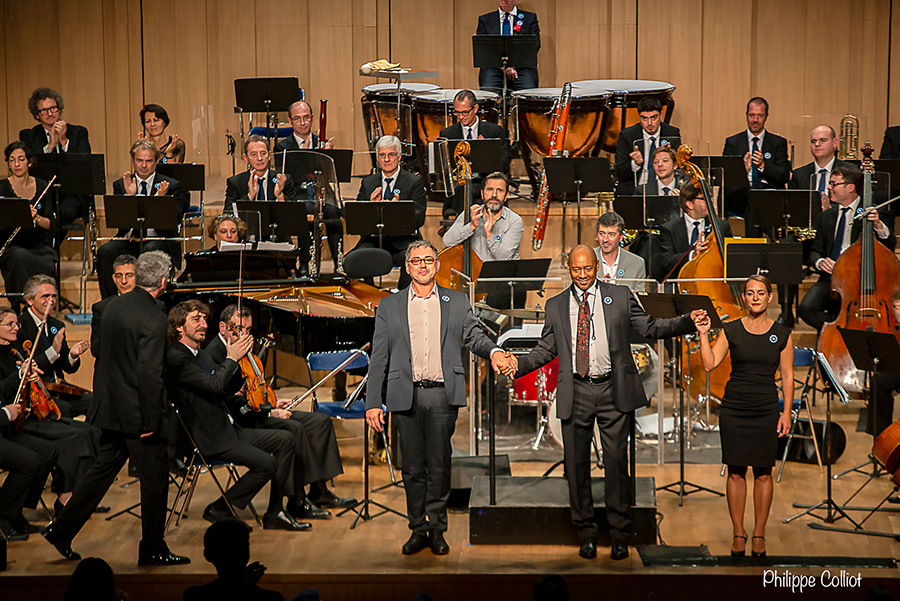 This work entitled "Black Bohemia" was written especially for Branford Marsalis in tribute to James Reese Europe (1880-1919), the first black composer to record in the studio. This work evokes the arrival in Brest, of black American musicians during the entry into the war of the United States in 1917. Guillaume Saint-James defines this piece as a concertante suite composed of paintings with a solo saxophone … The work is in three parts. The first, "Origins", emphasizes the influence of traditional and popular music … The second movement "War" deals with the war in a fairly modern, heroic and serious at the same time … In "Legacy", the last Part, the soloist is more present and plays in an improvised spirit.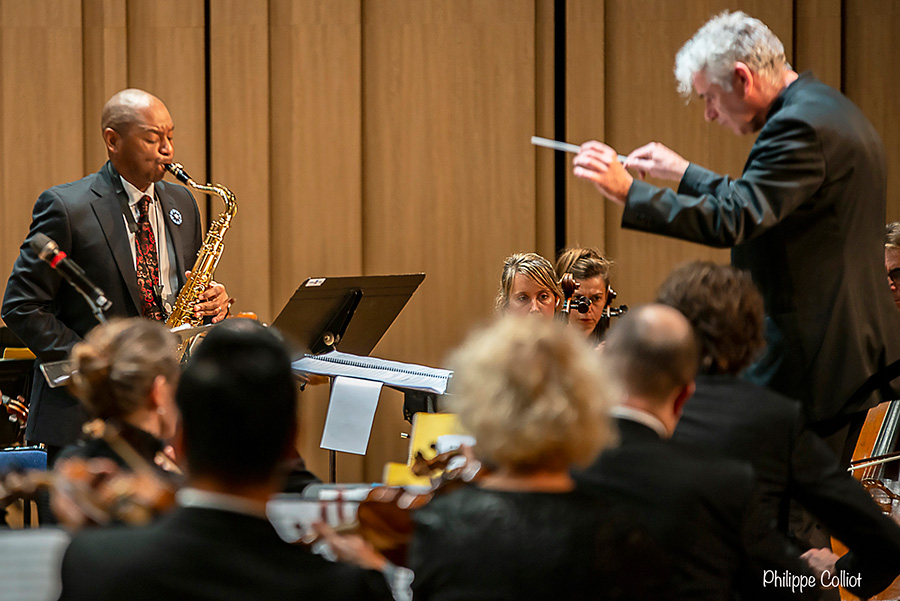 It was therefore at a world premiere (!) that we were able to attend, this November 11th. O.S.B. was able to serve Branford Marsalis and vice versa, highlighting the quality of the composition where the various currents of American music of the early twentieth are present. The paw Guillaume Saint-James brings all its modernity while keeping the spirit. Beautiful work.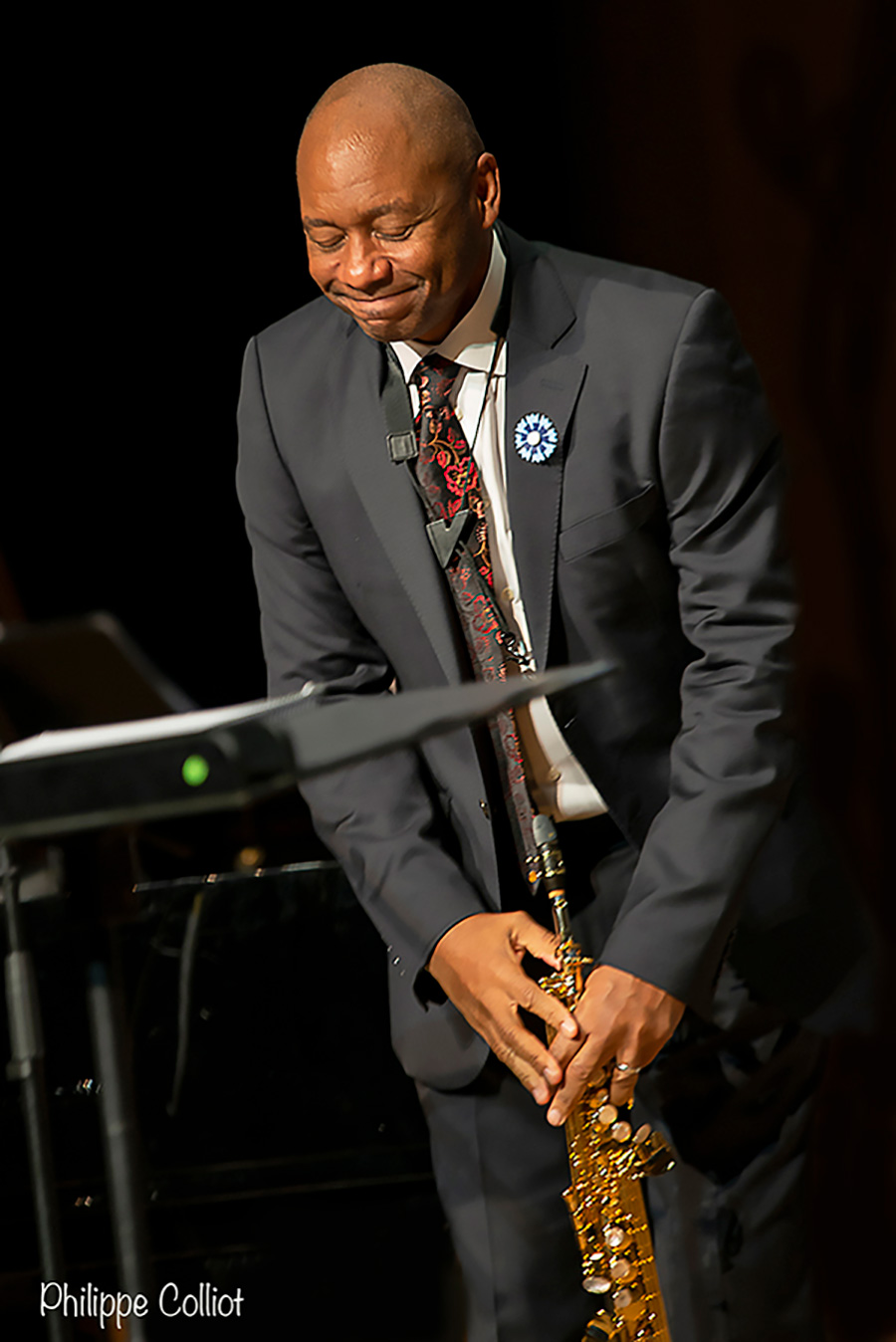 Tuesday November 14, the Carré Sévigné at Cesson, welcomes Youn Sun Nah. The hall,  670 seats is full!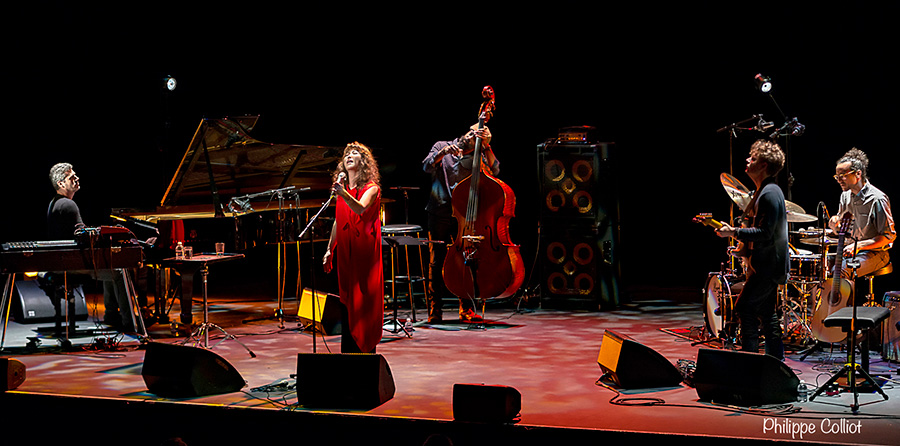 With a repertoire almost entirely renewed and a new crew of musicians, the Korean diva exposes many of the tracks present on her latest album She Moves On, with covers of Paul Simon, Lou Reed, Jimi Hendrix among others.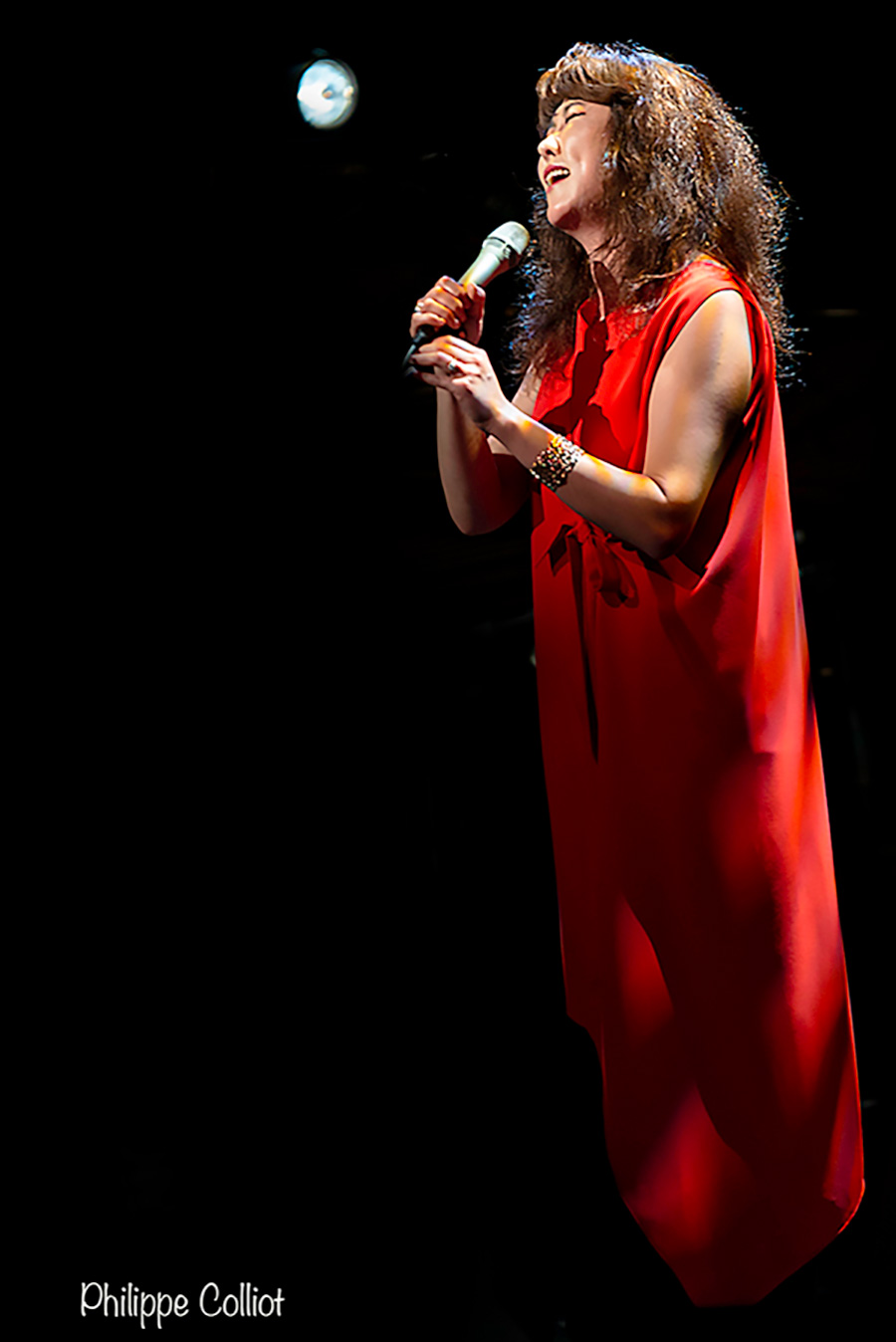 Finaly, a concert more pop-rock than jazz, with an impressive interpretation of the "Jockey Full of Bourbon" from Tom Waits. Not to mention the "Halleluja" by Leonard Cohen. The concert will end with a reminder, the song of Léo Ferré "Avec le Temps". A voice always captivating and of a great purity, but I have at the end the nostalgia of her previous album with Ulf Wakenius and Vincent Peirani.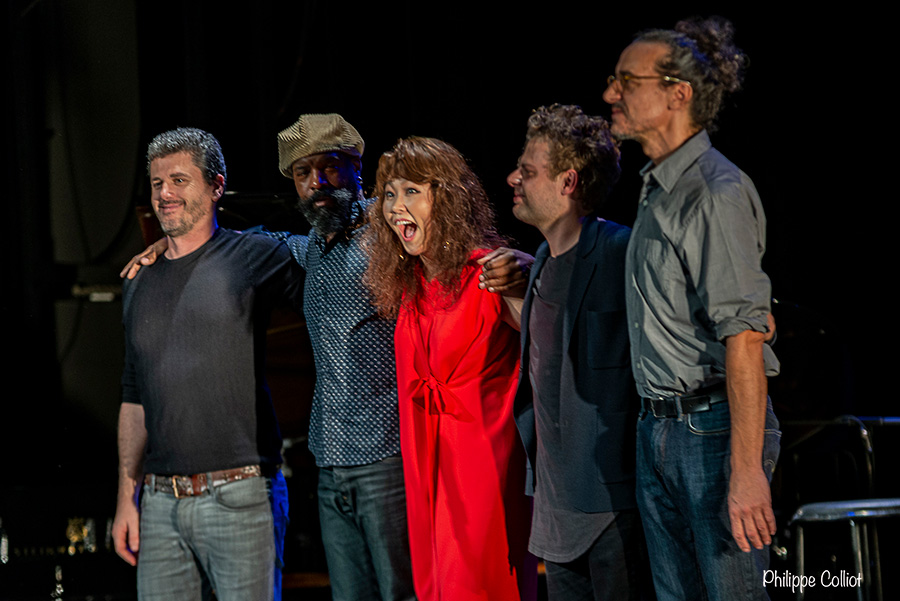 Youn Sun Nah with Frank Woeste, piano, Brad Christopher Jones, double bass, Tomek Miernowski, guitar and Dan Rieser, drums.
Wednesday November 15 : It is at Jazz à l'Ouest HQ: MJC of Bréquigny, for two concerts.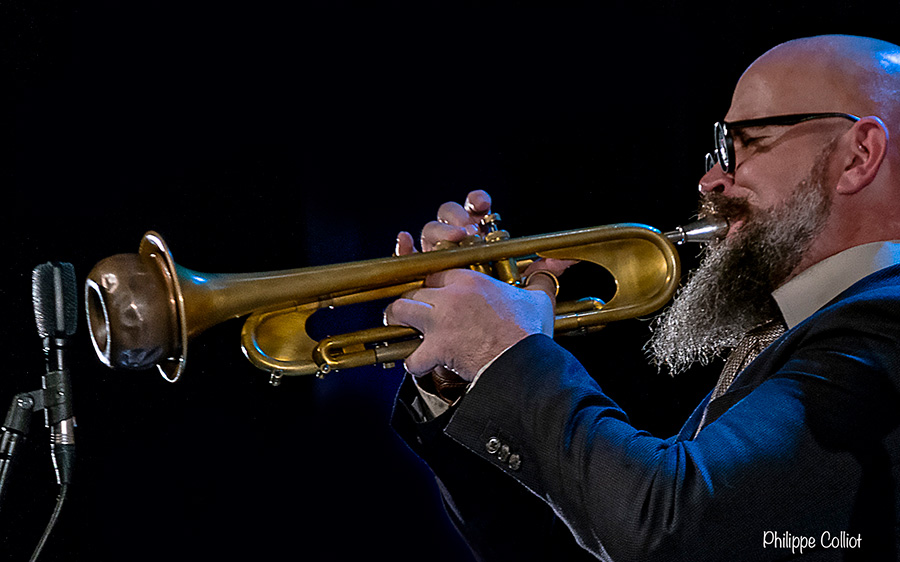 To Chet with Love, as its name suggests is a band composed of six Rennes musicians who pay tribute to the trumpet player who disappeared 30 years ago while taking again and appropriating standards mainly present on the album "Chet Baker Sings".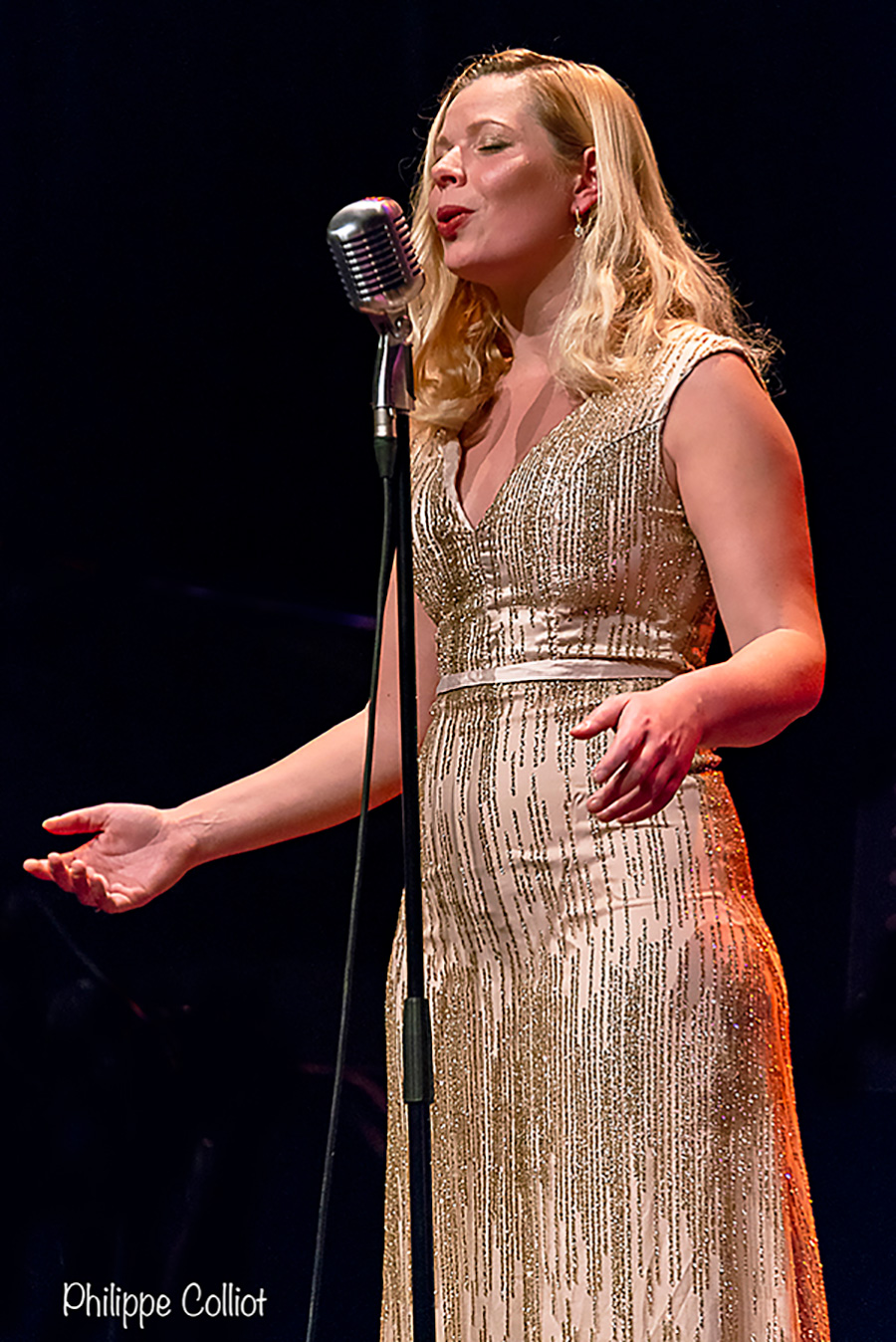 With Anna Stevens' pure voice, Benoit Gaudiche's trumpet, the excellent pianist Eric Richard,  Vincent Robineau's guitar, Olivier Pellan's chopsticks and Basile Tuauden's bass, tt was with great pleasure that I was able to listen again to these classics, whose training respected the spirit. During the recall, Benoit Gaudiche was also able to show his talents as a singer.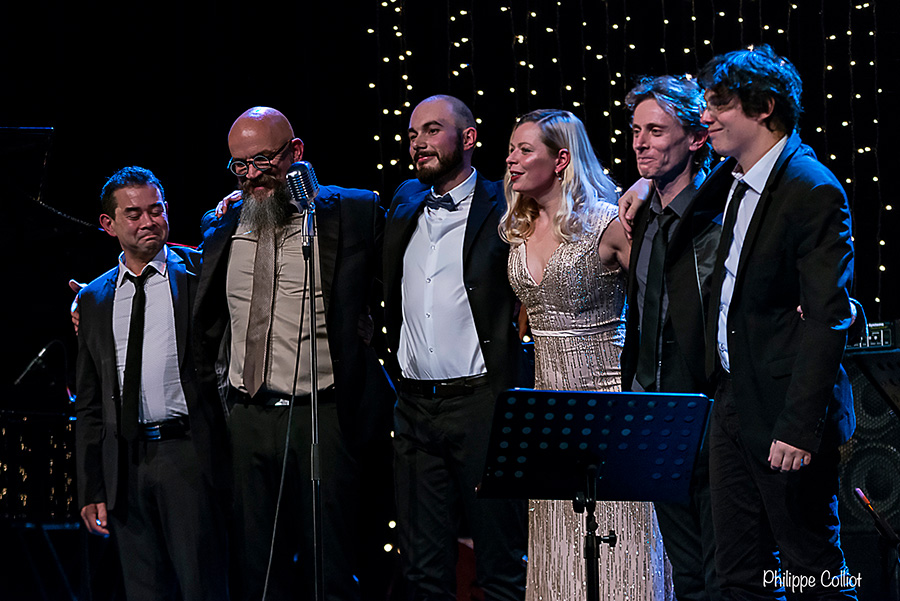 The second half of the evening was hosted by Chris Hewingway, an American saxophonist who was almost unknown here, but highly recommended by Branford Marsalis. (Chris Hemingway had replaced Marsalis as soloist to present "Black Bohemia" William Saint James' work in Brest).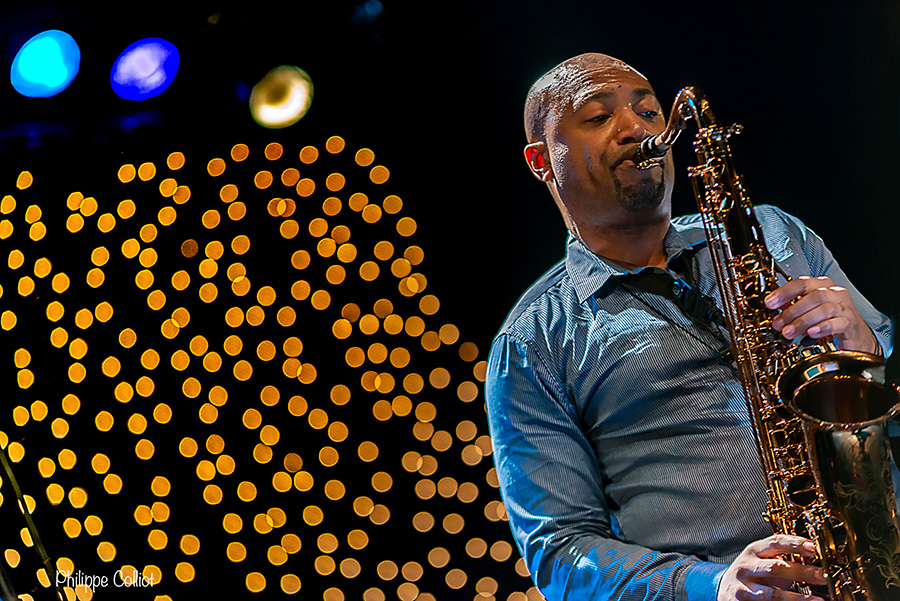 Accompanied by solid musicians from Rennes, Chris Hemingway proved that his "godfather" did not recommend a second-rate musician. Power of the show, superb tenor sound, the saxophonist has given us high chorus chorus on a directory of standards.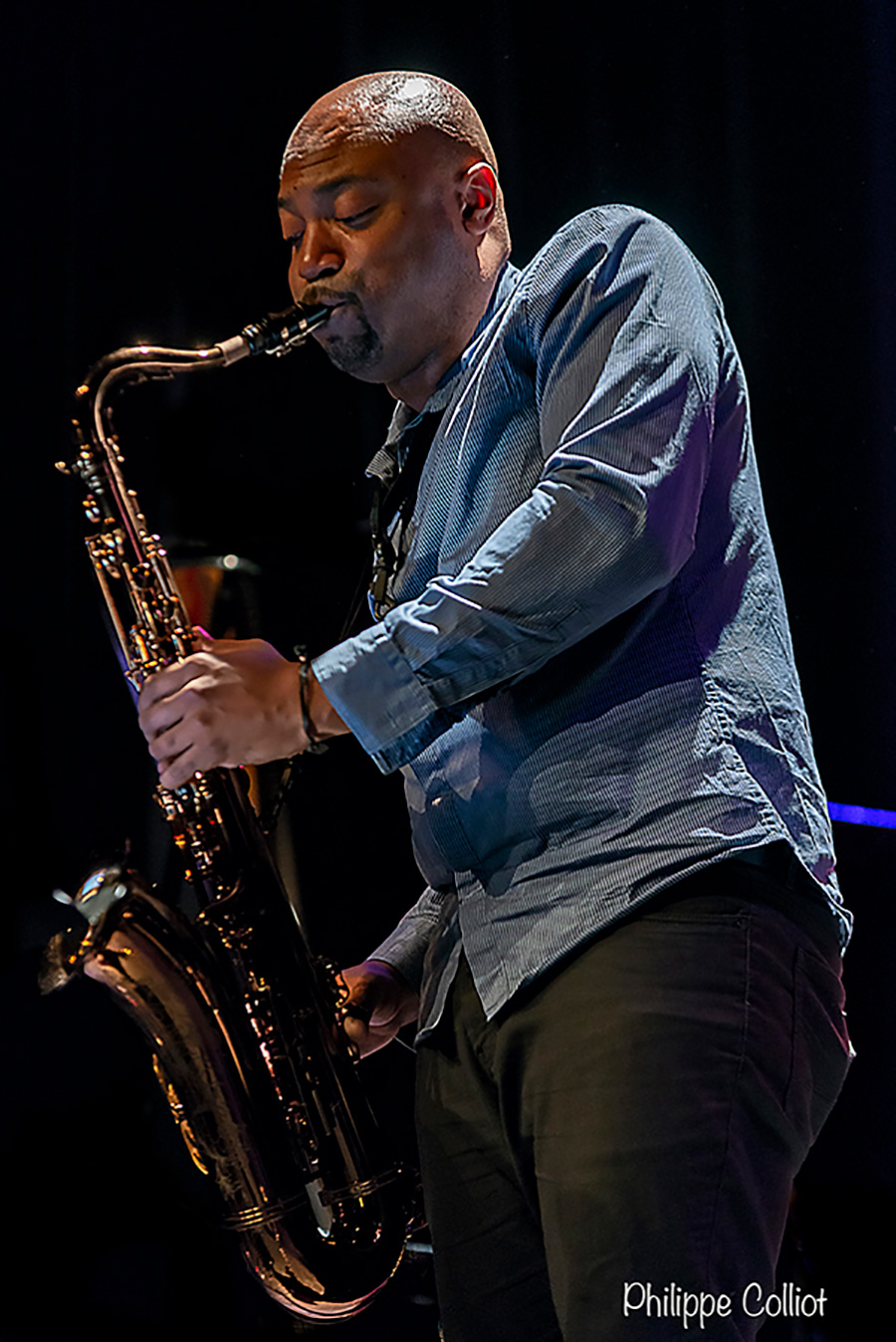 The Rennes musicians could also show all their talents: Pascal Salmon piano, Erwan Boivent, guitar, Cédrik Alexandre double bass and Stéphane Stanger on drums.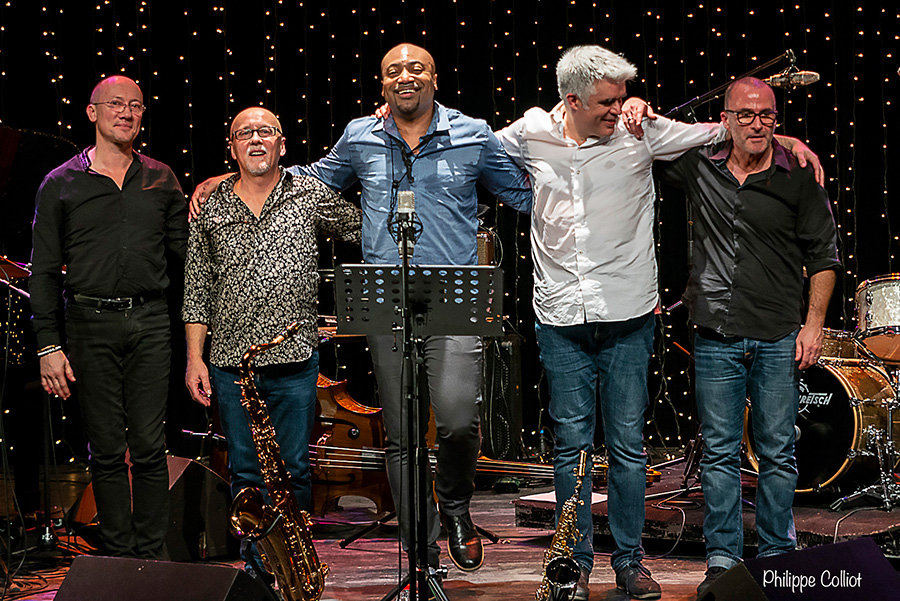 Thursday Nobember 15 , direction Mordelles at l'Antichambre, where Amocas association, who had a partnership with Jazz à l'ouest, welcomed Kyle Eastwood and his Quintet. Again, no place for latecomers.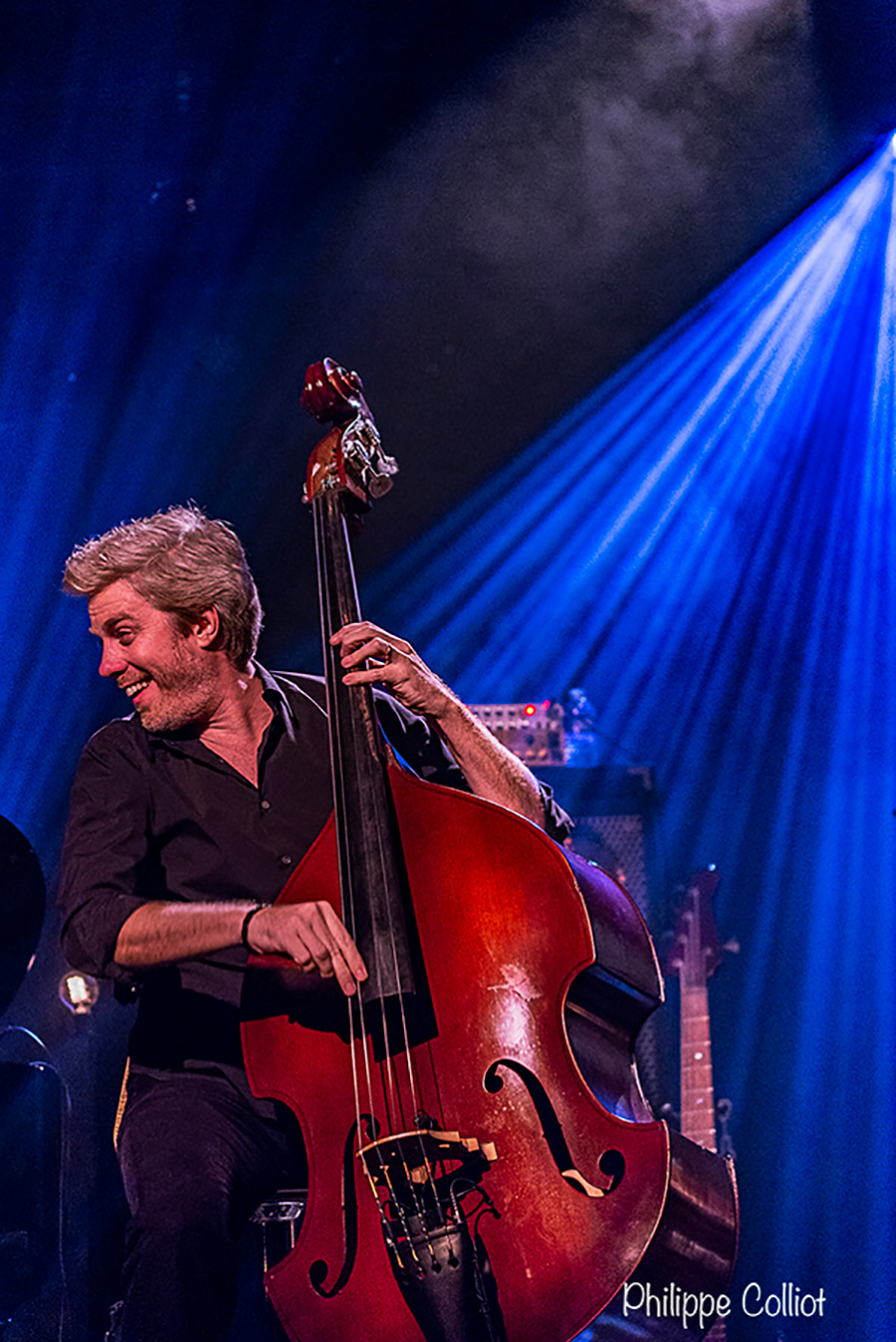 It was the first time I attended a Kyle Easwood concert. A well-honed band with Andrew McCormack on piano, Quentin Collins on trumpet and bugle, Brandon Allen on tenor saxophone, Chris Higginbottom on drums and of course Kyle Eastwood on double bass and electric bass.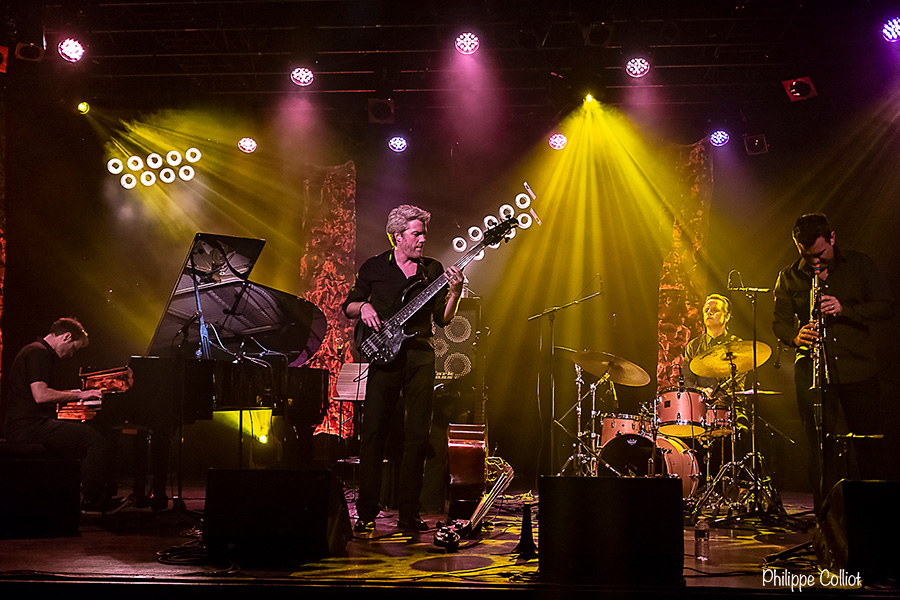 With a repertoire smelling good hard bop of the 60s, but also a cover of Ennio Morricone "Cinema Paradiso", superb moment with this trio: double bass, piano, sax soprano. Also a Kyle Eastwood's composition: "Marrakech" that took us to Jemaa el-Fna. In the end, a very nice concert, very clean, with two well sharpened blowers.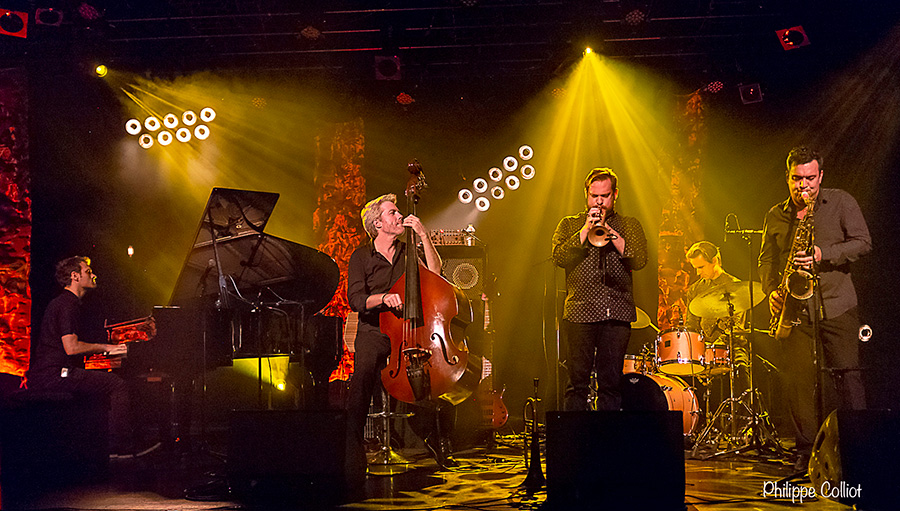 Friday November 6, back to the MJC Bréquigny in Rennes, for two concerts.
The first concert allowed us to hear the trio of a young Breton pianist, Sylvain Le Ray, from the Rennes Conservatoire and currently at the CMDL (Music Center Didier Locwood). Accompanied by Simon Prudhomme on drums and Philémon Régnault on bass, Sylvain Le Ray presented his compositions.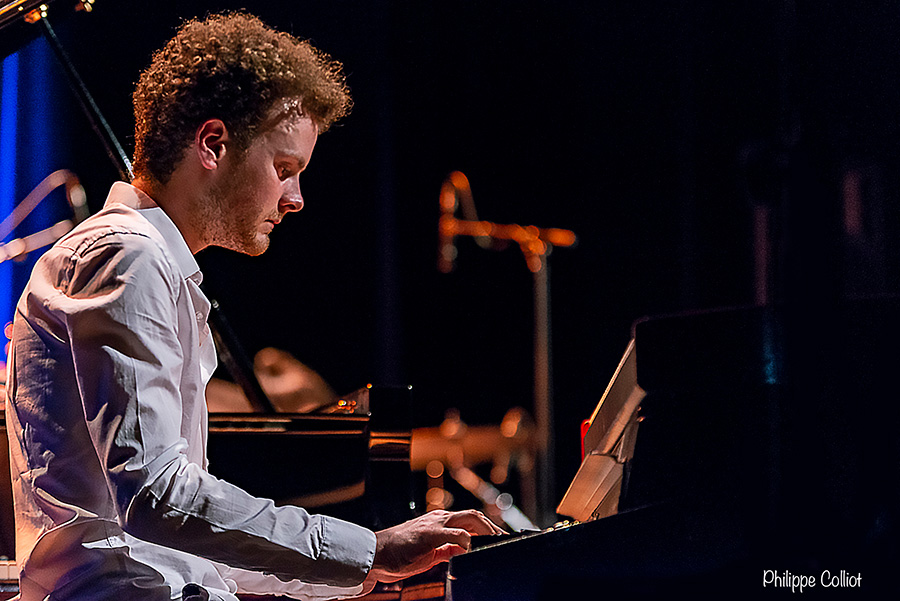 Nourished by many influences (from Brad Mehldau to Brittany folk music), Sylvain Le Ray presents his rich and varied musical universe with very beautiful melodic flights.
The jazz scene in Brittany definitely has many young talents. Sylvain Le Ray, a name to remember!
For the second part of the evening, Robin McKelle and her musicians invest the MJC stage.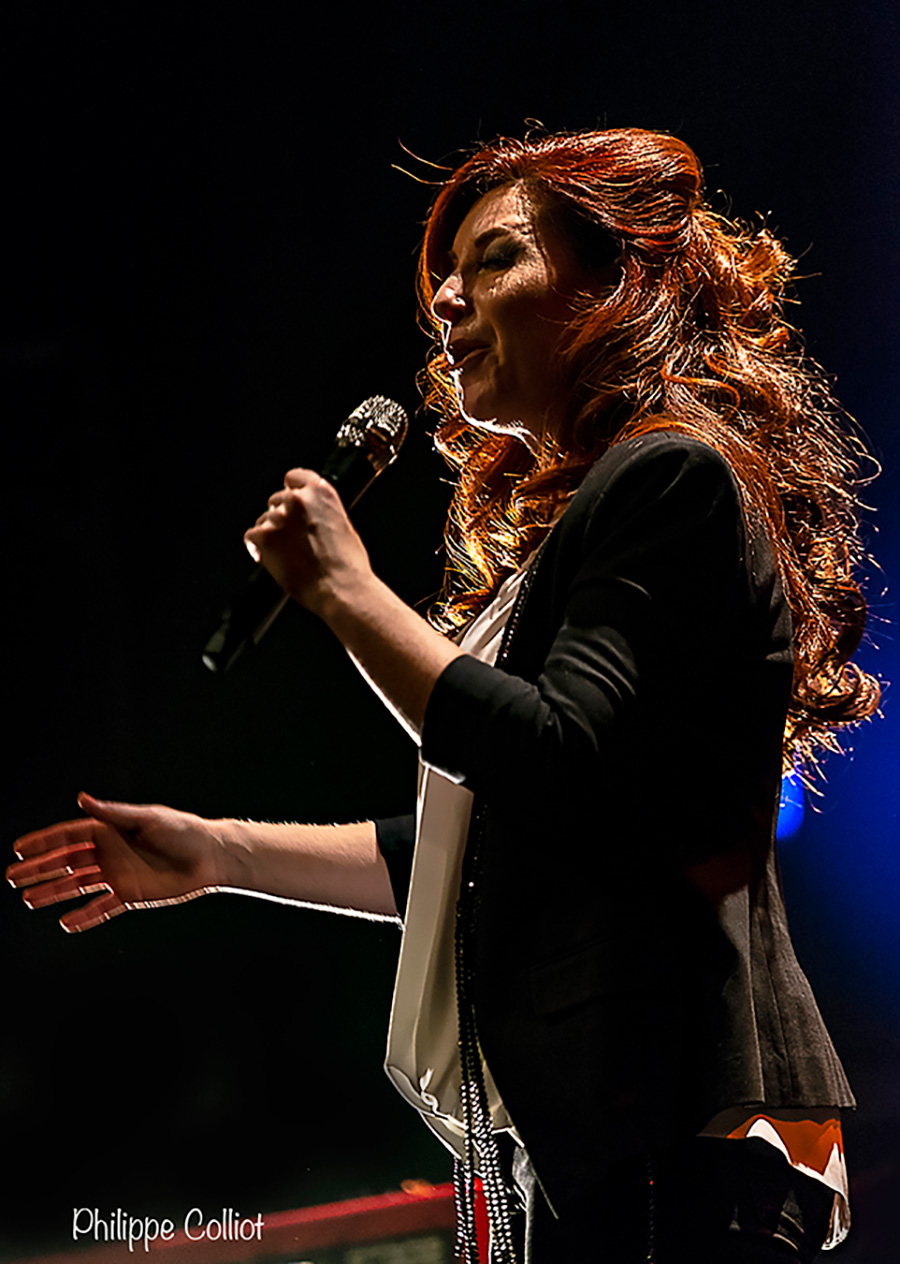 No copper, but a keyboard held by Mike King, a bass by Rashaan Carter and drums by Kush Abadey.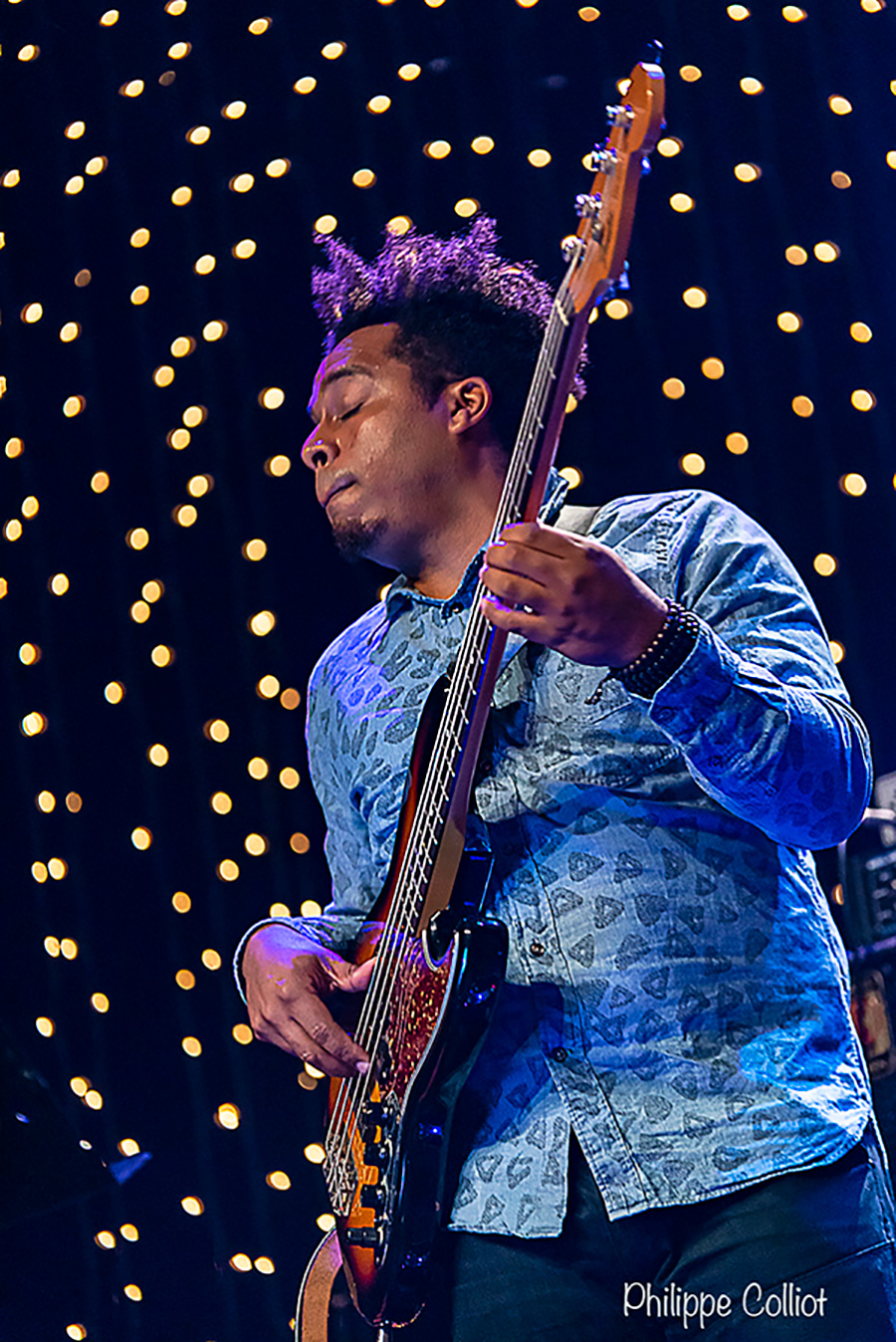 It is essentially the repertoire of his latest album "Melodic Canvas" that Robin McKelle proposed.
Superb voice tinged with soul and blues! Only the reprise of the song made famous by Nicoletta "Il est Mort le Soleil" does not win my adhesion. The texts of her compositions refer to society facts and to her through which she denounces (Immigration, mystery …). Concert requires, Robin Mckelle leaves a beautiful place to his brilliant musicians.
Sunday, November 18, although diverted for blocking the ring road of Rennes by Yellow Vests, I will arrive in time to the MJC Bréquigny to attend the concert of bassist, Michel Bénita, and his band. His new album "Ethics", a world jazz trip to the Country of the rising sun.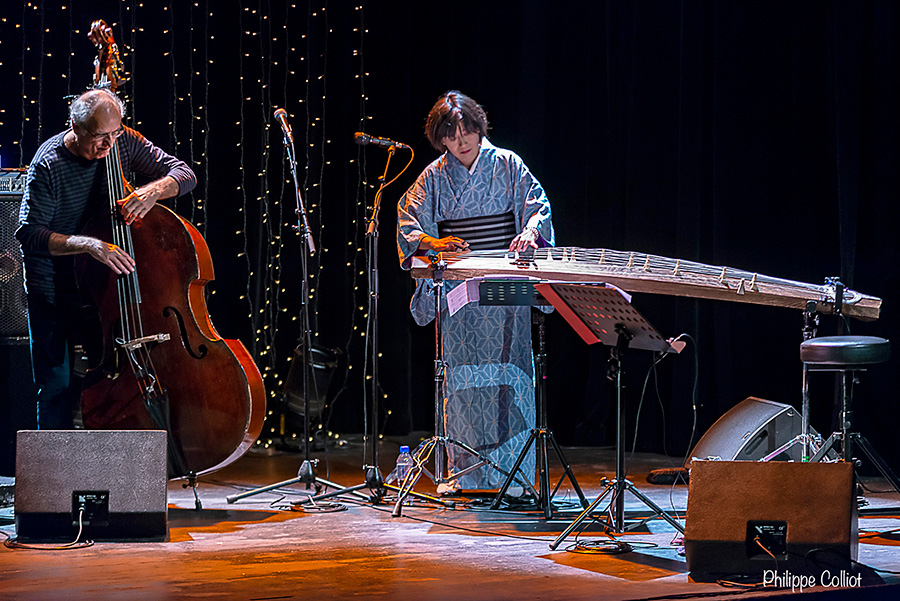 To travel there, Manu Codjia, guitar and Yoann Loustalot's bugle…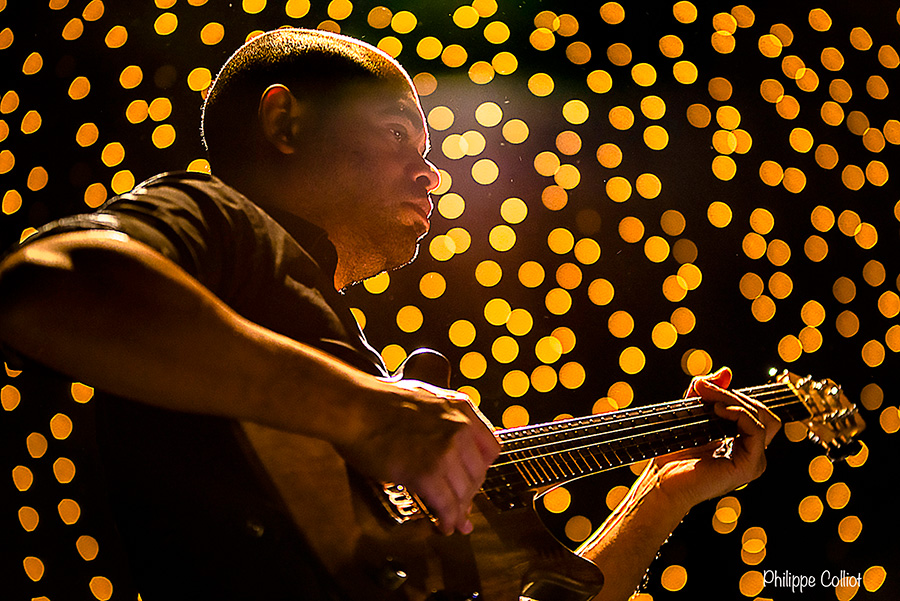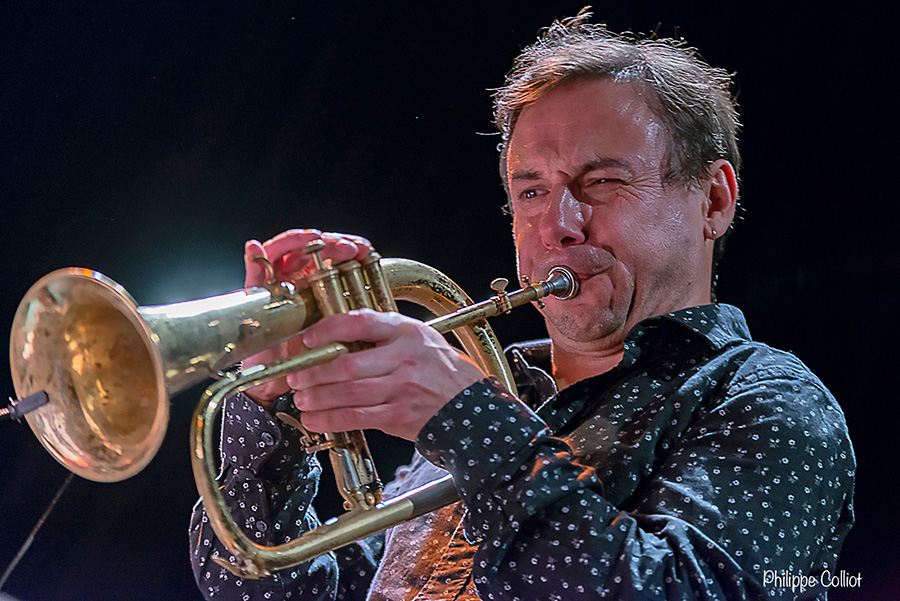 Philippe Garcia, on drums,  Michel Bénita, double bass, and Mieko Miyazaki, koto,  dressed with her traditional  kimono, so that we can imagine the destination ae are traveling to.
The koto is a plucked string instrument based on 13 easels that Mieko calls Eiffel towers. They are moved by the musician to change the chords. The strings are stretched over a long paulownia soundbox, slightly curved. Very nice trip offered by these musicians where the sounds of koto and bugle, serving beautiful melodies, make us take off.
This festival ends here for me.
In conclusion, I wish to pay tribute to the work of the MJC Bréquigny of Rennes, organizer of this festival and catalyst of the synergies of the partners, the rooms, the artists, the volunteers …
See you in Autumn 2019, Jazz à L'Ouest, between November 5 and 23. It will be the 3Oth  edition!