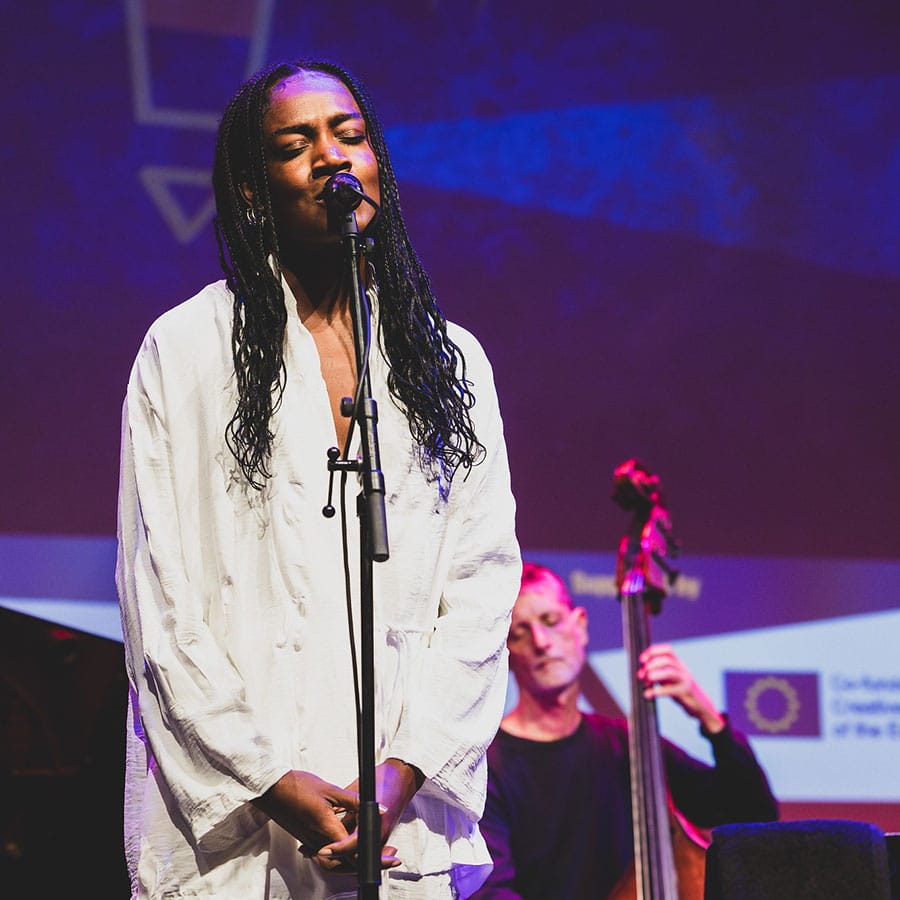 This year, the EJN Conference took place in Marseille at Palais du Pharo, from 14 to 17 September 2023. A year after Sofia and a year before Ghent, Marseille was the venue for this year's European Jazz Network conference.
The EJN is an international association of several hundred festivals, clubs, agents, producers… whose aim is to promote jazz through education and other means. Hence this year's focus on pedagogy through various workshops, debates and speeches. Gathered in the Palais du Pharo, with its magnificent view over the Old Port, several hundred participants were also able to attend showcases by French or French-based musicians selected by the Festival des 5 Continents.
This included a group put together by saxophonist Raphael Imbert, featuring vocalist Célia Kameni: a splendid voice bursting with emotion.  Later, Franco-Syrian flutist and singer Naissam Jalal performed a duet with double bassist Claude Tchamitchian. At once poetic and vigorous, this unprecedented association won over a large audience.
Later, the Papanosh quintet proved a great success with a program inspired by the works of American writer Jim Harrison. A great sense of sound architecture and a totally bluffing group sound are two of the characteristics of this group, each member of which is also a major soloist with his own sensibility.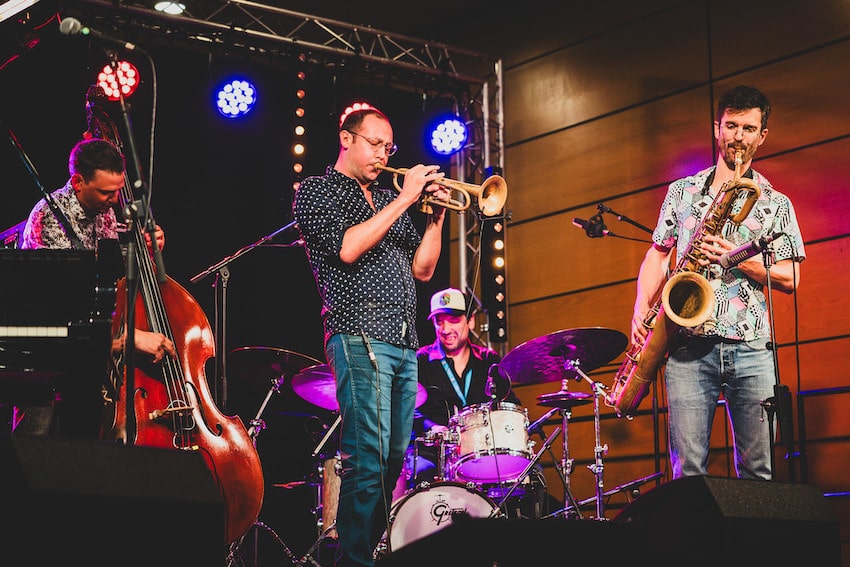 Papanosh – ©Photo Clara Lafuente
The Nout trio (named after an Egyptian goddess) consists of three women playing flute, harp and drums, an original configuration for a music that is often rather minimalist from a melodic point of view, but always poetic and rhythmically tonic.
French-Armenian pianist Yessaï Karapetian, for his part, proposed a crossbred music in which duduk and ney blowers have their rightful place alongside electric bass and clearly jazz drums. His own mastery of the keyboard makes him a major soloist as well as a highly talented composer.
In a completely different style, bandoneonist Louise Jallu revisited the repertoire of Astor Piazzola, treating his themes as jazz standards with a quartet of virtuoso musicians well-versed in the art of improvisation. With a drum-less instrumentation but a strong sense of rhythm, this young woman took us on a new and enchanting journey.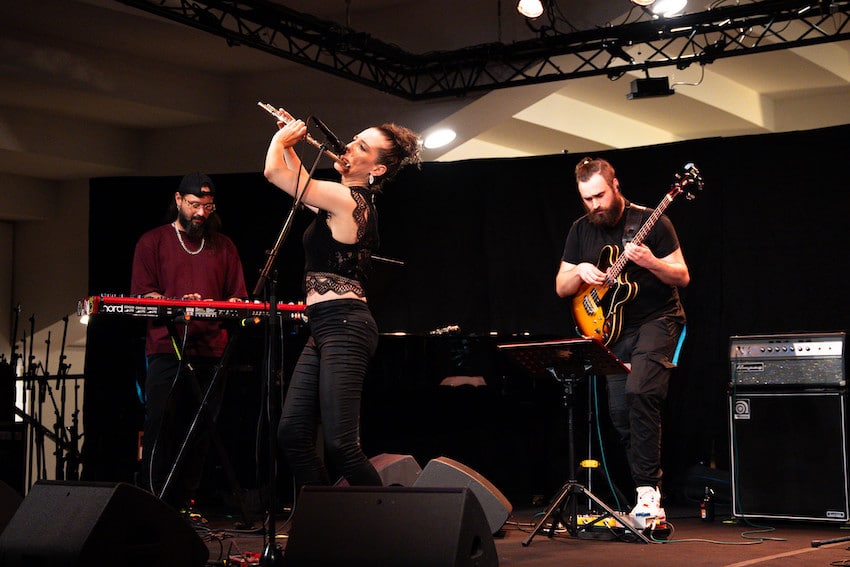 Ludivine Issambourg ©Photo Clara Lafuente
Two other concerts took place at the end of the evening at the Théâtre de la Criée on the Vieux Port: flautist Ludivine Issambourg, surrounded by a trio of keyboards, electric bass and drums, demonstrated her boundless energy, dancing on the spot when she wasn't playing, and proving herself equally capable of nuance. The final concert brought together Michel Portal and a group of European musicians who were old enough to be his children, to perform the leader's typical music, with its own charm linked, among other things, to his improvisations on bass clarinet. But one wondered whether it was necessary for such a concert to bring in a Norwegian guitarist like Eivind Aarset or a Belgian drummer like Stéphane Galland.
Nonetheless, we'd like to congratulate the organizers of these concerts for having offered a wide range of talents from the French scene to an international audience who were able to make a number of discoveries.
©Photo cover by Clara Lafuente – Celia Kameni
©Photo Header by Clara Lafuente – Yeas Karapetian