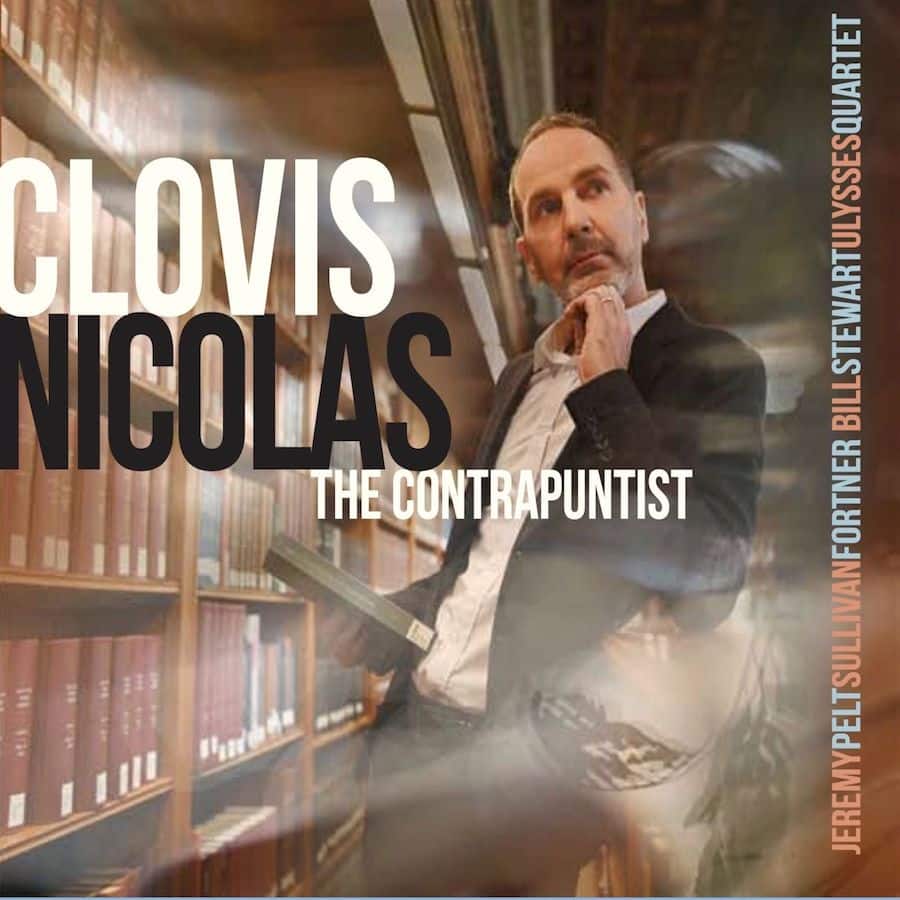 At the interval, sipping his Coke, he greets me warmly and tells a friend: "As it's a different audience, we're going to do the same thing we did for the 1st set!". He's put me on the guest list for the second set, and I prefer it because they've had time to warm up in the first half. I'm really looking forward to Clovis Nicolas' "American" quartet, because in my opinion, along with my main man Tom Harrell, he's one of the most exciting exponents of a neo-hard bop that, when played by many other musicians, sounds distinctly inferior and rather stilted compared to its original 60s version.
This neo-hard bop, which has had the wind in its sails since the 90s, has a perfect right to exist alongside other idioms of living jazz when it is reactivated and renewed by inspired musicians who have this aesthetic at heart. And Clovis is one of them. With the likes of Leon Parker on drums, Jeremy Pelt on trumpet and Simona Premazzi, a pianist I've never heard of before, it's hard to make boring music, and the set gets off to a cool start with Pelt laying out the melody over a swaying rhythm driven by the piano, the leader's bass and Parker's discreet drums.
The latter no longer has the hyper-reduced, hyper-performing set of his early days with Jacky Terrasson's trio, but he still makes do with a fairly economical drum kit from which he gets the most out without the slightest apparent effort. After Pelt's solo, the pianist intones a gentle chorus in the keyboard's mid-range, and you can tell she's a serious customer. The double bass follows with a low-pitched chorus that swings smoothly without trying to make too much of an impact. It's a good idea to start this way, as you can feel the tension building as the themes unfold. In fact, at the end of the track, Parker ratchets up the pressure with subtle polyrhythmic drumming of the highest order.
It's clear that we're in for a treat, and the second track, in medium tempo, confirms this from the outset. Parker plays here with a stick in his left hand and a brush in his right. This drummer, not content with being a formidable rhythmicist, is also a fine melodist, and listening to him accompany his compares is always a treat, not to mention his solos. Discreet drive and dynamic contrasts hold no secrets for him, and you can sense that Nicolas relishes having such a partner in the rhythmic pair he forms with him. Simona Premazzi's solo is totally convincing this time, and Clovis supports it with a solid, supple pulse.
The bass kicks off the next piece, supported by the piano's arpeggios in a peaceful duet that the drummer backs up with a mallet and a curling brush on the cymbal. Then Pelt enters with a magnificent, well-stamped tone and an airy phrasing that leaves plenty of room for silences. It's a beautiful thing, and the piece builds in scope while remaining sovereignly tranquil. The audience warmly appreciates the aptly titled "Shadow of Adagio", which, like the rest of the repertoire, comes from the pen of Nicolas, who recorded it on his latest album "The Contrapuntist". The following track grooves deeply, with the leader's velocity of walking bass and Leon Parker's rising power, propelling the soloists forward in splendid fashion, varying the accents on his drums which – I've just noticed – have no hi-hat pedal, but are nevertheless frighteningly effective, even terrifying at times. On this highly dynamic rhythm, Jeremy Pelt delivers a superb solo with great velocity, then the pianist gives her all with a beautiful phrasing in the right hand and chords that are sometimes discreet and sometimes bushy in the left. Parker then takes his first solo, exploring his toms and cymbal in a wildly adventurous way while maintaining a powerful groove. The melodic-rhythmic inventiveness is astounding. This drummer is clearly one of today's greatest percussionists, and has been for a long time!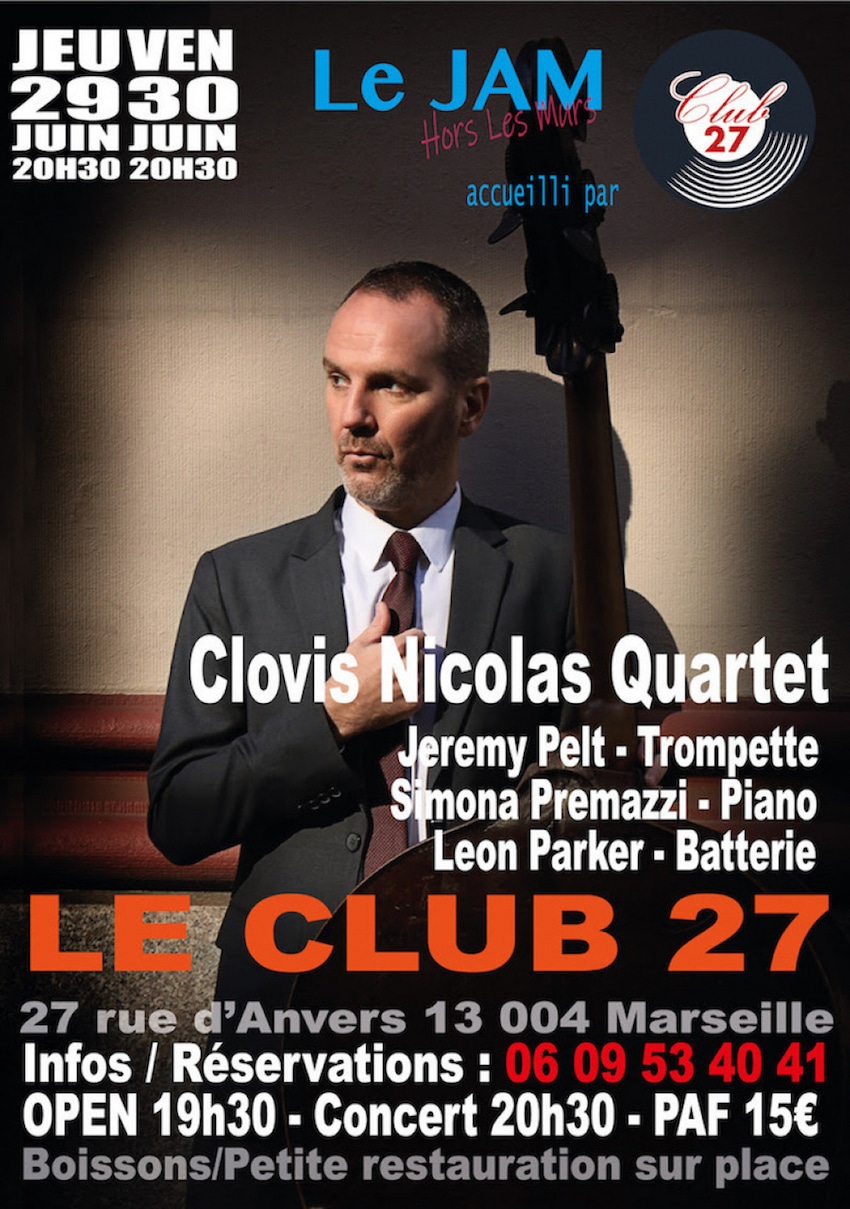 Simona Premazzi starts the next piece solo, and shows magnificently what she's capable of. Introducing the musicians, Clovis told us that she was one of the few Europeans to have played under her name at New York's Village Vanguard, and it's easy to see why. This musician is truly a great pianist, and her sound and phrasing are totally convincing. On this peaceful ballad, Jeremy Pelt displays a remarkably mellow tone. Playing a slow piece after a fast one in public, while maintaining attention and tension, is not for everyone, and the double bass solo in the middle of the neck is so melodic that it fits perfectly into the whole.
Clovis Nicolas is a wonderful double bass player and an inspired composer. He conceives his instrument in an orchestral way, without ever seeking demonstrative virtuosity. All the pieces he plays here are taken from the album "The Contrapuntist", which he originally wrote for a string quartet and then transposed for a jazz quartet. Classical music and counterpoint are thus constantly underlying what is conceived as a suite. Now Leon Parker introduces the new piece in body percussion, beating his chest with his hands and then launching into a frenzied scat before coupling the two practices. It's quite staggering, and makes you wonder what's going to happen next when the other musicians take to the stage. Another ballad, quite simply! A quietly splendid piece in which the trumpet unfolds the melody with a beautiful sonority, followed by a piano solo of great serenity and exciting harmonic and melodic inventiveness. Clovis and Leon accompany the whole with a subtle, tonic pulse. The beauty is clear, and the trumpet re-exposes the melody before taking an intense, inspired solo. There's no end to the praise and laurel wreaths we can bestow on this first-rate quartet. Clovis Nicolas and his partners confirm what I said in the introduction to this article: under their fingers, jazz pulsates and vibrates at its highest level, and the term "neo-hard bop" even seems reductive to describe their music. This is simply great music that transcends stylistic classifications and delights the ears, bodies and – dare I say it? – the souls of any discerning music lover who enjoys hearing it live, to the point where you almost want to go without listening to anything else for a while after a performance of such quality. Bravo, then, and thank you to them for an unforgettable evening!
Line up :
Clovis Nicolas : double bass, composition, lead
Jeremy Pelt : trumpet
Simona Premazzi : piano
Leon Parker : drums, percussion
©Photo Header Ingrid Hertfelder