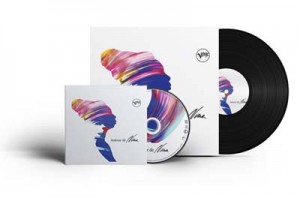 « Autour de Nina » (Verve/Universal)
 « Autour de Nina » is a tribute to Nina Simone, who left us twelve years ago.
Ten pop, jazz and soul performers were chosen to revisit certain emblematic songs that the singer and pianist, a native of North Carolina,interpreted between 1957 and 1978. A top-notch trio was summoned to accompany the different voices. Judge for yourself: Bojan Z on piano,Christophe Minck on bass and Cyril Atef on drums, joined on some tracks by a string orchestra and a few special guests on horns and guitars.
High standards for the choice of singers, too, and some whose talent really stands out: From a subtle Ben l'Oncle Soul to Lianne La Havas, in a splendid version of Randy Newman's "Baltimore", as well as Gregory Porter at his usual best and Hindi Zahra very moving and MelodyGardot heartbreaking in "Four women", composed and sung by Simone in 1966. A risky gamble that pays off,  this album in which the participants modestly and respectfully lay claim to these songs in which Simone expressed so many wounds.
---
« Autour de Nina » (Verve/Universal)
Autour de Nina est un album hommage rendu à Nina Simone disparue il y a douze ans.
Dix artistes issus du milieu de la Pop, du Jazz ou de la Soul ont été choisis pour revisiter quelques titres emblématiques que la chanteuse/pianiste, originaire de Caroline du Nord, avait interprétés entre 1957 et 1978. Un trio de haute volée a été convoqué pour accompagner les différentes voix, jugez plutôt : Bojan Z au piano, Christophe Minck à la contrebasse et Cyril Atef à la batterie, rejoints sur quelques titres par un orchestre à cordes et quelques invités soufflants ou guitaristes.
Haute tenue également pour les chanteurs (ses) même si certains tirent leur épingle du jeu avec plus de talent : de Ben l'Oncle Soul tout en retenue à Lianne La Havas, dans une très belle version du « Baltimore » de Randy Newman, en passant par Grégory Porter égal à lui-même, Hindi Zahra très émouvante et Mélody Gardot déchirante dans ce « Four women » que Nina Simone avait composé et chanté en 1966. Pari risqué et réussi pour cet album dans lequel les intervenants s'approprient modestement et respectueusement ces thèmes dans lesquels Nina Simone avait exprimé tant de blessures.
Lianne la Havas – Baltimore