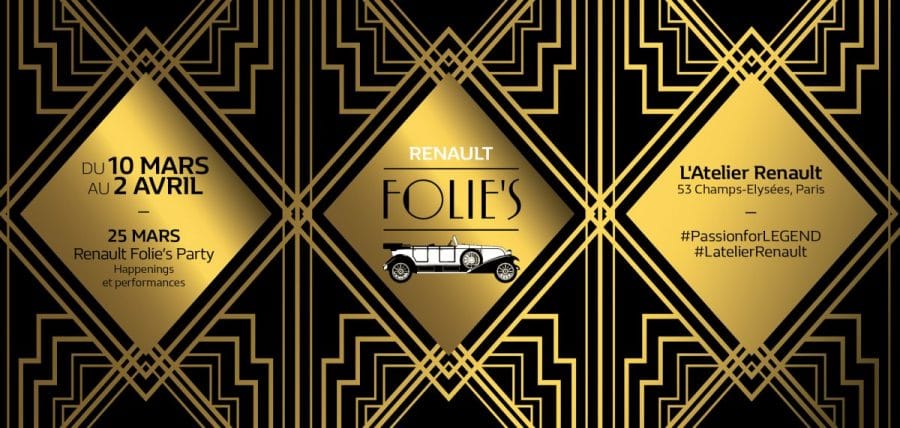 Imagine that you can go back in time … and stop your pocket watch in the twenties.
You are on the Champs-Elysées, the cars are beginning to change with harmonious curves, fashion evolves, especially highlighting the feminine silhouettes that men begin to contemplate … This is the post-war period; the atmosphere is festive, period of freedom and gentle silliness. Let's go to the Renault Pub where Ragtime music is in full swing! This is a special evening for the launch of a new model.
All the Parisian high society is there. The gentleman's deputy accompanied by his lady friend get out of a Reinastella, the twin sisters dance a breathtaking Charleston, "une garçonne" makes the wing of his Nerva Grand Sport shine, a famous couple makes their way through the crowd towards their Nervasport, a hairdresser innovates on beautiful hair … The corks jump, the champagne flows, the "petit fours" twirl when Mr. Loyal disrupts the party by announcing a "surprise". The guests, surprised, gathered towards the stage to discover the "dance of the feather fan". The atmosphere warms, before becoming moist, when a stripper takes place with malice and rascally talent … It is the extravagance at the Billancourt's brand!
The dream is disturbed, back to reality of the XXI century!
The Pub was transformed into "L'Atelier Renault", which offers a thematic exhibition on these crazy years. The most beautiful models of the diamond shape brand are exposed, valued each by photos of period dressed silhouette, jazz in the colors of these beautiful years lives the place up, with "burlesque" performances giving up rhythm. It is a beautiful reconstruction that the whole family will enjoy visiting to remember the vehicles of our forefathers by discovering six of its most beautiful models.
RENAULT FOLIE'S at the Atelier Renault
From March 10 to April 2, free and open to all
53 avenue des Champs-Elysées 75008 Paris