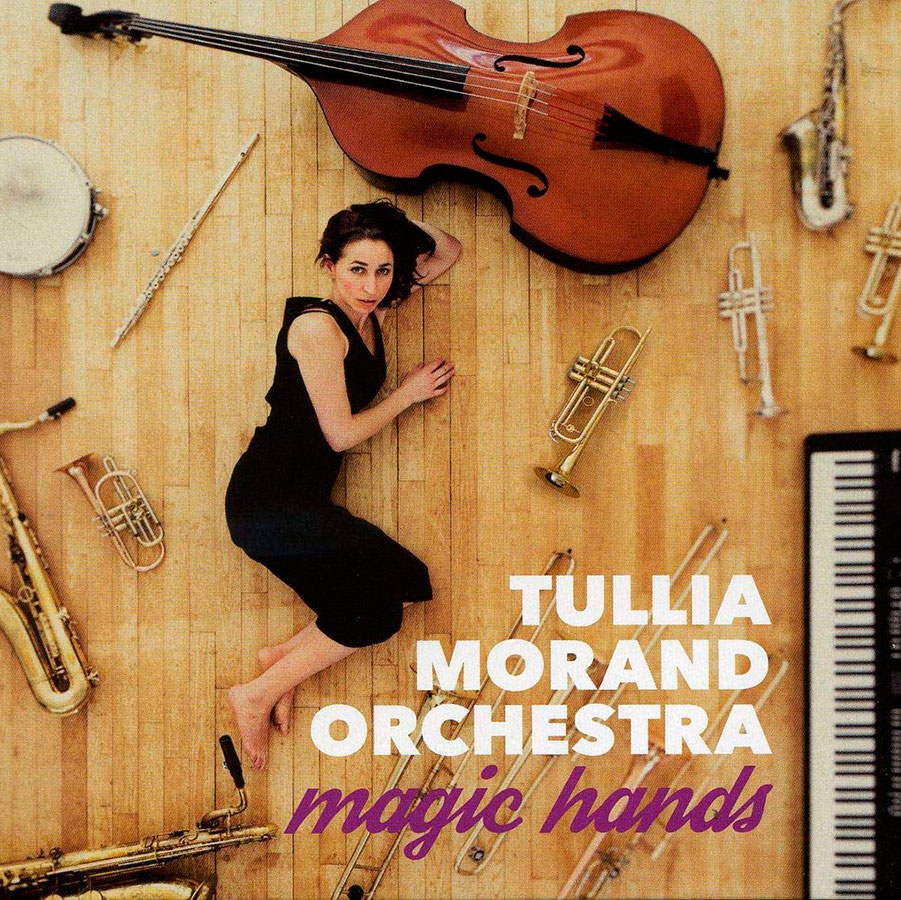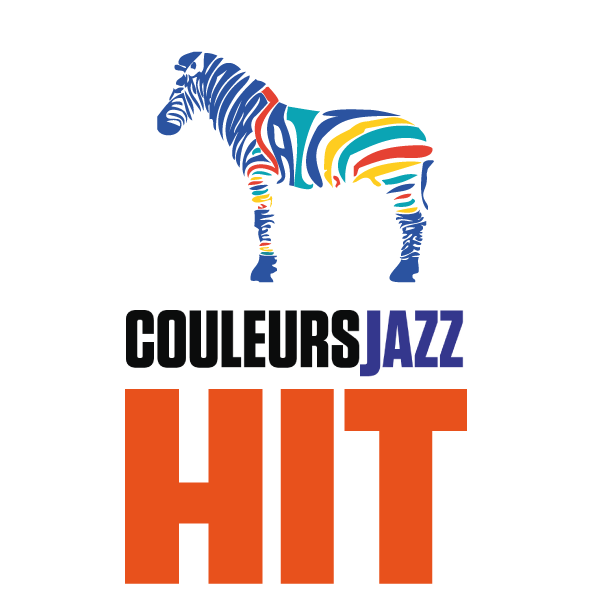 The bandleader, arranger and composer Tullia Morand and her XL-size big band graced the stage of the Sunset-Sunside on 14thMay, performing tunes from her third album, Magic Hands, with tap dancer-choreographer Fabien Ruiz as special guest.
The band swept us off our feet and took us round the world, from Los Angeles to Corsica via Brazil and Broadway.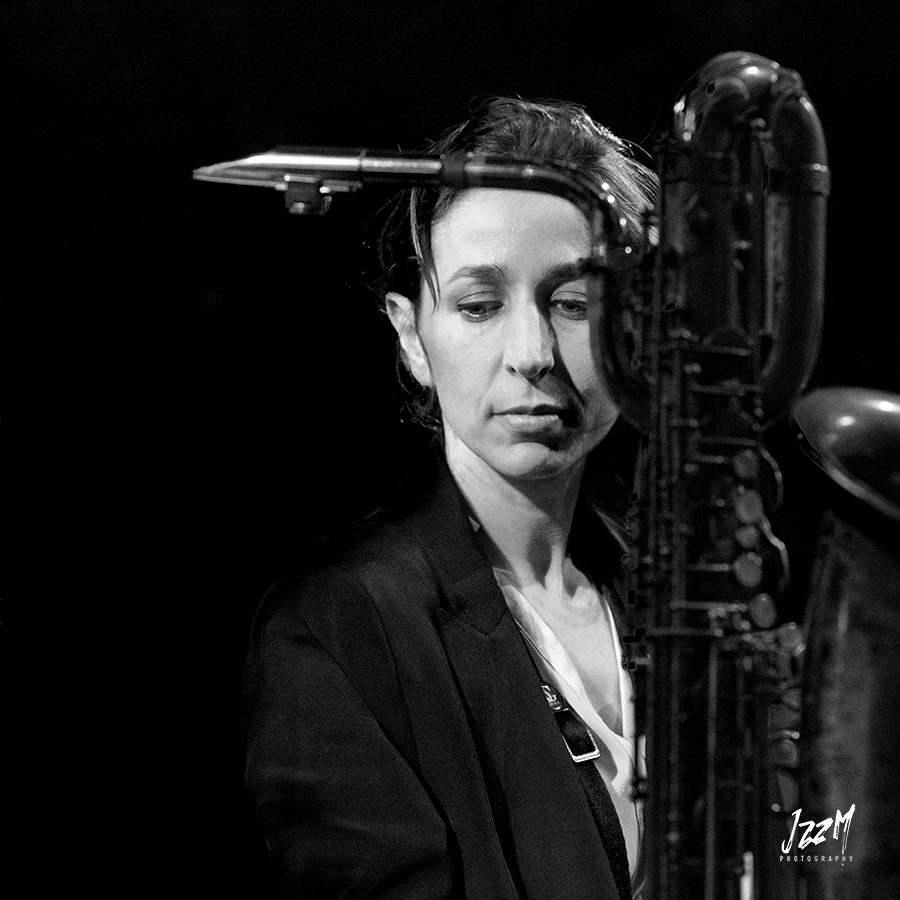 The trip began with an original Morand tune, Happy, And …, a subtle play on words and a tribute to Broadway musicals and influenced by the movie La La Land and Randy Newman's music. Morand wrote it for her young daughter as a kind of positive life mantra. Sparkling and bright, the festive atmosphere is sublimated by masterly solos by Jean-François Deveze (tenor sax), Jean-Christophe Vilain (trombone), Jean Gobinet (trumpet) and Vinh Lê on the piano.
We then hung with our old friend John Coltrane for Pitou's Moment, Pierre Mimran's nod to Trane's famous Moment's Notice. Pierre Mimran is the other masermind composer of the band and also plays three instruments: alto sax, soprano sax and flute. A lively up-tempo, Pitou's Moment brings pianist Ludovic de Preissac to the stage, the pianist on the Magic Hands album, and makes us forget that we have no place to dance. On stage, dexterity and dynamism at the rendezvous with magnificent chorus of flute (Pierre Mimran), baritone sax (Tullia Morand) and trombone (Jerry Edwards).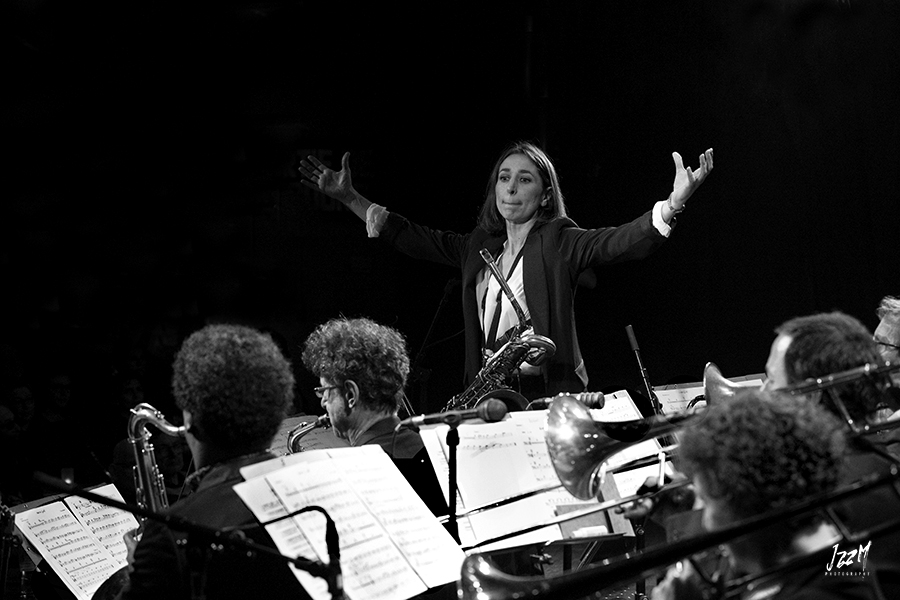 Next stop Brazil and emotion with Nakyia, written by Morand as a choro (poplular urban dance began in Rio) and dedicated by Ms Morand to Coaty de Oliveira, the well known Brazilian-Parisian composer and drummer whose funeral took place earlier that day, attended by dozens of musicians, all devastated at the loss but also grateful for Coaty's musical influence and warm kindness. The collective joie de vivre was palpable as was a strong urge to dance the choro, thanks in part to Joel Chausse's astounding flugelhorn solo.
It needs to be said at this point that these musicians all have one crucial thing in common: they can play tight and stay loose. A beautiful example of the coveted 'effortless mastery' paradox coined by Kenny Werner. Also, we can't help but admire the enthusiastic ease with which Ms Morand leads 'her men', standing up with authority and a trusting smile to start and end each piece. Her role as band leader doesn't stop her from giving sublime baritone sax solos, as sensitive as they are dynamic.
Joel Chausse and Fabien Ruiz help conclude the first set with a quick trip to the moon and back for Morand's tune Mr. J. Chausse gives a cosmic trumpet solo that blows the roof off the club and makes us see stars. And Sir "Fred-Astaire" Ruiz's shining tap performance makes it clear as day that tap shoes are in fact a percussion instrument worn on the feet. Who knew?! The spectacular 8-8s between Ruiz tapping and Frederic Delestrè drumming leave us drooling and hungry for more.
After the break, Pray invites us to walk with a traditional New Orleans marching band playing for a funeral – after the burial! A spiritual-feeling blues in three, the solos by Brice Moscardini (Trumpet), Vinh Lê (piano), and Jerry Edwards (bone) were as soulful as they were playful. Shall we dance? Yes, over to the MagicHands ballroom please where we learn the meaning behind the album's name and title song: "the hands are an extension of our thoughts", says Morand. Indeed all her musicians seem to be musical magicians, in particular BriceMoscardini here, whose trumpet chorus gradually built to an ecstatic peak.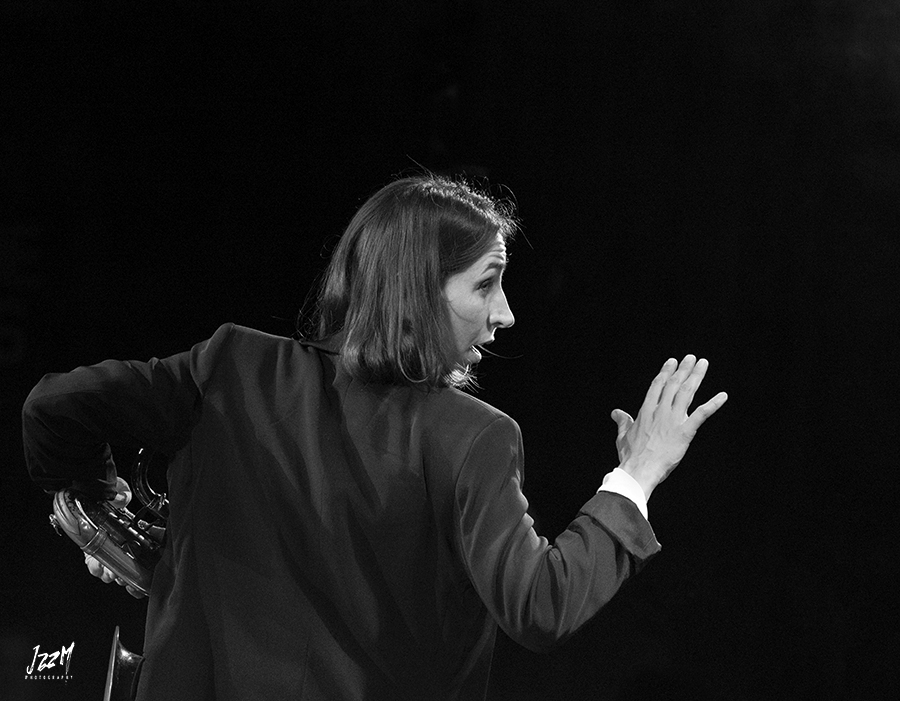 The scene then changed to the island of Corsica with yet another Morand original, Guagalé, a dark-hued waltz inspired by Corsican poet Prosper Mérimée. Next came In The Car Park, written by Morand for a gorey crime film. The film didn't go to the Oscars, but the audience was completely star-struck by the solos: Rubens Lévy grooved on his custom six-string bass, Jean Gobinet gave us power and pure delight on trumpet, followed by the super-hero dexterity of Jean-François Deveze on tenor.
Last stop of this fabulous musical journey and only cover on the album, Plus Je T'embrasse, written by Ben Ryan in 1926 and made famous by Blossom Dearie singing in French. Morand describes her arrangement as a whacky take on the original and Fabien Ruiz chimes in with a wild and wonderful tap solo (are his joints made of rubber?). It is no coincidence that Ruiz did the tap choreography and coaching for the Oscar-winning film The Artist(2011), and Jean Gobinet signed the orchestrations. The audience demands an encore, and fittingly, gets the jungle theme song from the award-winning film, with Fabien Ruiz soloing on tap and then sharing a slew of 8-8s with the divine Delestrè on drums. The warm complicité amongst all the performers is palpable.
The common denominator of all these brilliantly played tunes is the fluidity with which the improvisation and the composition, the melodies and the harmonies, overlap and complement each other. Morand's orchestrations act as a solid tree trunk from which many sturdy branches reach towards the sky, allowing the soloists and the ensemble to take flight, either separately or together. The two are distinct but need each other in order to exist. A bit like the call-and-response of the origins of jazz, where the call would be nothing without the response, and viceversa. In the Tullia Morand Orchestra, the collective and the individual play off each other in an amorous dance which produces a fresh and lively sound. The line between the part and the whole is so thin, it's imperceptible.
So guess what, folks? Original big band music is alive and kicking! The Tullia Morand Orchestra proves it. These original works are as delicious as they are varied. They exude the life force that makes jazz what it is, a playful freshness and a relaxed mastery.
Couleurs Jazz Digital Magazine wishes the TMO a long and prosperous life!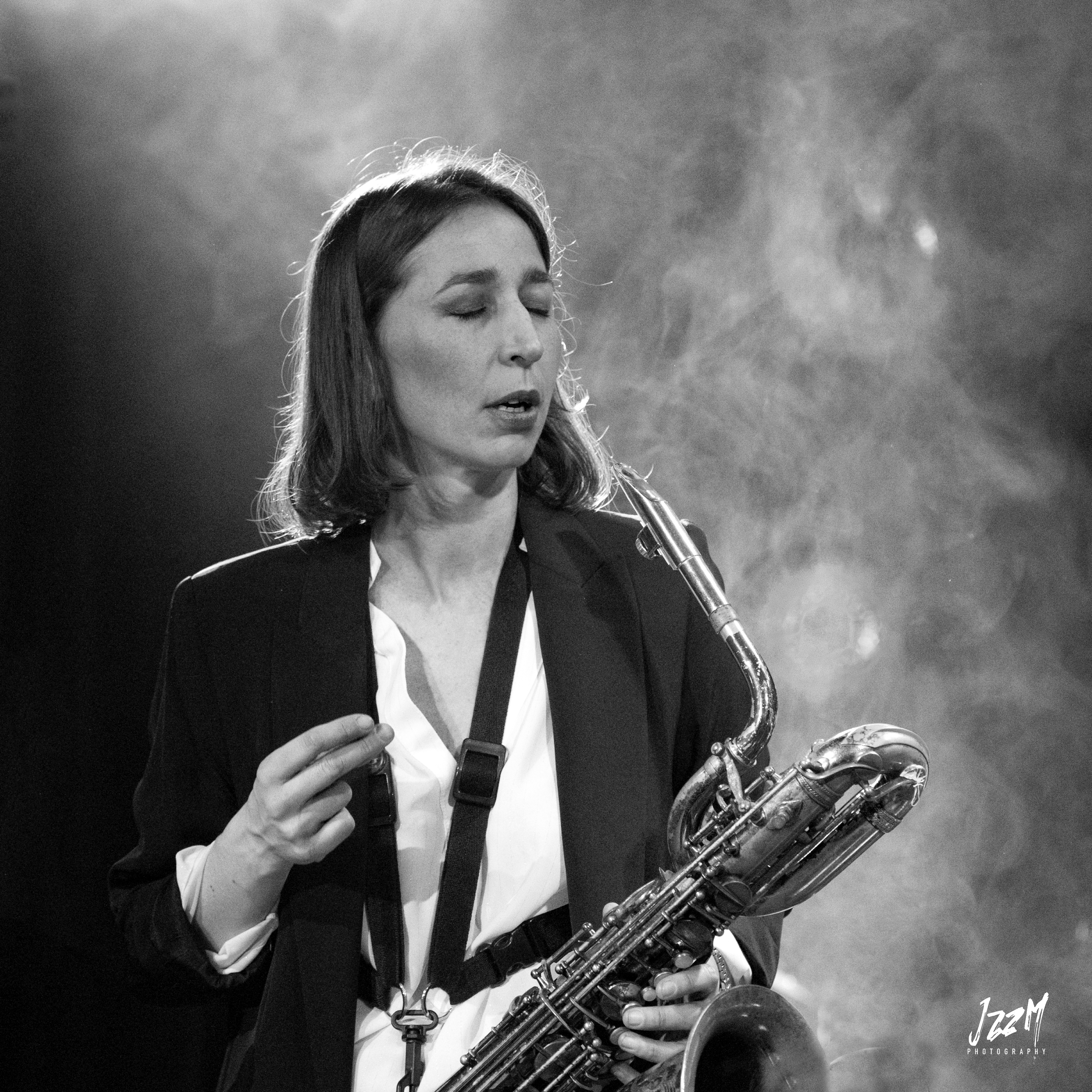 Line Up,  2019 14 May 2019, Sunset-Sunside club (Paris) :
Tullia Morand– sax baryton, flute ;
Pierre Mimran– alto & soprano sax, flute ;
Jean-François Deveze– tenor sax, bass clarinet, flute ;
Jerry Edwards– trombone ;
Jean-Christophe Vilain– trombone ;
Didier Havet– bass trombone  ;
Jean Gobinet– trumpet, flugelhorn ;
Joel Chausse– trumpet flugelhorn ;
Brice Moscardini– trumpet flugelhorn ;
Rubens Levy– bass ; Vinh Lê– piano ;
Frederic Delestrè– drums ;
Guest : Fabien Ruiz – tap dance
Next date : 2019 November 7 at Jazz Café Montparnasse.
 'Magic Hands' album was released  1 February 2019 on  label Clapson Records.
It is « Hit Couleurs Jazz » and when released, "album of the Week", on Couleurs Jazz Radio.
©Photos Patrick Martineau for Couleurs Jazz Digital Magazine