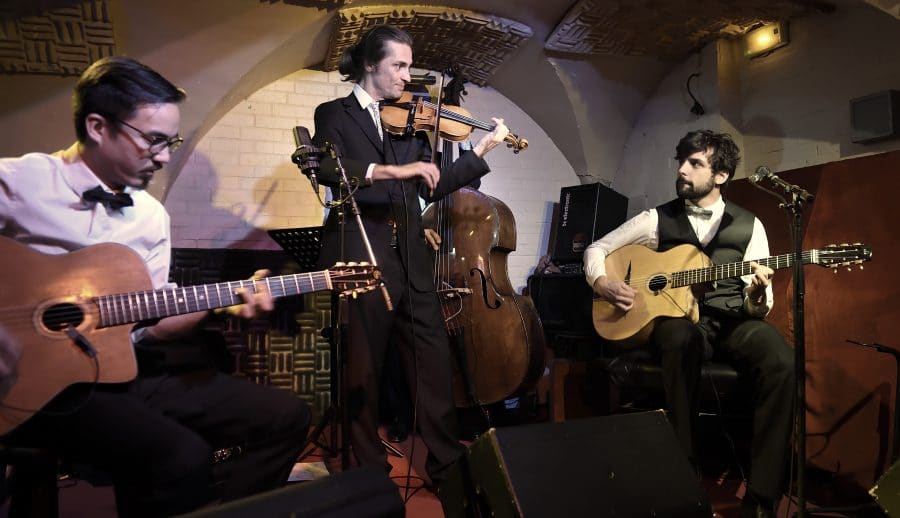 This Swinging in Paris, is a very nice surprise self-produced and financed through crowdfunding system. From this first album, recorded in just two days, emerges from the first listening, spontaneity and freshness.
Without a doubt, it was conceived as a tribute to the master of the genre. Thus, more Django than Jazz manouche, it offers a return to basics, with standards executed by innovating and sometimes, original tempos. Virtuosity –yet present- is not the primary objective.
Breaks and changes of rhythms in Tea for Two, for example, silences between the notes … The musicality and harmony are the leading points of the project … with the swing … of course. ! All over the pieces, we notice a desire to return to the Hot Club de France "in Paris" style.
This could not work without the presence of Grappelli, that is to say, Guillaume Singer, violin, who makes us think with his sensibility of the accomplice of this so famous duo. Standards that are not the most listened as a very beautiful and too rare Choti.
At the "pump", to ensure flawless rhythmic includes Stephan Nguyen, supported by Jeremi Arranger, bass. Sylvain Hamel also plays clarinet on one track.  The album ends with Renewal, a Romain Vuillemin composition, who invites without any doubt, to a future album, more innovative and original. This will be another way to pay tribute to Django's music. We are impatient. Meanwhile, listening tirelessly, this first album.