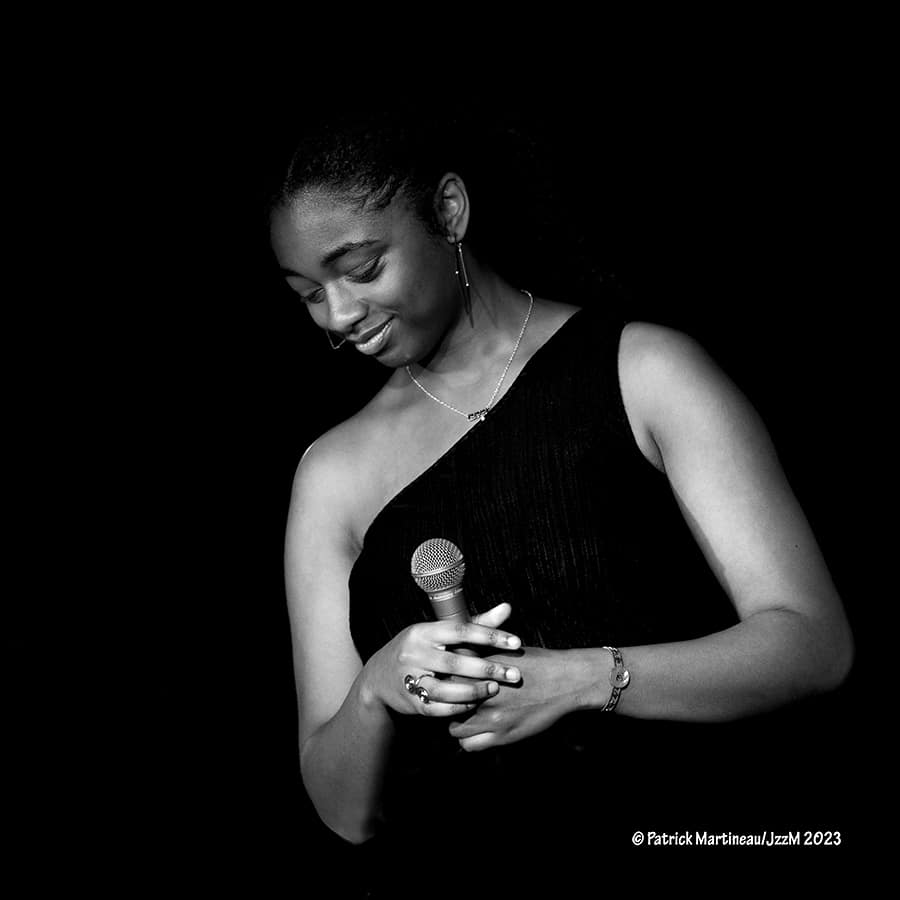 Concluding the Jazz Festival de La Villette, which sometimes disappoints me with its not really jazz program and a bit of a racket (because they think it will sell more tickets), Samara Joy's concert brought a welcome note of authenticity and freshness.
First and foremost, Samara Joy has a magnificent voice with a wide tessitura, which she uses in a way that is always relevant, with no gimmicks, but with the surprise of vertiginous rises in her high notes or unexpected descents in her lows. A kind of vocal dramaturgy, then, that keeps the listener in a climate of suspense and expectation. After all, isn't that what improvisation is all about? Anything can happen!
Samara Joy is also a singer who, without the slightest desire to go back in time, places herself in the tradition of the great Sarah Vaughan or Carmen McRae: a worthy younger sister of the great Dianne Reeves, on the way to becoming great herself. And it's a pleasure to hear that this tradition of jazz singing – the antithesis of some of the "soap bars" sold to us under the "vocal jazz" label – is still alive and kicking by a singer who is first and foremost a musician.
Her version of Charles Mingus's "Reincarnation of a Love Bird" (to whose melody she wrote lyrics) was a particularly convincing testimony to this: a sense of nuance and dynamics, lively interaction with an exemplary rhythm section, poetic fiber… It was all there!
©Photo Jacques Pauper for Couleurs Jazz (Jazz in Noyon 2022)
A little later, Tom Jobim's "Chega de Saudade" – sung in Portuguese and then in English – confirmed the broad spectrum of the vocalist, who, far from being exotic, was able to stamp a Brazilian standard with a jazz – and not "jazzy" – stamp, without making it lose its Carioca color.
Of course, the blues is also part of her repertoire, and the singer takes it on with great conviction. As for the standards, such as the superb "These Foolish Things", she brings a totally sincere feeling to them, revisiting them and magnifying them.
Samara Joy's stage presence is both jovial and benevolent, with no glitz or glitter, and she's also a master at communicating with highly talented musicians, totally committed to her cause and clearly seasoned in the art of accompaniment.
Musicians to whom she leaves plenty of room for solo expression.
The result was a formidable jazz concert led by an outstanding singer. And the reaction of the audience, who had a hard time letting Samara Joy and her men go, shows – if proof were needed – that it's possible to fill a concert hall by programming jazz that asserts its name without trying to rake in the margins of a style that's still very much alive.
Line Up:
Samara Joy – vocals
Michael Migliore – bass
Evan Sherman – drums
Bastien Brison – piano
©Photo cover Patrick Martineau for Couleurs Jazz @ Jazz in Noyon 2022
©Photo Header Jacques Pauper for Couleurs Jazz @ Jazz in Noyon 2022