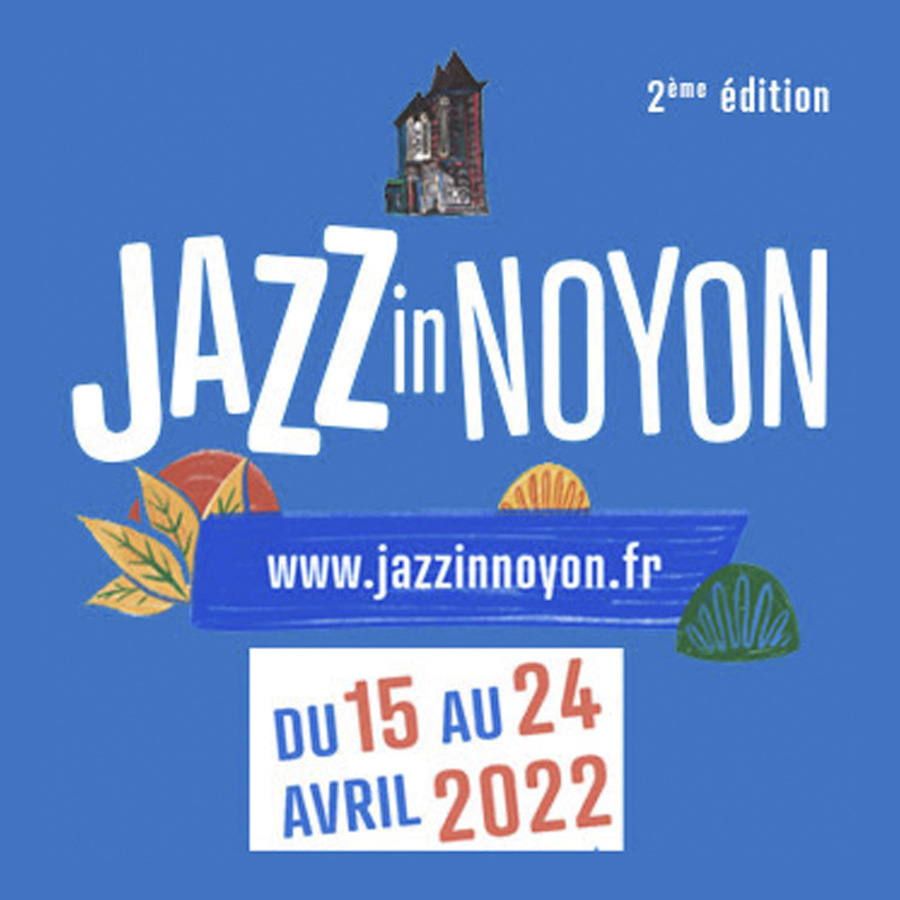 The Jazz in Noyon Festival is 6 days of Jazz organized over 2 weekends, which will allow the City of Calvin to become the Capital, not of protest*, but of jazz for the second time!
When?  From April 15 to 17, then April 22 to 24.
A high quality program, worthy of the greatest jazz festivals in Europe, jazz and only jazz of all colors, modern, diverse, hexagonal, European and American from the South as well as the North. With among others Lionel Louéké, Stéphane Belmondo, Samara Joy, Srdjan Ivanovic and the Blazin Quarte with in luxury guest, Magic Malik, Damian Nueva, Baptiste Herbin, Raphaël Pannier, Leila Martial, Gael Horellou, Baptiste Trotignon, Theo Ceccaldi, Alexis Cardenas, Leo Rondon, Frédéric Borey, Baptiste Trotignon and many others that you will discover below…
In all, 70 artists will take the stage for 15 concerts, masterclasses and a jam of course!
See you then, on the site of the Festival Jazz in Noyon.  www.jazzinnoyon.fr
Day 1 – Friday April 15 2022
5PM – LEILA MARTIAL – ÄKÄ – VOICE OF THE FOREST
A concert plus a show, out of the ordinary.
An unprecedented meeting between the musical universe of the Aka, (Aka People of the Republic of Congo) widely known under the name of pygmy songs and that of artists with a flourishing imagination and experienced in improvisation, gathered around the incredible vocalist Leïla Martial and the body-percussionist Rémi Leclerc, the singers and percussionists of the Ndima band, bearers of an ancestral culture, as well as three improvisers from the southwest of France. They will be gathered here for the pleasure of playing with their voices and their bodies.
The spontaneity of singing, playing and dancing is the ground of this intercultural meeting placed under the sign of the respect and the dialogue of cultures.
Ndima band:
Manongo, Emile Koule, Nadège Ndzabole, voice
Gaston Motambo  & Michel Kossi, drums, musical bow, voice
Leïla Mertial, voice, composition
Rémi Leclerc, voice, body-percussions, keyboards, composition
Eric Perez, voice, percussions, compositions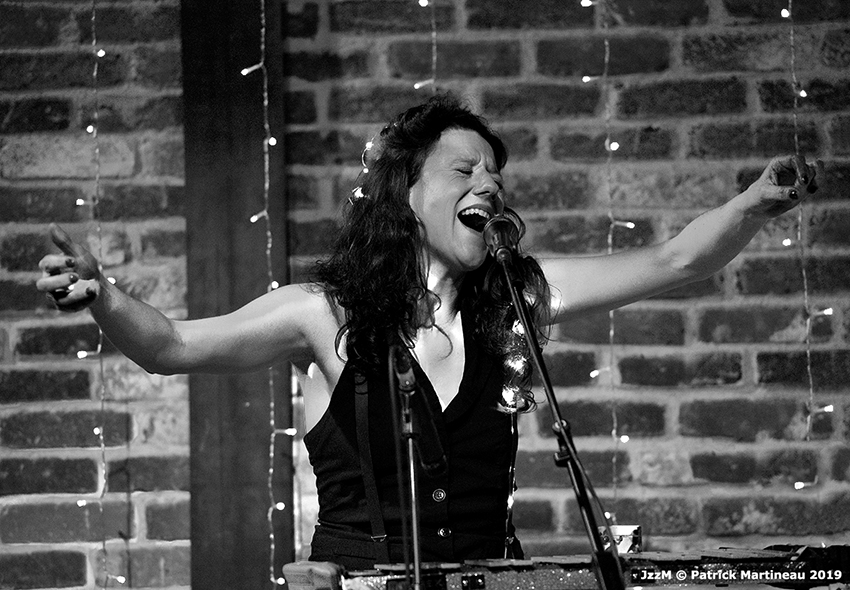 9PM BELMONDO 5TET "BROTHERHOOD"
Who still doesn't know the Belmondos?
A flamboyant heir to Chet Baker and Freddie Hubbard, Stéphane, one of the great lyricists of his instrument, is one of the most esteemed trumpeters and biblical scholars on this side of the Atlantic. Lionel, the saxophonist, is a tireless worker in bringing together the souls of Lili Boulanger and Yusef Lateef, reconciling the spirit of Coltrane with French liturgical traditions, and carrying the flame of jazz into the heart of the classical post impressionist universe. For more than a quarter of a century, these two exceptional musicians have led an impressive number of musical adventures, with the unconditional support of their band, which has always followed them in their artistic explorations, whatever direction they took them.
Stéphane Belmondo is a very lively musician whose breath is only as long as pianist Kirk Lightsey's arms. We remember their magnificent duet. And a Lionel Belmondo, immutable, disconcerting of tradition which invents itself with each breath. The oxymoron dresses the compositions of the brotherhood. One invents, but one recognizes. The sound for the listener, the reference for the two brothers, read more on Couleurs Jazz Media.
Lionel Belmondo, saxophone, flute,
Stéphane Belmondo, trompette, flugelhorn, 
Laurent Fickelson, piano,
Sylvain Romano, doublebass,
Tony Rabeson, drums.
Day 2 – Saturday April 16,
04:30PM – CLELYA ABRAHAM
Composition has always been Clelya Abraham's passion since she was young and it is what led her to be a musician.
After years of playing in jazz clubs and many encounters, the magic happens during a concert in February 2019; a moment of alchemy with the musicians she will choose to make her album. Her repertoire of compositions will reveal a poetic and mixed world, a subtle mixture of cultures influenced also inspired by the musical world of film.
An essential instrument is also added to this landscape: her voice, which comes at times to double the piano and sing powerful themes with or without words.
Her repertoire of compositions reveals a poetic and mixed world, a subtle mixture of cultures influenced by many artists, also inspired by the musical world of cinema.
Clelya Abraham, piano, voice,
Antonin Fresson, guitar,
Samuel F'hima, doublebass,
Laurent-Emmanuel "Tilo" Bertholo, drums.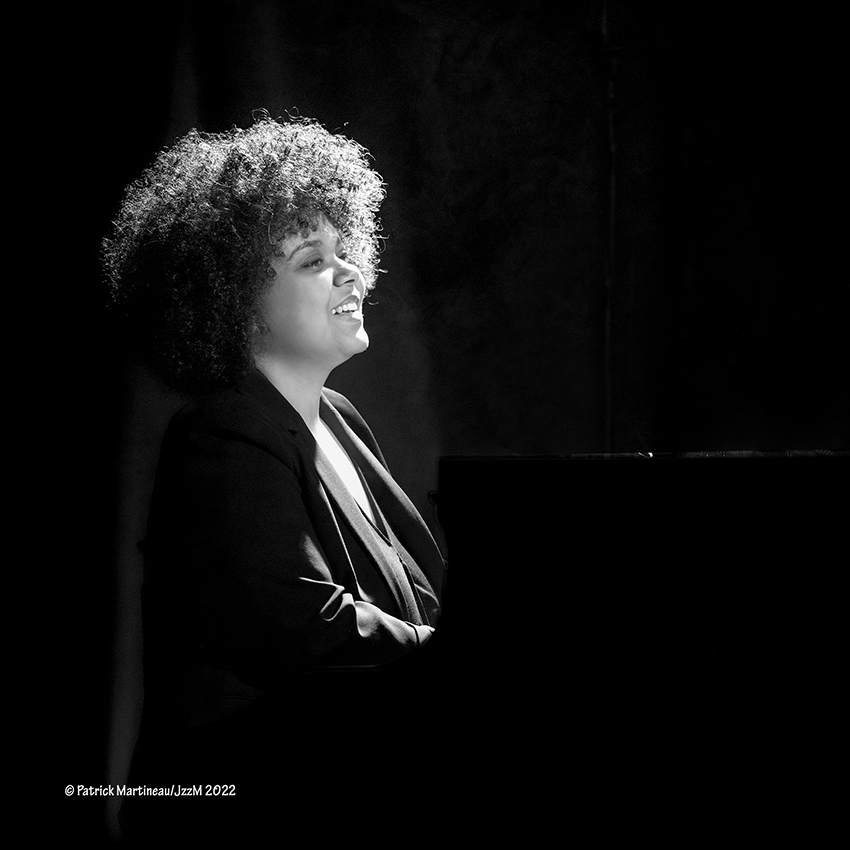 19H00  – ALEXIS CARDENAS + LEO RONDON EN 4TET
Alexis Cardenas, one of the most important violinists of his generation, 1st concertmaster of the Orchestre National d'Ile de France, founder of several traditional and world music ensembles, including jazz.  His inexhaustible curiosity and knowledge of the different cultures of the world have allowed him to develop a unique instrumental language that breaks down the barriers between musical genres.
His Jazz Quartet is the meeting of four Venezuelan musicians who interpret with virtuosity the themes of the great composers of the South American continent such as Astor Piazzolla, Aldemaro Romero, Egberto Gismonti, Hermeto Pascoal and Hamilton de Holanda… For the Festival, the double bass player Roberto Koch gives up his place to the excellent Jérémy Bruyère.
Alexis Cardenas, violon,
Jhonny Kotock, piano,       
 Jeremy Bruyère, doublebass,
Léo Rondon, cuatro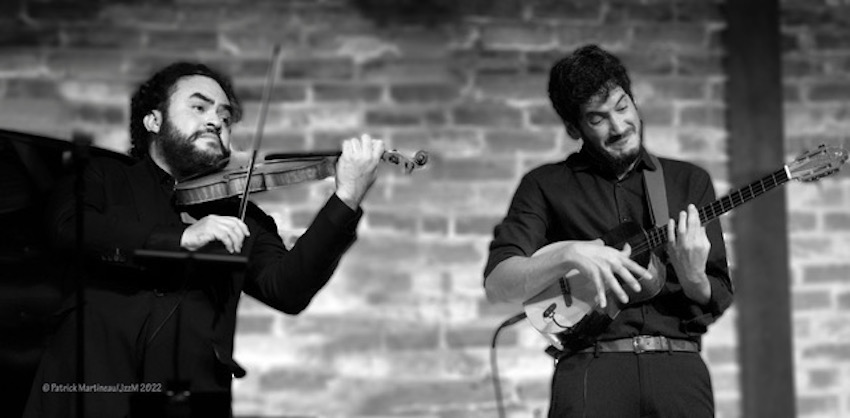 21H30 – GAËL HORELLOU QUARTET
Gaël Horellou's quartet is part of the continuity of great jazz music that can navigate between Reunion in the Indian Ocean to Brooklyn via Noyon. Gael Horellou, Selmer artist is a major figure of the saxophone today. Virutose of this instrument, he is also an excellent composer and improviser.
Jazz fusion, acoustic jazz, maloya, the musician is a brilliant and inspired all-rounder. Integration of modernity in the jazz tradition. Great art.
Gaël Horellou, alto saxophone,
Etienne Déconfin, piano,
Victor Nyberg, doublebass,
Antoine Paganotti, drums.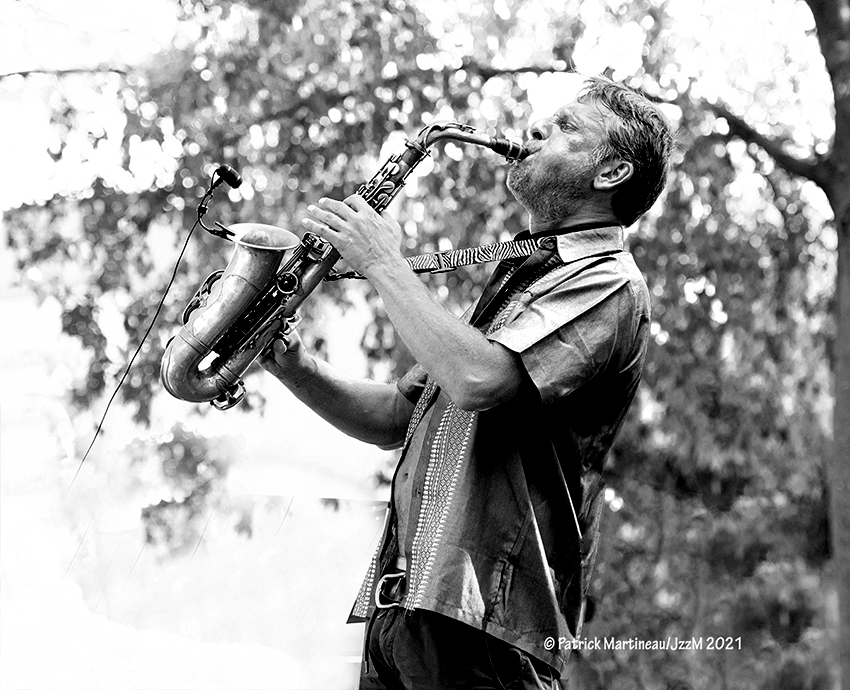 Day 3 -Sunday April 17 
02:30PM – NAISSAM JALAL
As in the origins of jazz, Naissam Jalal's music finds her roots in her struggle alongside her people. The oppression of the Syrians by the tyrant in power today gives her the desire and the strength to bring the struggle on stages around the world. The oriental accents of her music sometimes let escape the heartbreaking cries of his martyred people. 
Naïssam Jalal, flute, nay, singing, 
Mehdi Yachou, Chaïb, tenor & soprano saxophone, 
Karsten Hochapfel, guitar & cello, 
Damien Varaillon, doublebass, 
Arnaud Dolmen, drums.
05:00PM – SAMARA JOY
Samara Joy, with her recently released debut album, confirms the hopes raised by her win at the 2019 Sarah Vaughan International Jazz Vocal Competition.
From the very first notes, the singer's qualities are revealed: a bright silver vocal line that gracefully follows the contours of the melody. Her singing is a way of giving meaning to the words of a text that remains the prerogative of high-flying performers. Nominated for the Jazz Academy Awards 2021.
Read the Tribute paid to her, for the release of her first album, in Couleurs Jazz media.
Samara Joy, voice, 
Ben Paterson, piano, 
Mathias Allamane, doublebass, 
Malte Arndal, drums.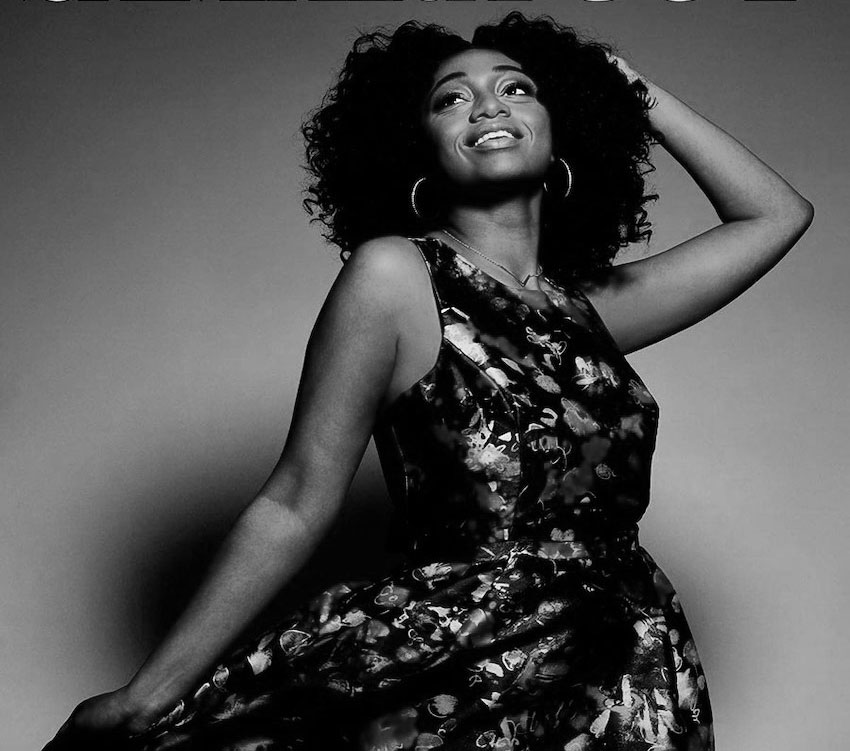 Day 4- Friday April 22 
03PM – LIONEL LOUEKE & BUTTERFLIES TRIO
A totally original master class! Lionel Loueke and his musicians will come and talk to young people about their passion for jazz and their profession as musicians. The event will obviously be interactive, and questions can come from all over France, and even from several European countries, because thanks to Nathan's Lea network and the Yakamovie association, this master class will be broadcasted in streaming in more than 400 classes that will have registered for free to participate. The young people will then be able to ask their questions thanks to the Lea network carried by the Internet.
06:30PM  – BUTTERFLIES TRIO + LIONEL LOUEKE EN GUEST STAR
With this new album released at the end of 2021, Frédéric Borey combines ambition, musicality and friendship. He also dreams big and decides to invite Lionel Loueke, a world-class musician (Herbie Hancock, Wayne Shorter, Chick Corea, Dave Holland, Charlie Haden, Joe Lovano, Chris Potter, Esperanda Spalding, Robert Glasper, Sting, Gretchen Parlato…) and faithful friend he met 26 years ago.
The Butterflies Trio invites Lionel Loueke and together they flutter around, just like their complicity. "That's all we try to be, 4 butterflies that meet and fly together for the time of a dance.
Will we go hunting for butterflies or like the lovers of the song, our hearts and our bodies on fire, we will let ourselves be carried away by the butterflies in a sensual and swaying dance.
Lionel Loueke, guitar, voice,
Frédéric Borey, tenor saxophone,
Damien Varaillon, bass,
Stéphane Adsuar, drums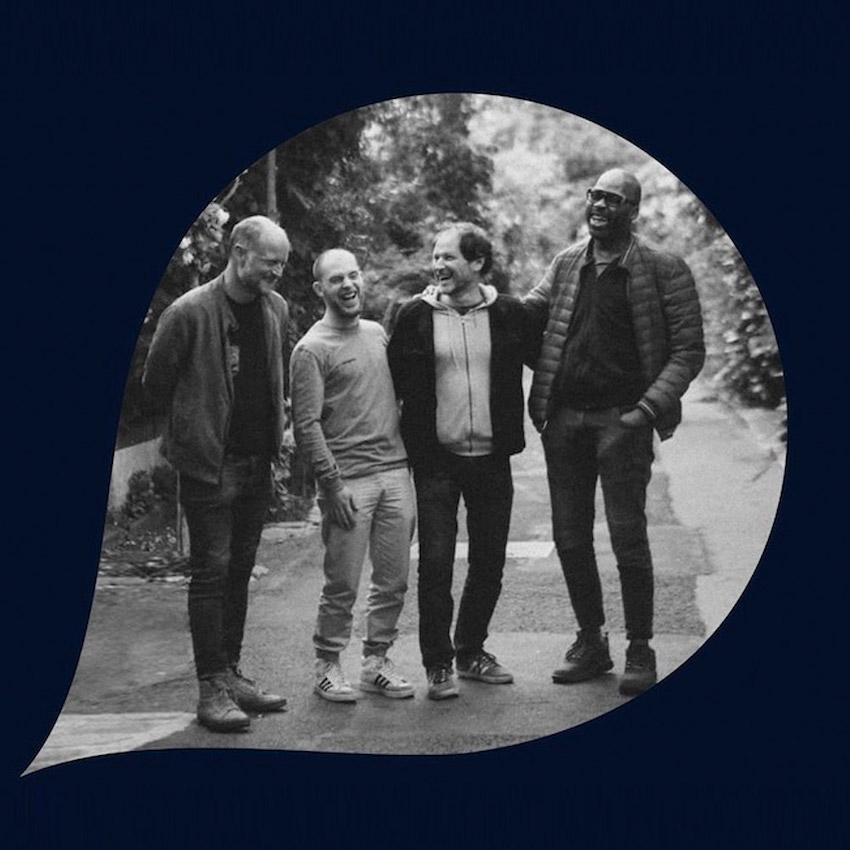 09PM – DAMIAN NUEVA QUINTET
Damian Nueva,
Cuban bassist, composer and actor has been living in Paris for several years. He draws his inspiration and influences not only from Afro-Cuban rhythms but also from jazz, funk and soul.
His album Orisun, in which he put all his Cuban culture and his Parisian musical experiences, is a "Hit" Couleurs Jazz.
His quintet is composed of a group of musicians of the highest level.
Damian Nueva, doublebass and electric bass,
Diego Lipnisky, electric guitar,
Baptiste Herbin, saxophone,
Amar Chaoui, percussion,
Arnaud Dolmen, drums.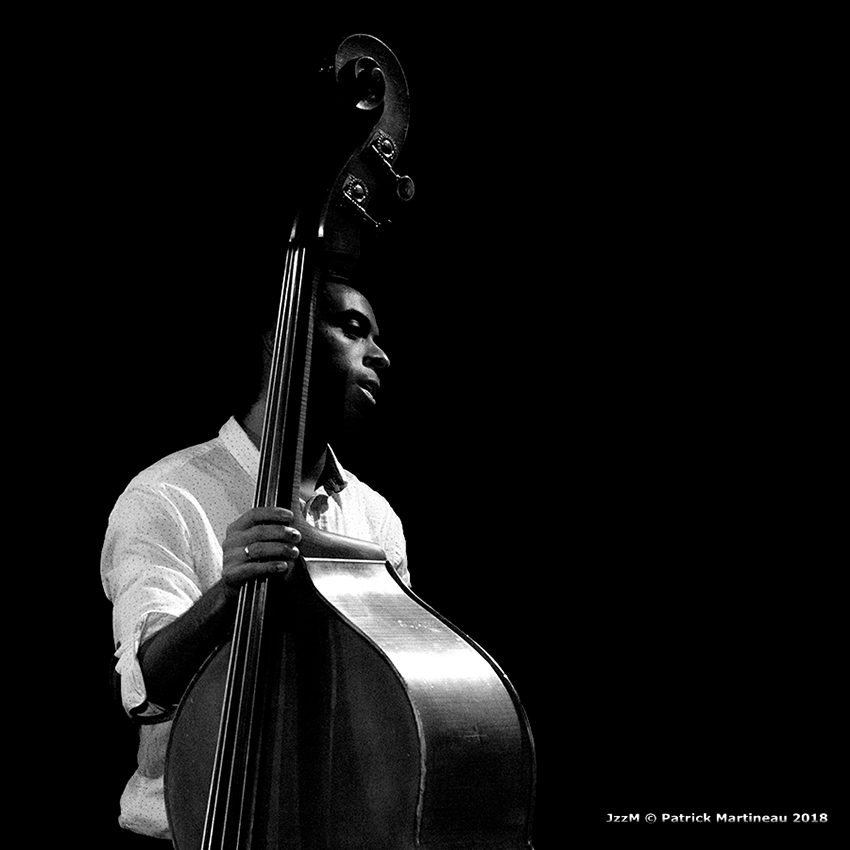 Day 5 – Saturday April 23
04PM – THÉO CECCALDI TRIO
An original and virtuoso way of reinterpreting with brilliance the standards of gypsy jazz and the music of Django Reinhardt in particular. 
Théo Ceccaldi has this capacity to destructure the standards, to seize them then in a hallucinating whirlwind, to give them new modern and particularly inspired forms.
Théo Ceccaldi, violon,
Valentin Ceccaldi, cello,
Guillaume Aknine, guitar.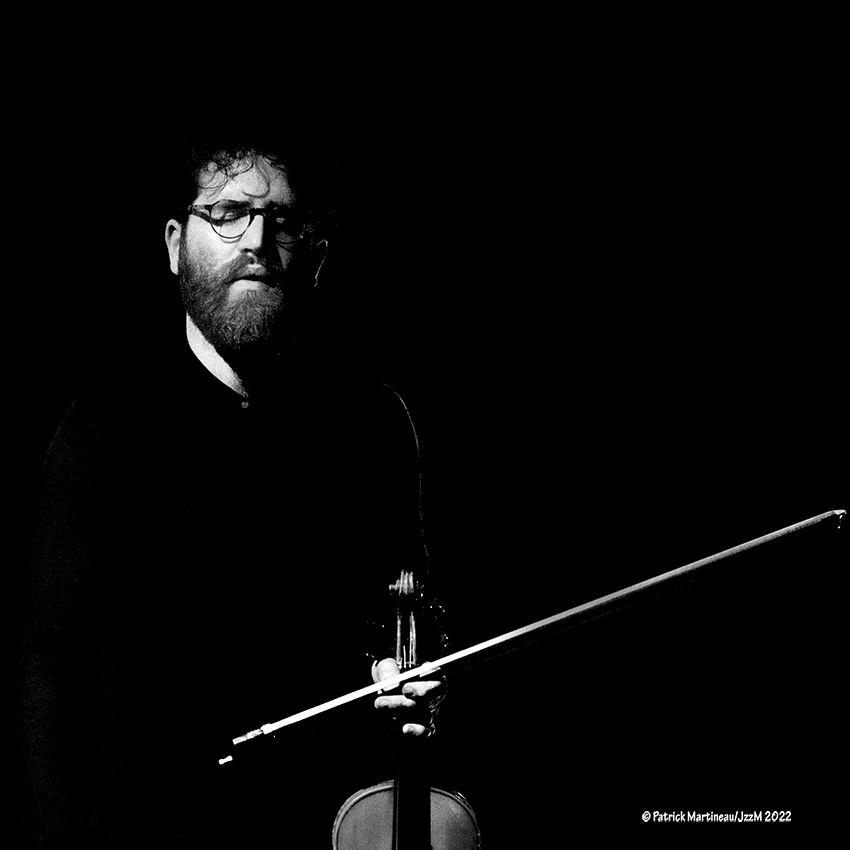 06:30PM – BLOOM BAND in 5 TET
A trio of voices plus a double bass and drums…
The choice to be supported by a minimalist rhythm section gives a surprising and singular sound to these three artists for their vocal and acoustic project: the voices, free of all originalities, dare to venture where they are not expected.
The musical universes of each one intermingle then to give day to a music in turn exalted, rhythmic, purified… 
The voices used as instruments for original compositions.
Mélina Tobiana,  Laurence Ilous, Léa Castro,  voice,
 Arthur Henn, doublebass,
Ariel Tessier, drums.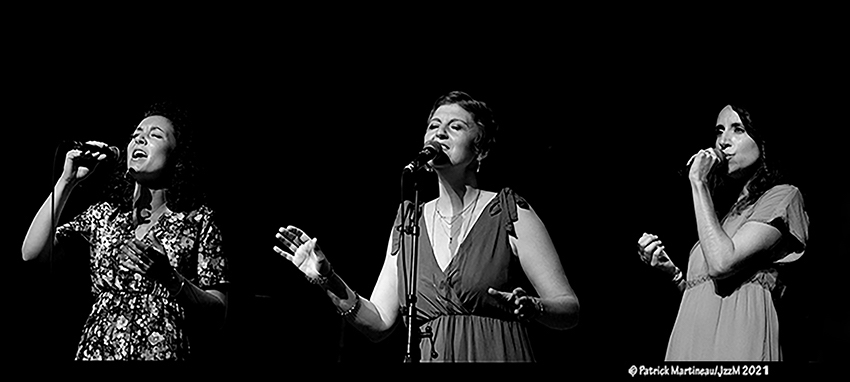 09PM – RAPHAËL PANNIER TRIO FEAT. BAPTISTE TROTTIGNON + FRANÇOIS MOUTIN
Raphaël Pannier was born with drumsticks in his hands. After studying at the Berklee College of Music in Boston, this drumming virtuoso obtained a scholarship to the Manhattan School of Music. His first album "Faune" is a "Hit" Couleurs Jazz.
This concert will be an original trio with two top musicians, Baptiste Trottignon on piano and François Moutin on double bass.
Day 6 – Sunday April 24 
03PM – SRDJAN IVANOVIC 
BLAZIN 4TET 
+ MAGIC MALIK
Known as a band that twists and changes conventions, the Blazin' Quartet is led by drummer Srdjan Ivanovic, first in Amsterdam, where the group was named best band at the "North Sea Jazz Festival," and, since 2014, in Paris.
Here he presents his fourth album, Sleeping Beauty, which was released in spring 2021 on the Parisian label the Coolabel and the New York label MoonJune Records. Another "Hit Couleurs Jazz!
Flutist Magic Malik is known for his originality and an unusual technique, called growl, which consists of shouting and singing into his flute.
Excerpt from Guillaume Lagrée's column in his blog, "Jars jase Jazz":
These musicians have the audacity to keep it short and it feels good. The themes are beautiful, striking. The interpreters melt their origins, their formations, their influences in the crucible of a rich and shimmering music. 
It is a pleasure to listen to the influences that mingle in this music. Balkans (Bosnia-Herzegovina & Greece), Netherlands, Italy, Bulgaria, France, Belgium, all these seeds grow in the soil of Jazz, music born in the United States of America of the brutal meeting between Africa and Europe. These are all influences that come out in the music of the Blazin Quartet (Quartet Incendiaire in French). With these musicians, the flame of Jazz does not go out. 
Olivier Laisney, trumpet,
Manu Codjia, guitar,
Yoni Zelnik, doublebass
Srdjan Ivanovic, drums
Guest :
Magic Malik, flute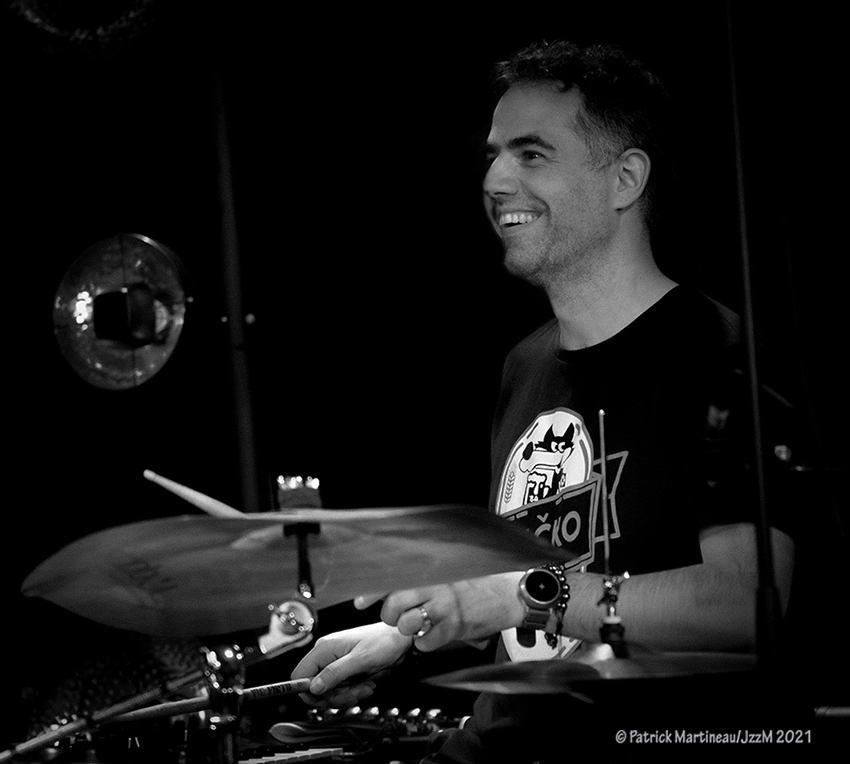 05:30 – DAÏDA
Carried by an overflowing energy, Daïda's music takes its source in the frantic rhythms that flirt with the trance of techno music, and mixes with the themes and lyrical harmonies of the soloists' flights of fancy.
Epic, the band led by Vincent Tortiller, distills an electric and progressive jazz as it is invented and played today: a new French jazz, modern and alive, which borrows its energy and efficiency from current music.
Thanks to Daïda, we understand what Jazz is. It is the mother of all musics since it feeds on all musics. One finds there inspirations techno and sometimes rock close to Franck Zappa or Jimmy Hendrix).
Antonin Fresson : guitar
Arno de Casanove : trumpet
Auxane Cartigny : keyboards
Samuel F'Hima : doublebass
Vincent Tortiller : drums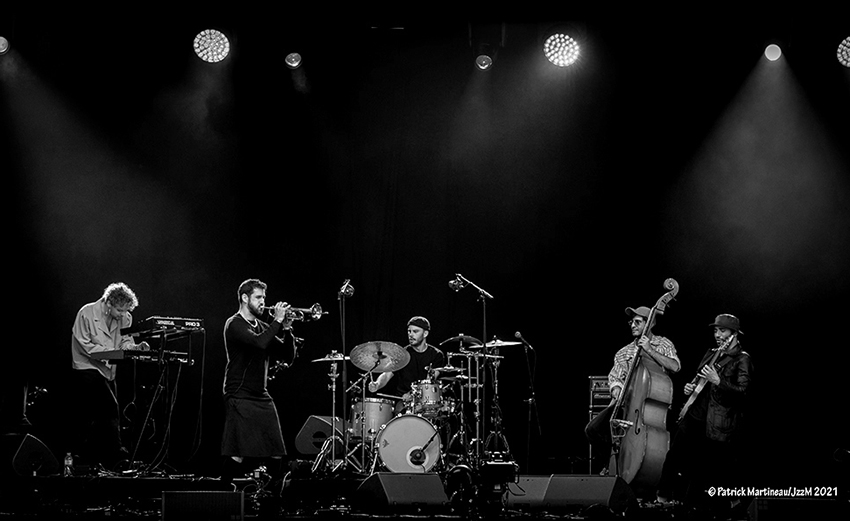 (*)On the evening of April 24th, the last night of the Jazz in Noyon Festival, we will not protest…
We will celebrate the election of our France future President of the Republic with joy, or we will drown ourselves in jazz to try to forget the 5 years to come. In any case, it is jazz which will be the elected one !
©Photos Patrick Martineau
Translated with www.DeepL.com/Translator (free version)