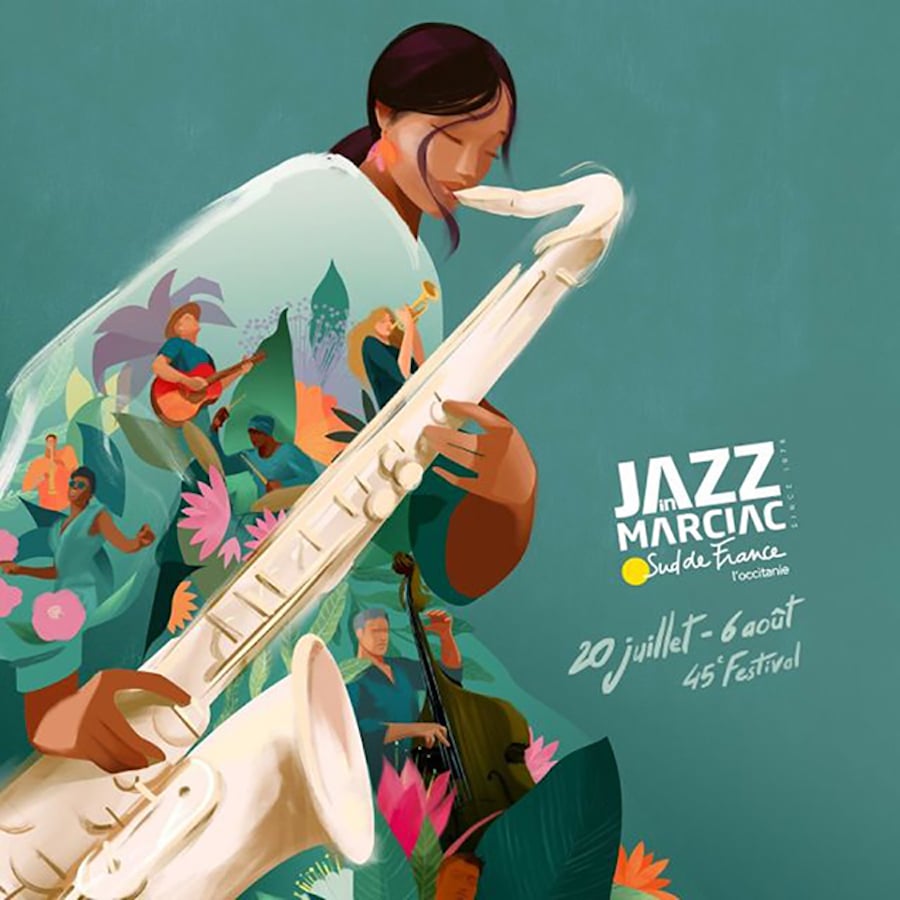 Is it a challenge to report on a festival like Jazz in Marciac ? Except to talk about, or rather show, what I know how to do, what I was able to do and what I wasn't able to do. For this 45th edition and for Couleurs jazz, I was present from July 21 to 27 in the Gers town transformed into a temple of jazz and its musical cousins.
Under the big top, which can accommodate up to 10,000 people, I attended 14 concerts and was able to take photos during 11 of them (with various and varied shooting instructions).
L'Astrada, Marciac's 500-seat concert hall, gave me a warm welcome. (Thanks to Christelle Morandin). I attended three concerts there (Mortelle Randonnée, Laura Prince and Robinson Khoury), as well as the sound check for Stéphane Kerecki's concert with Marc Copland, Airelle Besson, Sylvain Rifflet and Fabrice Moreau. Lucky as I am, Stéphane Kerecki and Marc Copland, waiting for their partners, offered a superb duet just for me (or almost).
And then there's the Festival bis, on the Place de la Bastide, offering free concerts every afternoon with top-quality groups and musicians (Dexter Goldberg, Adrien Chicot, Jeanne Michard…to name but a few).
No written reports of the concerts. Just a few personal impressions and feelings.
-The collective energy, the joy of playing and sharing with the audience, above and beyond the quality and talent, were very strong during the concerts by Anne Pacéo (S.H.A.M.A.N.E.S.), Sixun and Robinson Khoury.
-The superb voices of Lizz Wright and Samara Joy.
-The almost pathetic emotion of Abdullah Ibrahim's concert.
So here's a photographic review.
You won't see any photos of the Pat Metheny, Norah Jones or Brad Mehldau concerts. I was not allowed to press the shutter release (Refusal of the artist? More likely the producer or press agent, or some other obscure reason, in any case beyond the control of the festival's press-photo team, whom I'd like to thank once again for their welcome and kindness). It's a pity, especially for these artists, and a little for us…