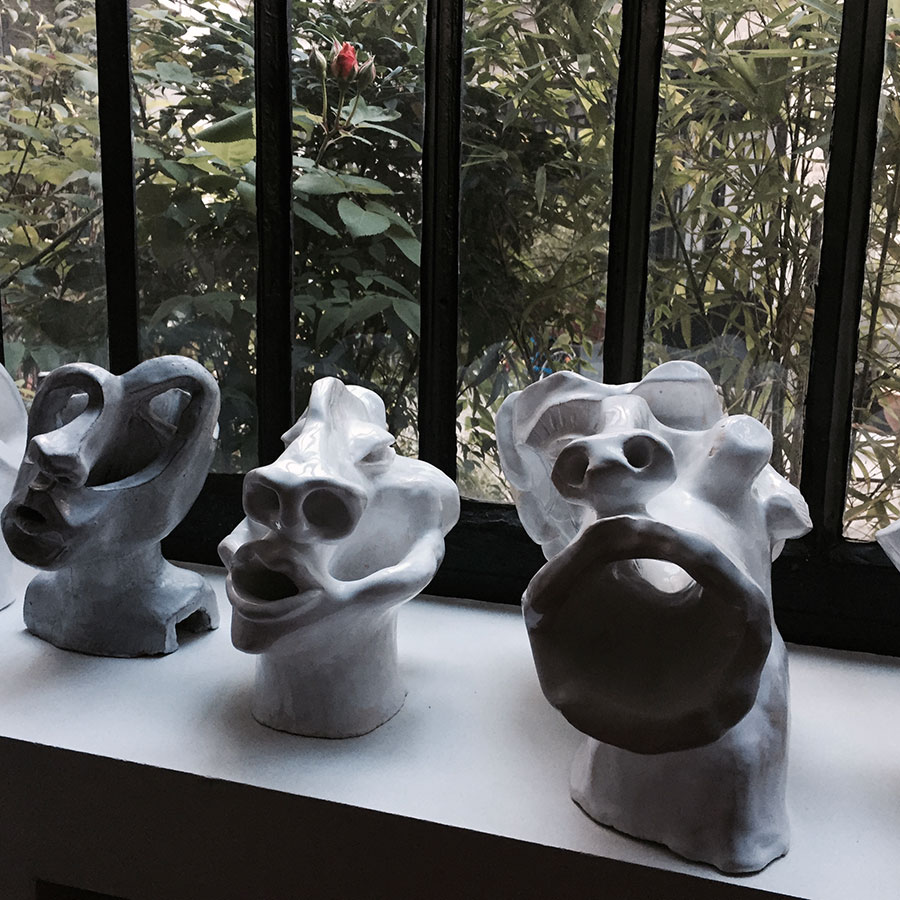 ©photo cover Couleurs Jazz – Sculptures: Gaby Sanchez new collection.
Jazz, synonymous with freedom, joy, tolerance… Playing it in the closed frame of a prison, obviously it's an issue.
For several years now, the Jazz Festival in St Germain-des-Prés has escaped from the walls of the cultural and joyful district of the Paris' VI arrondissement to offer a musical escapade to prisoners from various penitentiaries near the French capital.
The walls of Versailles Detention Center on this sunny and warm day of May is held "Carnegie Hall" for Kicca, the Italian singer, a ball of energy with a voice so expressive and liberated. She is accompanied for this exceptional concert, outside and inside the walls, by Hervé Samb, a guitarist with a very personal sound, mixing Jazz, groove, acoustic electro-bop and Mandingo culture.
These two wonderful musicians, both musical and human, have often collaborated and played a few years ago in front of an incarcerated audience. It was at the Ile-de-Ré prison. Both are the type of artists who always respond, as soon as they are solicited to bring love, beauty, a moment of sharing.
Obviously, we are far from the limelight, the cameras … Even the cameras ourselves are forbidden for us, simple visitors of this sunny afternoon.
It does not matter. Memories and images will remain imprinted in our brains. We are all very attentive, silent, serious, even a little tense.
"Enter three by three.
– Your papers, please!
– Leave all your belongings in the lockers.
– Pass the gate.
– Wait … "
We will pass through different security chambers, pass through heavy gates.
– "Stay grouped,
"Wait!"
All these orders are carried out without violence, without any acrimony, a little by routine. Inevitably, we are just a group of musicians, journalists, cultural missionaries …
Reinforced doors, covered with heavy locks, opened and closed behind us. We thus penetrated deeply into the heart of this women's prison in Versailles.
It's like in movies: noises, cries, stifled by the thickness of the doors, the murmurs, the atmosphere. Discipline. The seriousness of the staff in uniform. The gates, the bars everywhere, the big locks, a bunch of keys. Discipline. The corridors with the rows of cells on each side. Discipline.
And this hope … This little interlude, this moment of music.
Kicca and Hervé Samb installed their basic material at the corridor end: two school chairs, the amp placed on a clothes-hook, an extension cord to connect the microphone and the acoustic guitar.
Some tunings, some adjustments, rapid professional exchanged between Hervé and Kicca. Voices and sounds checks.
It worked.
Meanwhile the prisoners listened with one ear to the orders of the guards:
– "Keep your hands off your pockets, walk under the metal detector, go up three by three"
They passed near us, almost furtively. At the same time, they listened to the unusual sounds of our little band, looked at our preparations, listened to the few sounds of this music, which entered the walls. They smiled. "Congratulations!"
Benches are set up in the corridor in front of the musicians.
It's important to leave a space between the two rows of benches, in case the guards should intervene, to run up the floors.
Ambiance … But quiet.
The prisoners are allowed to walk down from their cells to go sit on the benches, facing the improvised scene. They are grouped together in order, by affinity. They exchanged gestures and words, as would college girls in cultural settings. Moreover, many were of college's age. Others were certainly grandmothers.
Resignation, submission and deep sadness rule. A funny effervescence also began to settle. These women came to taste a little humanity, music, culture, life …like outside.
Then the concert began, charged with palpable emotions between the musicians and the audience.
California Song…
Around the prison, staff always very professional showed no particular feelings or interests in the show. They remained extremely attentive to the audience's gestures and movements. It showed the seriousness that exists in these circumstances.
Kicca is full of energy, tenderness too and begins her singing turn with accuracy, depth and emotion.
Hervé Samb plays as he knows how to play: the rhythm on the muffled strings, brilliant jazz & blues phrases.
Just the guitar and the voice … It's as simple as strong.
Summertime…
Lots of depth, empathy.
Some of the spectators are right away in the mood. Music penetrates them and makes them almost joyous. They move, marking the measure with their feet and hands.
Once in My Life…
A very young twig with a gentle and sad look, imperceptibly moves her feet, then slightly undulates gently from the trunk, then from the head.
Her applauses, after each piece are barely audible, only sketched. Yet a quick, pale smile slowly fits on her face
Smile… (from Charlie Chaplin)
Some were more expressive and did not hesitate to move, or got up to begin a few dance steps. But it did not last long. Quickly they recovered or simply did not dare to go too far in their manifestations.
Hervé and Kicca played and sang as if their lives depended on it, with so much sincerity that everyone can embarked with emotion. They showed generosity within all the notes they offered.
Let's The Sunshine…
After several tracks, the atmosphere began to relax. The spectators, at least some of them, began to move, to laugh.
The relief was clear.
The corridor of this prison has turned into a theater like any other. The defendants became women of all ages, all origins, spectators with their own identities and diversities, who came to listen to a concert full of generosity, talent and borrowed sincere humanity.
This desire for fraternity has filled the space. The magic operated.
…Hit the road Jack and don't you come back no more, no more, no more, no more…
Then the concert came to an end.
Kicca launched:
– "What do you want to finish?"
In heart, they answered:
– "Something cheerful …!"
It will be Stevie Wonder…
Then at the 3rd encore, Kicca and Hervé Samb
Oh Happy Day
Oh, happy day
Oh, happy day
Oh, happy day
Oh, happy day
When Jesus washed
When Jesus washed
Oh, when he washed 
When Jesus washed
When Jesus washed
When Jesus washed
He washed my sins away!
Oh, happy day
Ah, happy day
Oh, happy day
Oh, happy day
Oh, happy day
Oh, happy day
Oh, happy day…
Ended on smiles and laughter.
Then,
"The first floor, go up in silence three by three ..."
—–=====—–
We wanted to thank the  "Service Pénitentiaire d'Insertion et de Probation des Yvelines (SPIP 78)"
—–=====—–