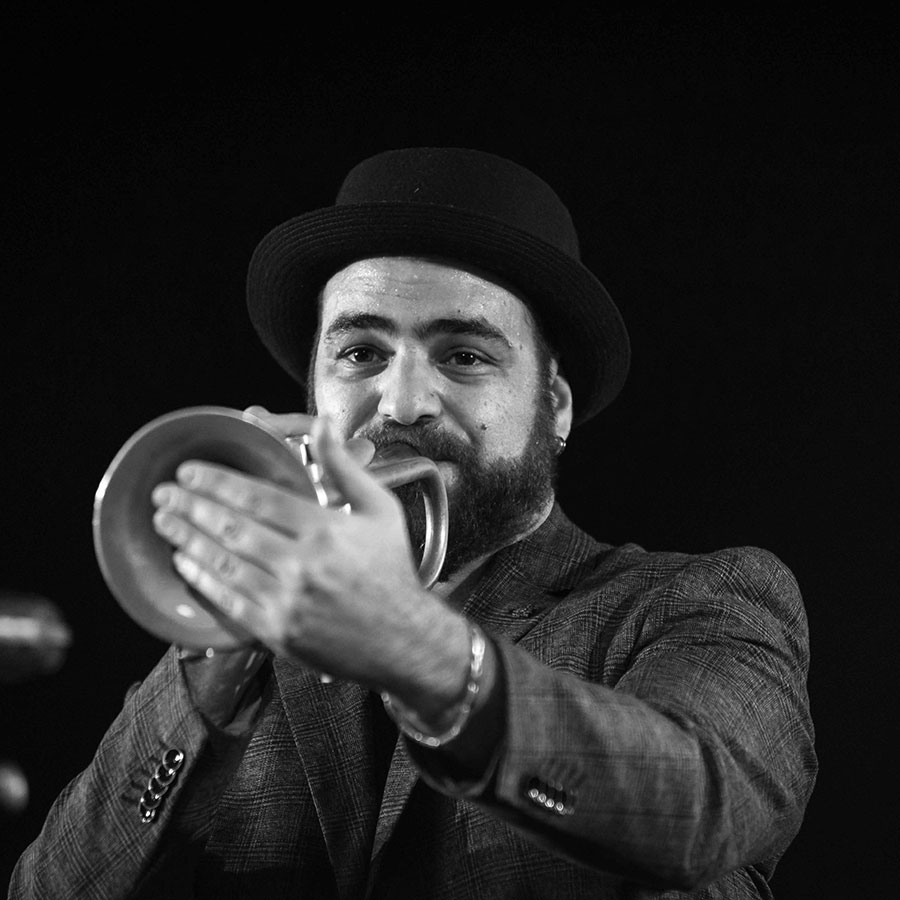 With over twenty show cases, an entire day devoted to big bands, the presence of dozens of festival directors, artistic agents, managers, tour managers and journalists, the 3rd edition of Jammin 'Juan (from October 23 to 26) in Antibes / Juan-les-Pins has shown that it has become the showcase and especially the French market of jazz professionals.
Lilian Goldstein, director of the SACEM's music and live performance service, reminded that this event was not a "festival" but "first a market for regional and national jazz, even international, in other words, a way to do shopping, for professionals of the sector, for festivals artistic managers and jazz clubs».
An affirmation shared by Philippe Baute, director of the Tourist Office of Antibes / Juan-les-Pins and Jammin 'Juan who stressed: "in 2018, more than 30 contracts were signed" and "there there is nothing pejorative about talking about a market for jazz professionals ".
For his part, Alain Paré, head of the Pan Piper Hall in Paris announced that already he had selected four groups among those presented during the show cases, for future concerts in his Paris place.
Begun in the storm with torrential rain and rough sea, the event ended in a nice weather, under a radiant sun and a spring temperature after having experienced some beautiful musical moments whose culmination was the closing day (Saturday October 26) dedicated to big bands, with no less than four bands.
This marathon of great orchestras had begun the day before with the presence on stage of Danzas, a large jazz / classical ensemble led by pianist, conductor, composer and arranger Jean-Marie Machado. The highlight of this performance, perfectly oiled and prowled, was probably the presence of Béarn singer André Minvielle, who revisited with humor and devotion, several songs by Bobby Lapointe.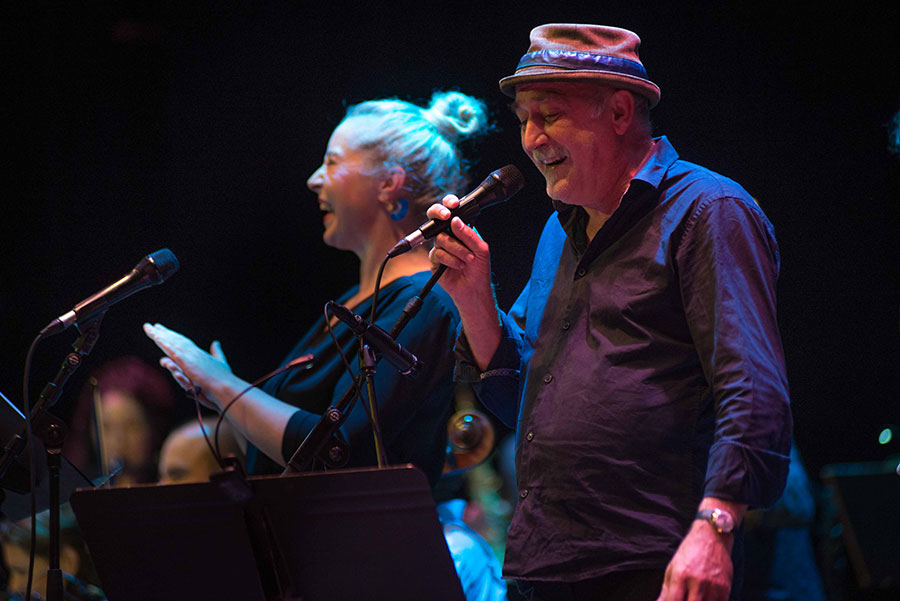 4 bands were present for the  "Grands formats" day :  Les Rugissants, the Tullia Morand Orchestra, the Line Kruse Orchestra and Bigre !
If the first one, a tentet, brings together brilliant young people from conservatories in Paris and if the latter is more like a great fanfare (20 musicians and a single trumpet female) of the Fine Arts, despite the presence of the singer Celia Kameni, the prize goes to two women chiefs: Tullia Morand (already celebret in our pages!) and Line Kruse.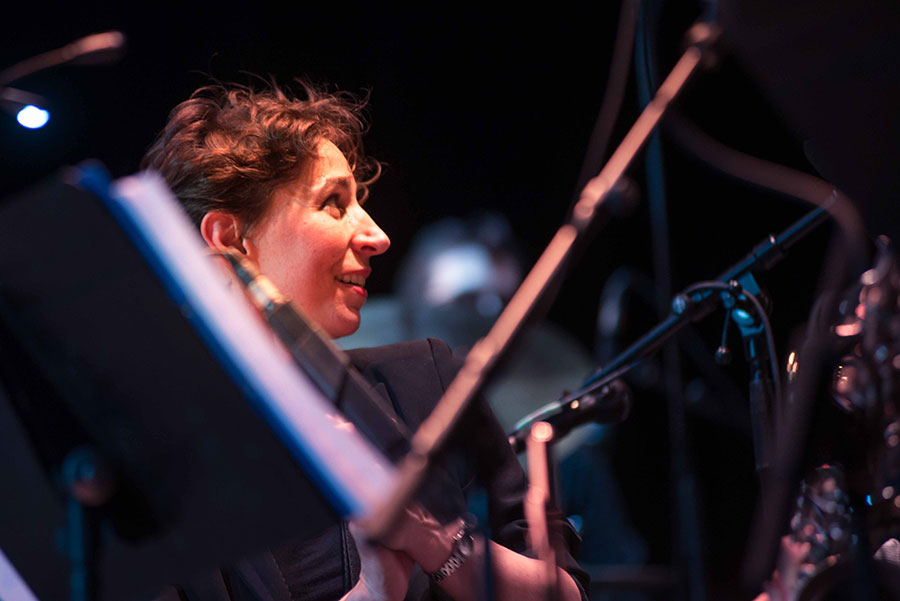 Saxophonist-baryton/composer Tullia Morand skillfully managed her twelve musicians and especially leaves to a  guest, the elegant tap dancer Fabien Ruiz, the care of the show, especially when he improvises with agility and a dandy side on "Heart Of My Heart", immortalized by Blossom Dearie.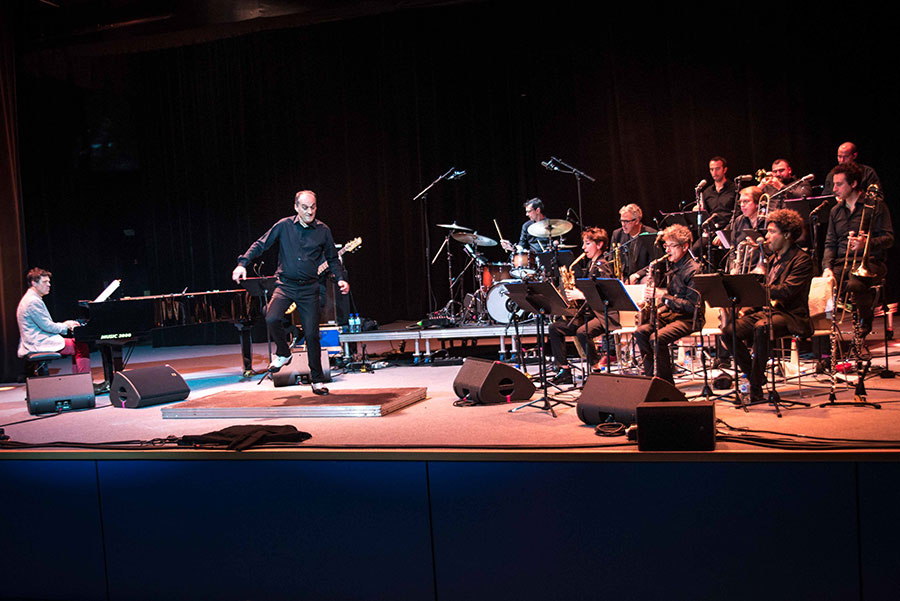 However, the highlight of this final evening was undoubtedly the performance of Danish violinist Line Kruse at the head of a 17 members big band in which several personalities such as Pierre Bertrand (saxophone / flute), Minino Garay (percussion), Denis Leloup (trombone) or Stéphane Huchard (drums).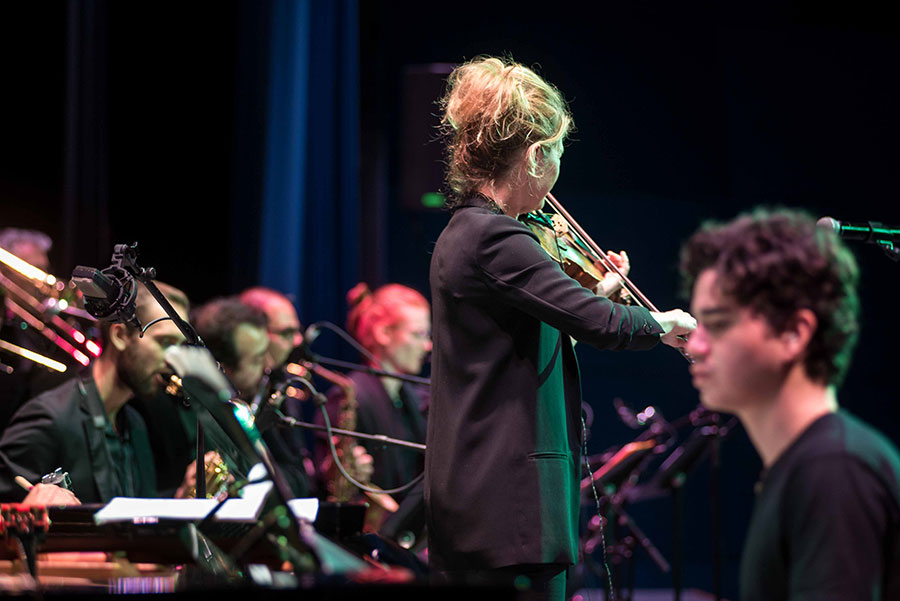 Faithful to her habits, the delicate composer and arranger took the public and the professionals on a trip: in Cuba, before the release of her new CD, "Invitation" (Continuo Jazz), (also in selection Couleurs Jazz Radio) in Latin America , with an Afro-Peruvian composition or in the United States, with the resumption of a standard of the Gershwin brothers, "Fascinating Rhythm". Beautiful musical invitations from an excellent musician!
In addition to concerts and meetings, "Jammin 'Juan" has also been the occasion for multiple show cases and is a showcase of the vivacity and ardor of the current jazz scene.
If there was an inflation of piano-double bass-drums (six in all!) – all of which were inspired by Bill Evans, Keith Jarrett, Brad Mehldau or E.S.T. – the most interesting was that of Alex Montfort (Samuel F'Hima, double bass, Tom Peyron, drums). Unlike the others, the young pianist – already spotted by Couleurs Jazz (in Couleurs Jazz Radio's selection with his album "Introspection"!) – draws inspiration from Mulgrew Miller, Jason Moran, McCoy Tyner or Herbie Hancock. cloning!
Another highlight is the pair Nicolas Gardel / Rémi Panossian, already recognized for their many qualities. The trumpet player and the pianist, who have known each other for years, have brought to a very high level of creativity and inventiveness a formula far from being obvious, even going so far as to casually take up Duke Ellington / Juan's "Caravan". Tizol.
And to stay in the jazz spirit way Jazz Messengers, a nod to Josiah Woodson and his 5tet, "Quintessential". The trumpeter / guitarist, former sideman of Beyoncé (!?), Has committed a powerful and energetic post bop jazz and hard bop, faithful to a certain tradition among movers. To discover…. !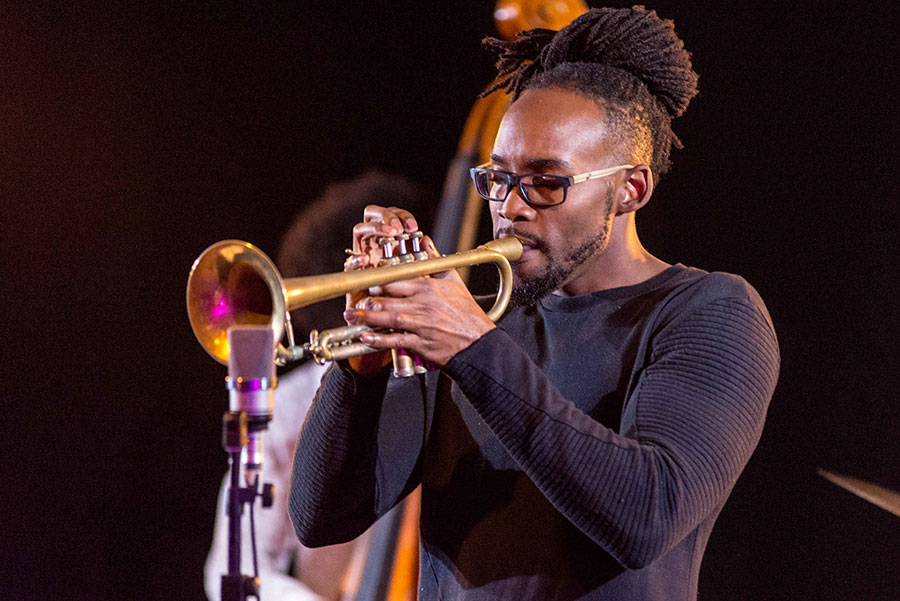 In addition to the show cases and concerts, a round table entitled "Women in Jazz" was organized, according to an investigation called "The representation of men and women in jazz and improvised music", conducted by the AJC. Grands Formats Association, FNEIJIMA (National Federation of Schools of Influence Jazz and Contemporary Music), Opale and in cooperation with ADEJ (Association of Jazz Teachers).
A deliberately reductive study since it is only the representation of women-men (or vice versa) in France. As if jazz – universal music – stopped at the inner borders of France and as if France was the navel of jazz!
This investigation, which draws as a conclusion that "jazz and improvised music are crossed by a clear sexual division of labor, horizontal but also vertical", would have deserved to be extended, if not to Europe in any case to some of our close neighbors …. But perhaps, in this case, the comparison would have been less flattering and to our detriment …!
The Cover photo: Nicolas Gardel – The"Header" photo: Line Kruse Orchestra.
All photos are ©Photos Jeff van Straelen