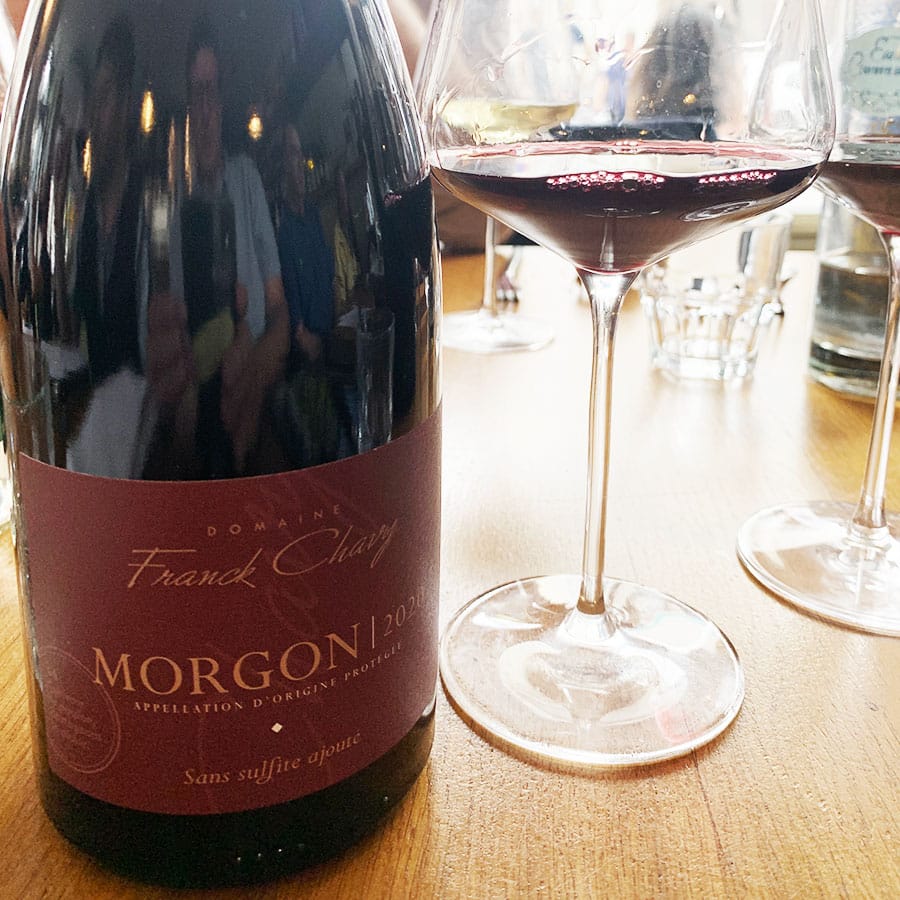 The Chavy family has been growing vines and making wine for 4 generations. Today, the estate, located 100 km from Beaune and 50 from Lyon, covers just under 10 hectares.
These vines in the heart of the Beaujolais region produce Morgon, Régnié and Brouilly crus, with 100% Gamay. Chardonnay is also present, and is used to produce Beaujolais-Villages Blancs.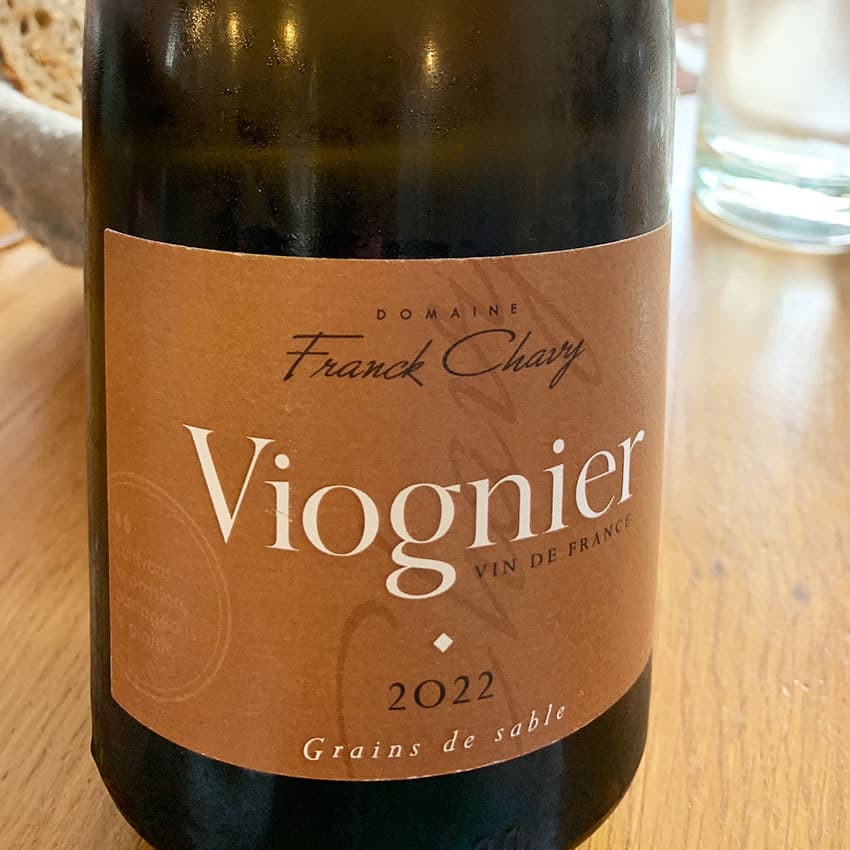 On this sandy-granite soil, the vines are between 50 and 120 years old. Harvesting is entirely by hand.
The climate is excellent for vines, thanks to the wind, which cleanses the plants while clearing the sky enough to allow plenty of sunshine.
Franck Chavy adores his Gamay Noir grape variety with its white juice, as it is worked with rigor and precision, "Gamay is probably the only grape variety capable of marrying fruit, complexity, roundness, freshness and deliciousness", he confides.
In fact, his Morgon was voted best Gamay in the world in 2019 (no less…)!
This convinced us, too, thanks to a tasting of his wines in a very friendly and welcoming bistro:  Oh Vin Dieu! 19, rue Treilhard in the 8th arrondissement of Paris.
In the course of this highly enjoyable experience, we'll discover that there's know-how, experience, love of a job well done and, when all's said and done, quality products.
There are many reasons for this, not least of which is the long maceration process: 18 to 20 days in the vat to get past the primary aromas and seek out the silky tannins that are then revealed.
And many of our wines are matured without sulfites, which requires great mastery of the winemaking process. In this way, the terroir can truly express itself, in all its splendor and the richness of its aromas. 
Many cuvées are aged in vats for eight to nine months, and in oak barrels from the neighboring Allier region for 12 months before bottling.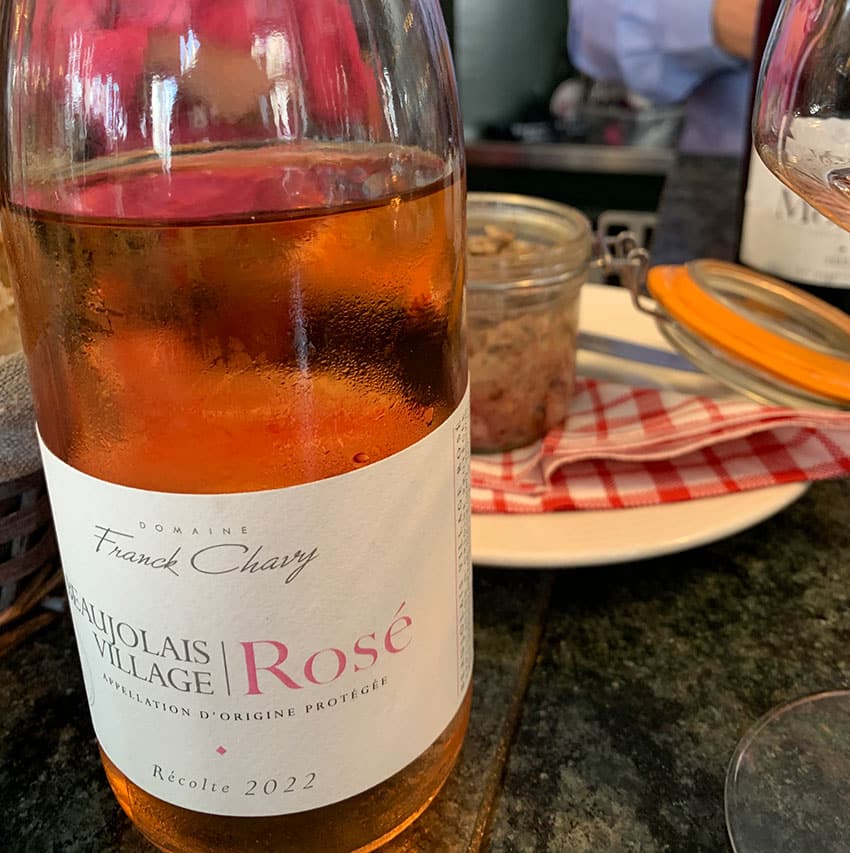 What did we taste?
Beaujolais-Villages Rosé 2022: A wine that proves surprisingly gourmand for a rosé. Very interesting (€10.30 ex cellar).
Julmary 2022, Brouilly: Very fine structure, ideal for a meal shared with friends (€12.80, ex-cellar).
Les Granites Roses 2022, Morgon: This wine takes us up a notch, revealing beautiful, spicier aromas. It remains both gourmand and fresh. The terroir is evident. A very good, well-made wine (€13.40, ex-cellar).
Cuvée Paradis 2022, Régnié: refreshing, slightly sour cherry aromas. Very interesting, but the cuvée is a little young. It should evolve well (€11.80, ex-cellar).
Then we were treated to the famous sulfite-free wines of the 2022 vintage.
Régnié sans sulfites 2022: a far superior wine to the first tasting of the "standard" Régné. (€13.70, ex-cellar).
Morgon sans sulfites 2022: A wine full of subtleties, with an intense color. The nose opens with stone-fruit aromas (vine peaches, cherries, etc.), followed by floral and spicy notes. (€17.10, ex-cellar).
Brouilly sans sulfites 2022: Very good wine, with notes of black fruits and spices, supple and velvety, with a long, seductive finish. (€15.30, ex-cellar).
The menu served by the Oh Vin Dieu! team reveals even more excellent vintages! Starting with these top-notch Eggs Mayonnaise.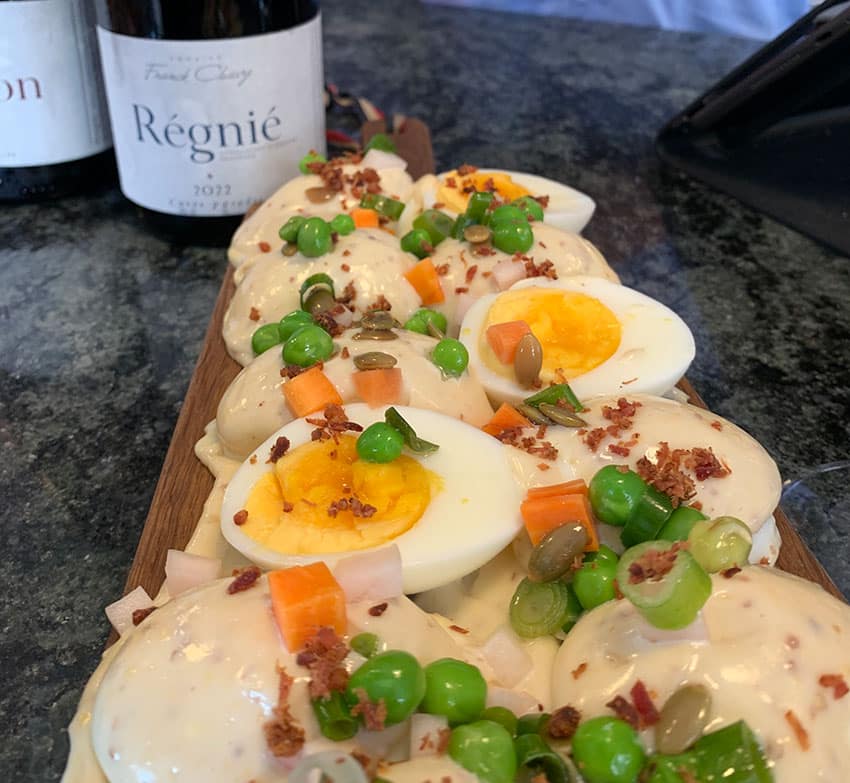 Snack shrimps, fennel and minced radish to be enjoyed with a Viognier 2022 full of freshness and with a lovely minerality and lots of freshness. The floral, fruity side of this grape variety, which is sometimes too present, is perfectly contained here. Subtle! (€13.40, ex-cellar).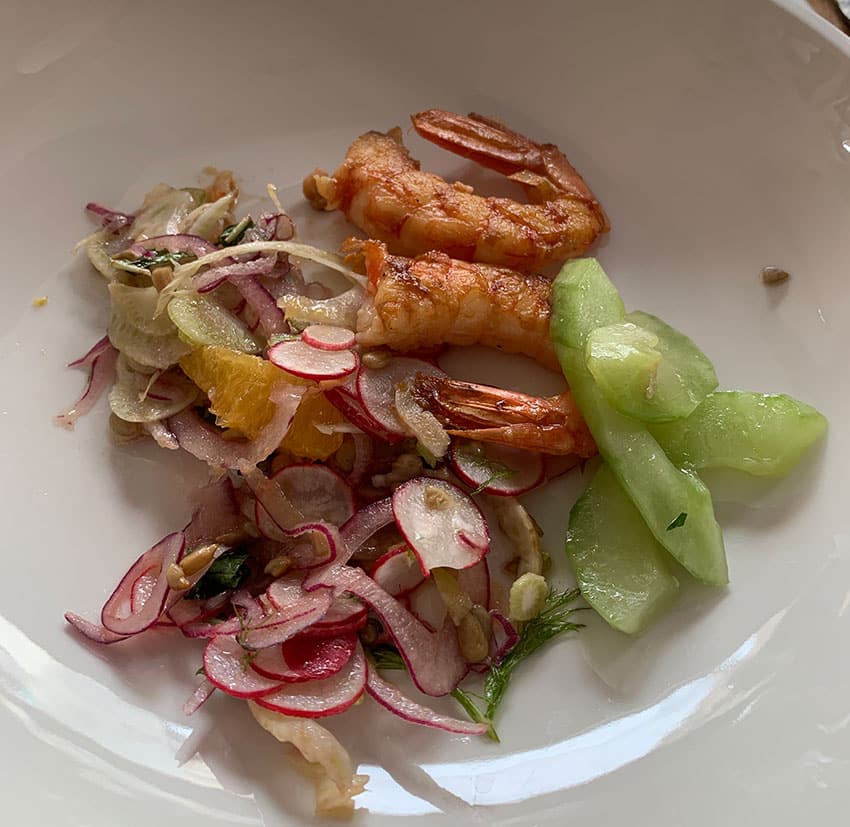 Fillet "onglet", (rare for me please), fries cooked in beef fat. With a Sulfite-free Morgon 2020. In addition to the very tasty meat, the fries are to die for. And the wine won't let you get up, revealing such delicate perfumes and tannins. It's a pity it's no longer on sale, but it's a shining example of how these Morgons can be aged with complete peace of mind if you manage to forget about them and don't enjoy them within the year.
To finish seating us, the chef suggests poached strawberries with Régnié 2015, to leave us with a fresh and relaxed palate. This was no longer on sale either.
We enjoyed it all the more 😊
We can't recommend this Parisian bistro enough to broadcast Couleurs Jazz Radio, while its customers enjoy wines from Maison Franck Chavy in this lovely setting! they'll have a great time.
In the meantime, let's listen to jazz that's as joyful as it is fresh, respectful of tradition. That's what Franck Chavy's wines inspire us to do!
Mathieu Najean with : Vocals: Cait Jones, Trumpet: Noé Codjia Saxophone: Mathieu Najean Trombone: Edouard Wallyn Guitar: Romain Vuillemin Piano: Bastien Brison Bass: Edouard Pennes Drums: David Paycha. 
Your glasses will swing all the more.