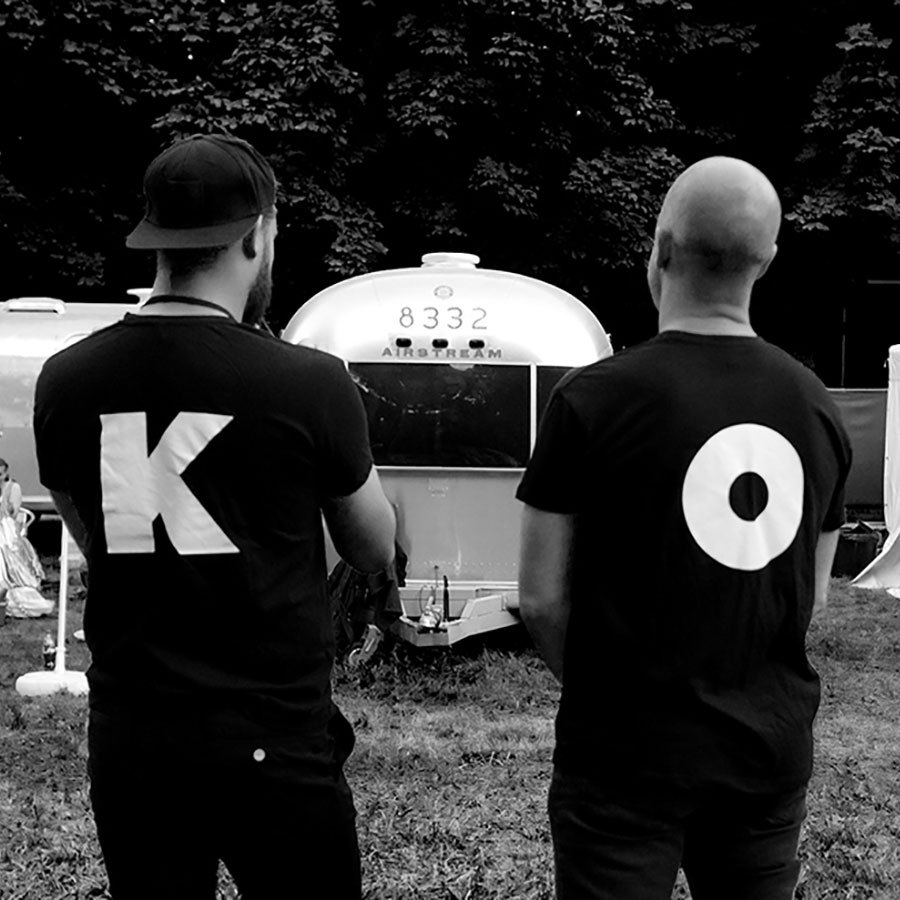 Couleurs Jazz Média was present at the 40th Django Reinhardt Festival, which has been going on since 2016, in the Bois du Hyver Prairie in Fontainebleau. From July 4 to 7, 2019 Swing Manouche, Soul-Jazz, Electro-Swing, Pop-Tropic, Afro-Cuban …
Here is the chronicle of this annual meeting, in the form of a Portfolio: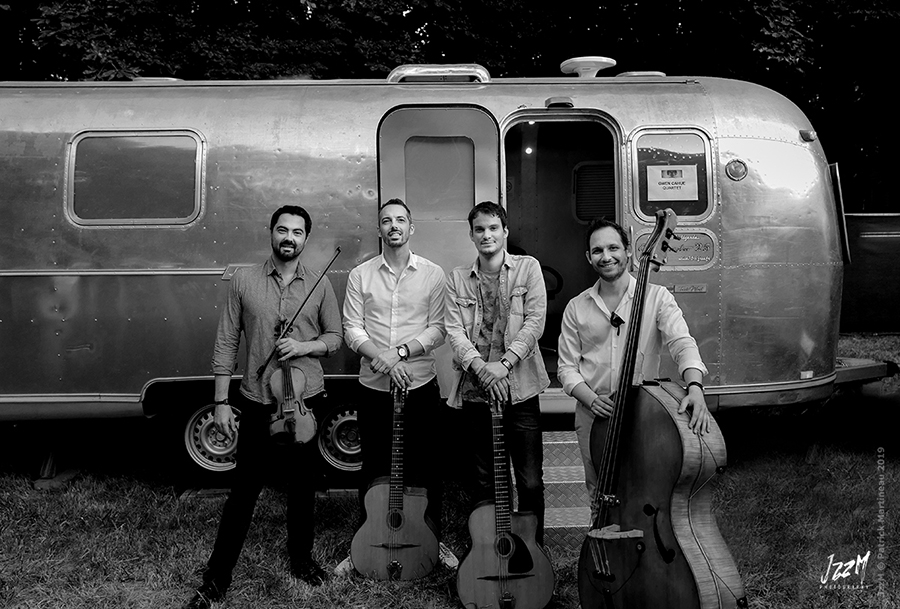 Thursday, July 4th, at the opening of the Festival, Gwen Cahue (guitar) in trio with Julien Cattiaux (guitar) and William Brunard (double bass) with a special guest, Bastien Ribot and his violin.They proposed a surprising replay of directories ranging from Django Reinhardt to Michel Petrucciani.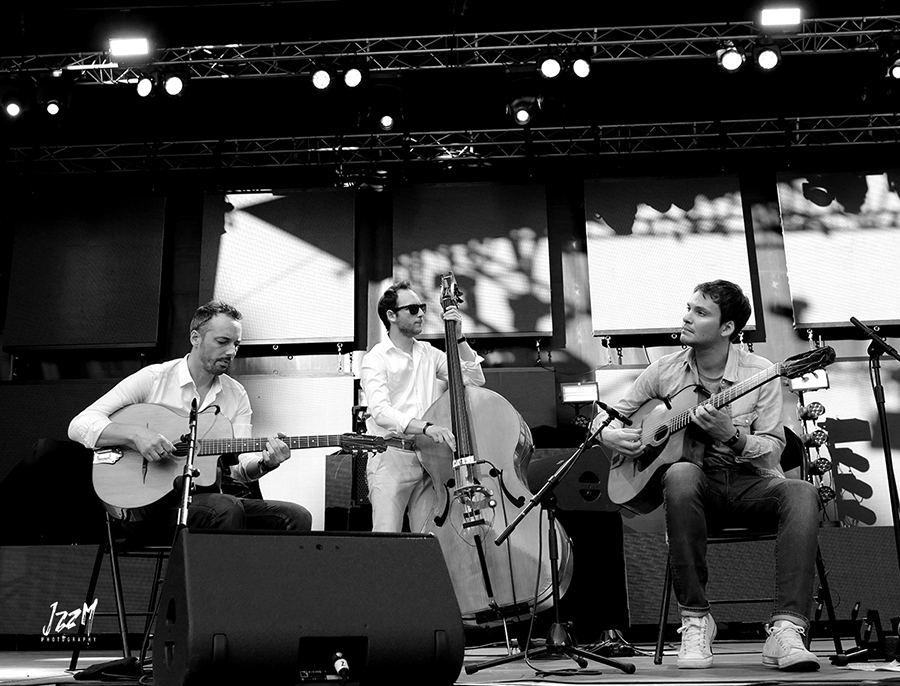 The organist Delvon Lamarr took over, accompanied by Jimmy James (guitar) and Doug Port (drums) for a moment soul, jazz and rhythm & blues very dynamic.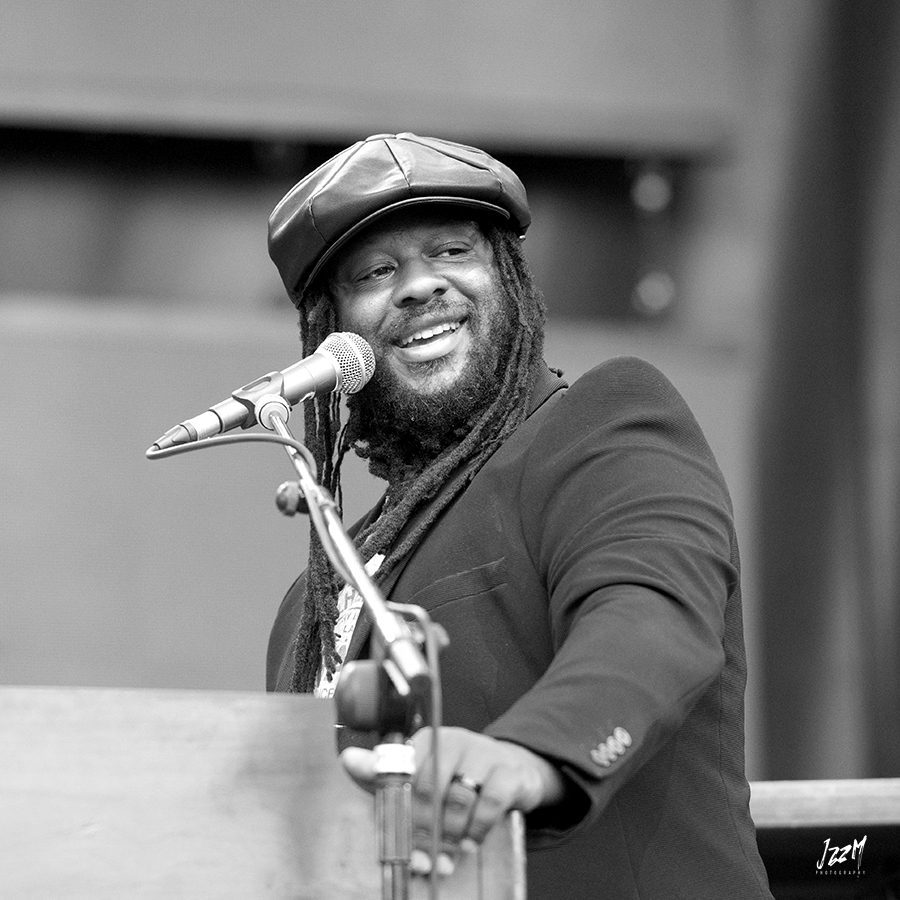 To end the evening in an explosion of sounds and lights, DJ Parov Stelar, surrounded by an exceptional band: Elena Karafizi and Lee Anduze to the songs, the blowers Sebastian Grimus, Marc Osterer and Jacky Mayr, Michael Wittner and Willie Larsson Jr. for rhytmic, set fire to the meadow, full of enthusiastic public.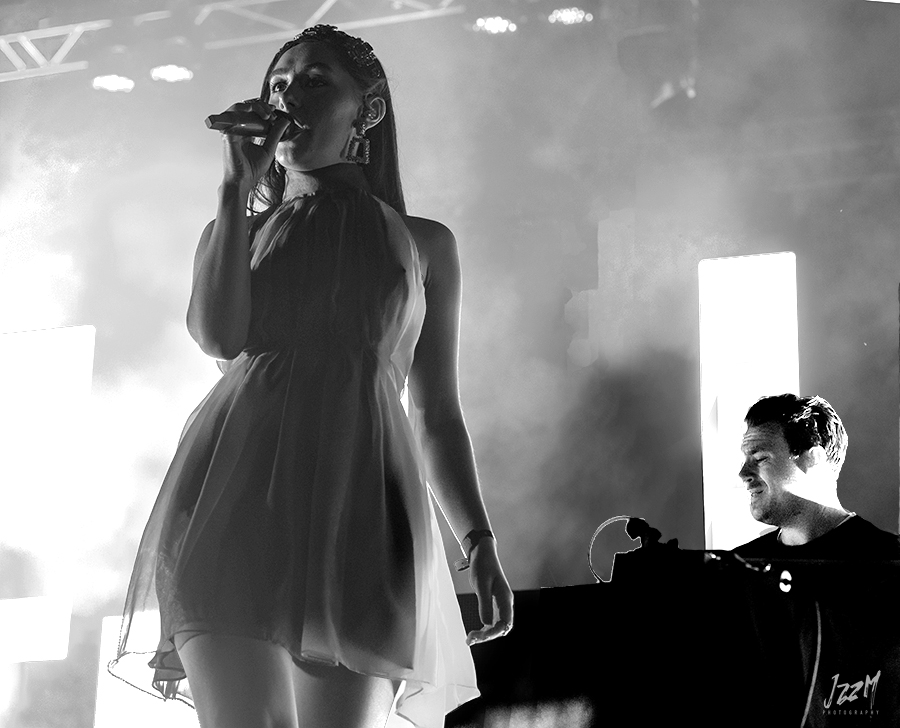 Friday, July 5th. Nice meeting of Romane, on guitar with Paris Swing Ochestra, for a repertoire of "Swing Era" which had never been played before in big band, at least with a guitarist of this style.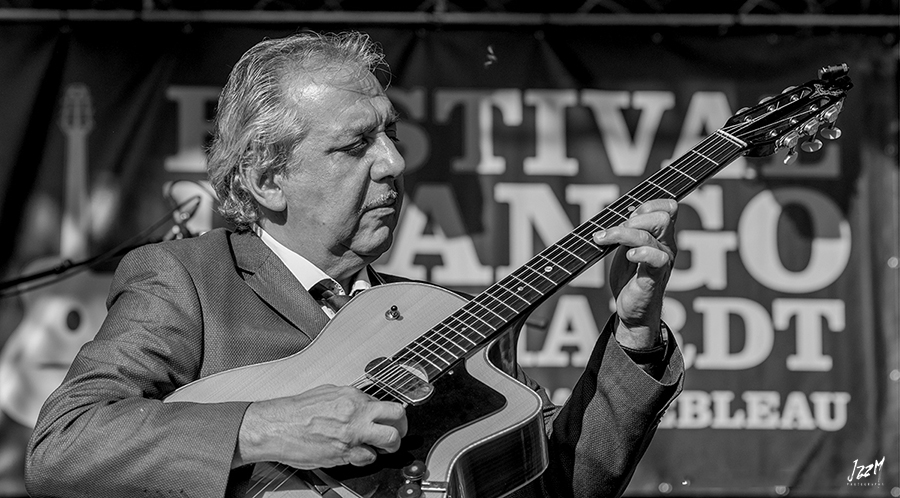 Line Up :
Romane: Guitar solo.
Denis Jusseaume, Marcel Bornstein, Guy Bodet,Michel Bonnet : trumpets,
Patrick Bacqueville :  trombone & voice, Pierre Guiquéro : trombone , Jean Pierre Dumontier: trombone & arrangements,
Olivier De Faïs, alto saxophone,
Marc Richard : alto saxophone, clarinet, arrangements & musical direction,
Nicolas Montier, Pierre-Louis Cas : tenor saxophones,
Philippe Chagne : baryton saxophone,
Jacques Schneck : piano,
Enzo Mucci : rythmic guitar,
Gilles Chevaucherie : double bass,
Michel Sénamaud : drums,
Singer Mayra Andrade and her tropical pop, dressed like the white angel and surrounded by Tiss Rodriguez, percussions, Swaéli Mbappé, bass, Nicolas Vella, keyboard and Euclides Gomes, guitar, a conquered the public.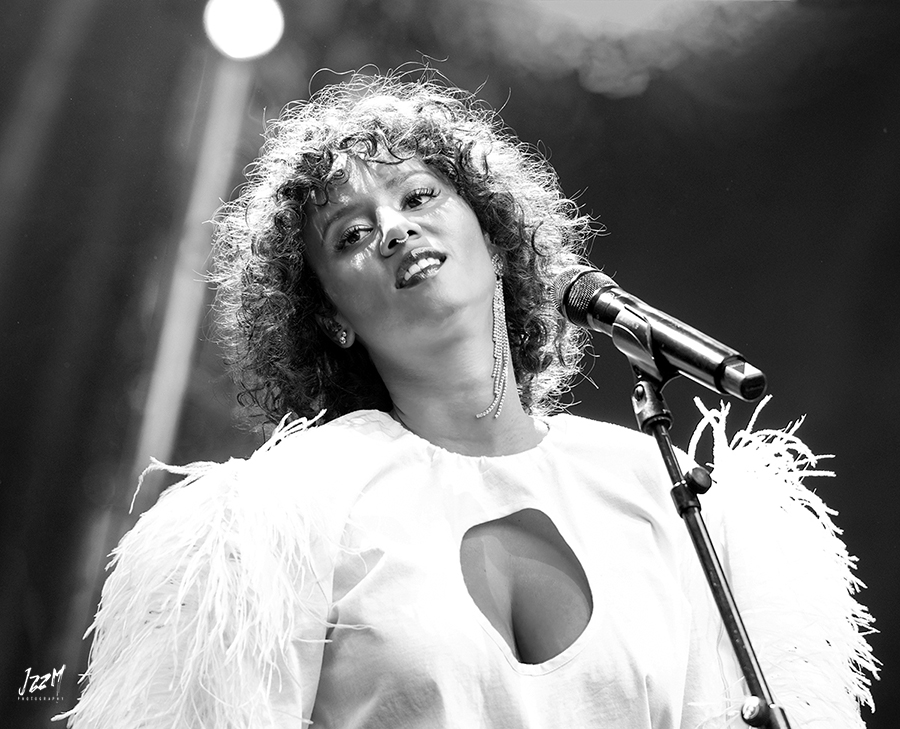 Maravillas de Mali takes us back to the story of the first group "Afro Cuban", the only one to sing in Spanish, Bambara and French and who, in a way, launched the "World Music". Boncana Maiga, singer and conductor and last witness of the group of origin and Manolito Simonet arrangement and piano were accompanied by Juancito Hurtado, David Reicer, Bencomo Guedes, Eduardo Coma, Armando Garcia Fernandez, Reicel Pedroso Diaz, Nahomi Stephany Guerra Mayan, Inor Sotolongo, Abraham Mansfarroll, Sergio Fernandez Pedroza and Felipe Cabrera Cardenas to transport us to their island of Cuba.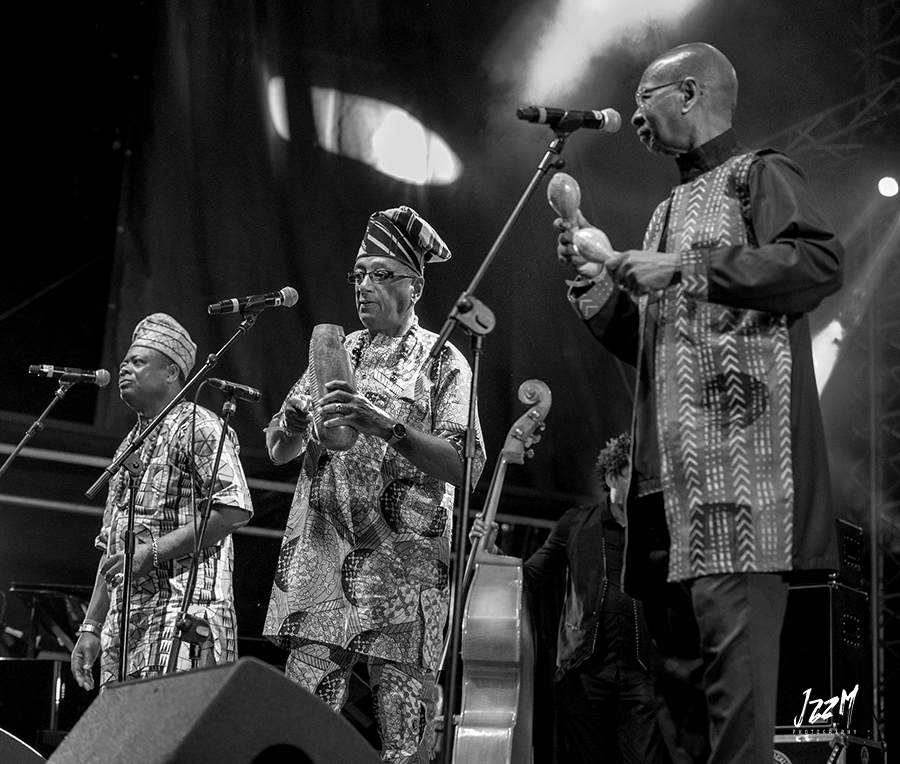 La chanteuse Cyrille Aimée, l'enfant(e)du Festival puisque née à Samois, était très attendue pour enchaîner et présenter son dernier album. Elle était accompagnée des excellents Laurent Coulondre, claviers, Jeremy Bruyere, basse, Yoann Serra, batterie, Ralph Lavital, guitare, Maxime Barton, saxophone et Bjorn Ingelstam trompette.
The singer Cyrille Aimée, the child of the Festival since she was born in Samois, was eagerly awaited to join and present her latest album. She was accompanied by the excellent Laurent Coulondre, keyboards, Jeremy Bruyere, bass, Yoann Serra, drums, Ralph Lavital, guitar, Maxime Barton, saxophone and Bjorn Ingelstam trumpet ..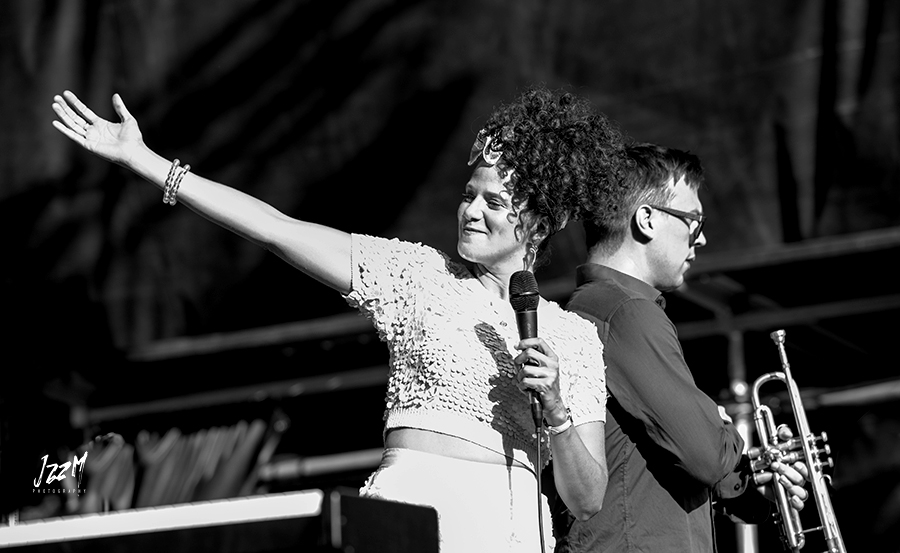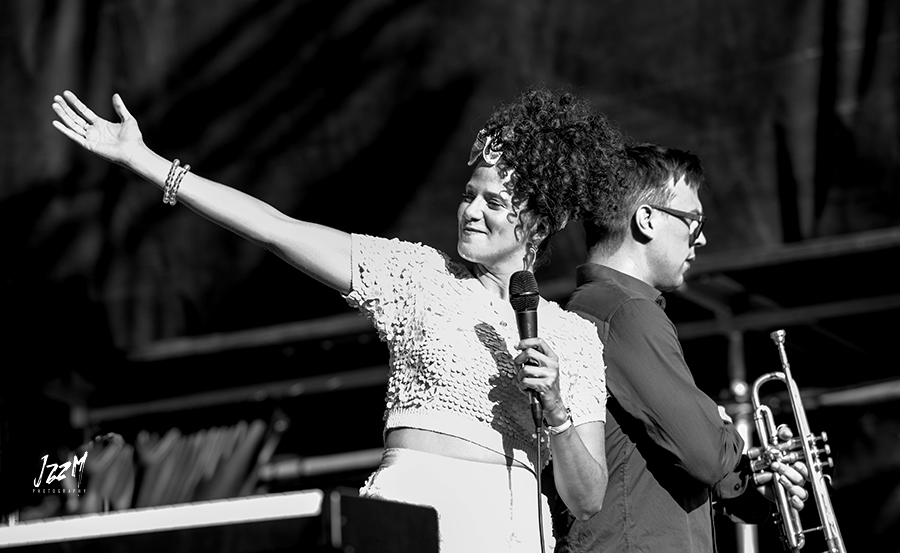 Intermediates from the stage of the luthiers with the trio of Adrien Marco on the guitar which had invited William Brunard on the bass and Mathieu Chatemain, on the guitar, to join him.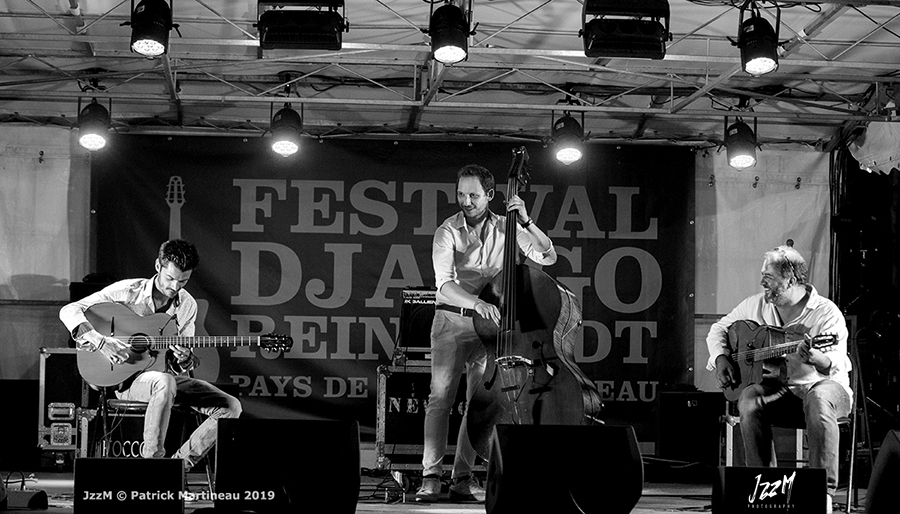 Then with Fiona Monbet who Antoine Boyer, guitar, and Arthur Henn double bass and Pierre Cussac, accordion.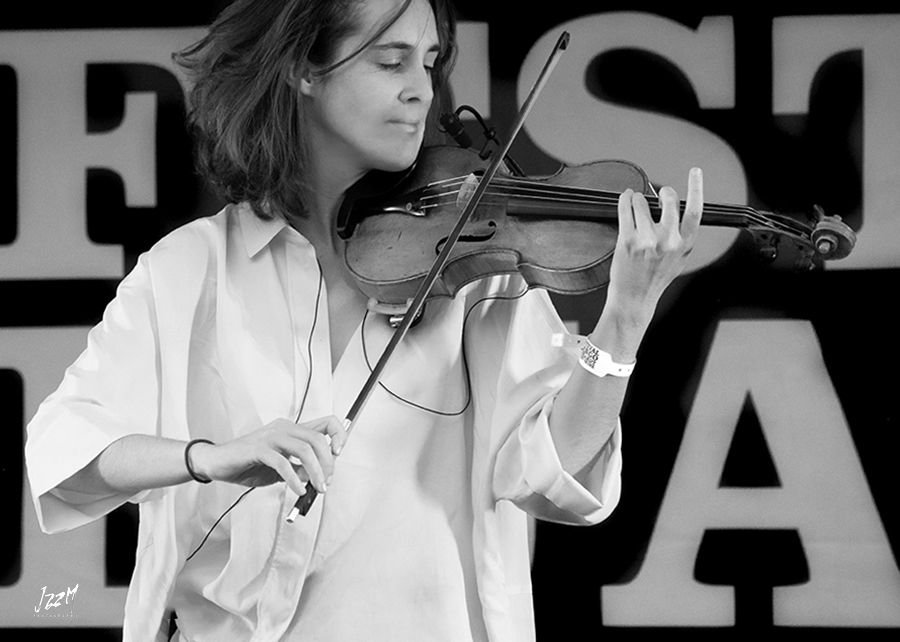 The « Esprits Manouches » Then invaded the big stage with Thomas Dutronc at the helm and a beautiful band to surround him: Rocky Gresset and Jérôme Ciosi, guitars, Aurore Voilqué, violin and David Chiron, double bass. "Live is Love"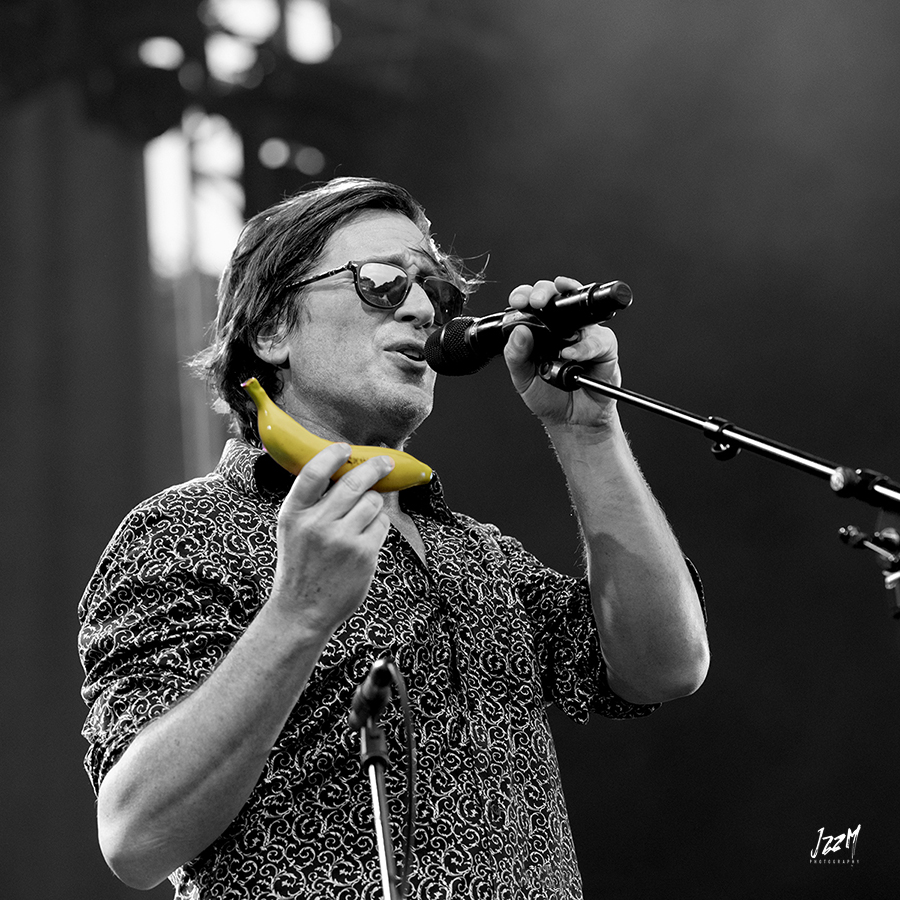 Sunday, July 7, accordionist Marc Berthoumieux opened the ball surrounded by an exceptional trio: Giovanni Mirabassi, piano, Laurent Vernerey, bass and Stéphane Huchard, drums for an original concert that celebrated the opening of this last day of the 2019 Festival.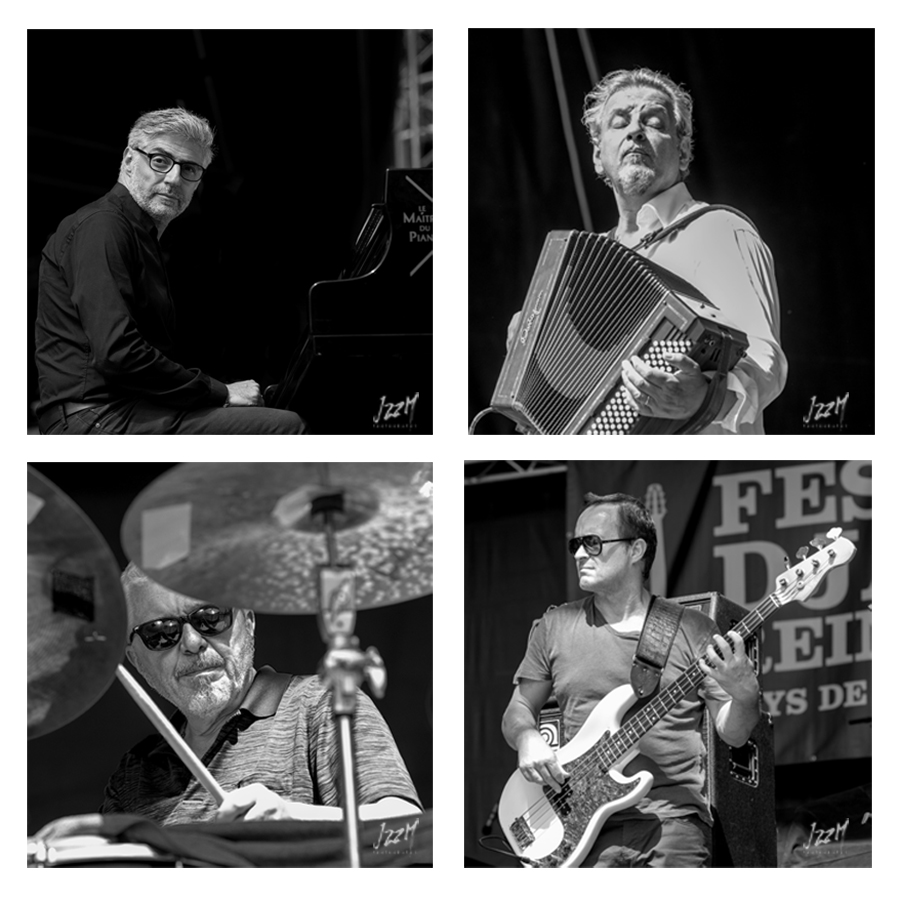 Composer and guitarist Gonzalo Bergara in 4et with Andrea Todesco, guitar, Pete Thomas, double bass, and Maki Bergara in cajon, transported us to his world of progressive jazz with influences Reinhardtiennes mixed with the music of his native Argentina.
Christian McBride, once again, innovated by proposing a new formula with two DJs on the turntables and a new band that toured the summer festivals after having moved to New Morning. A decidedly funk jazz!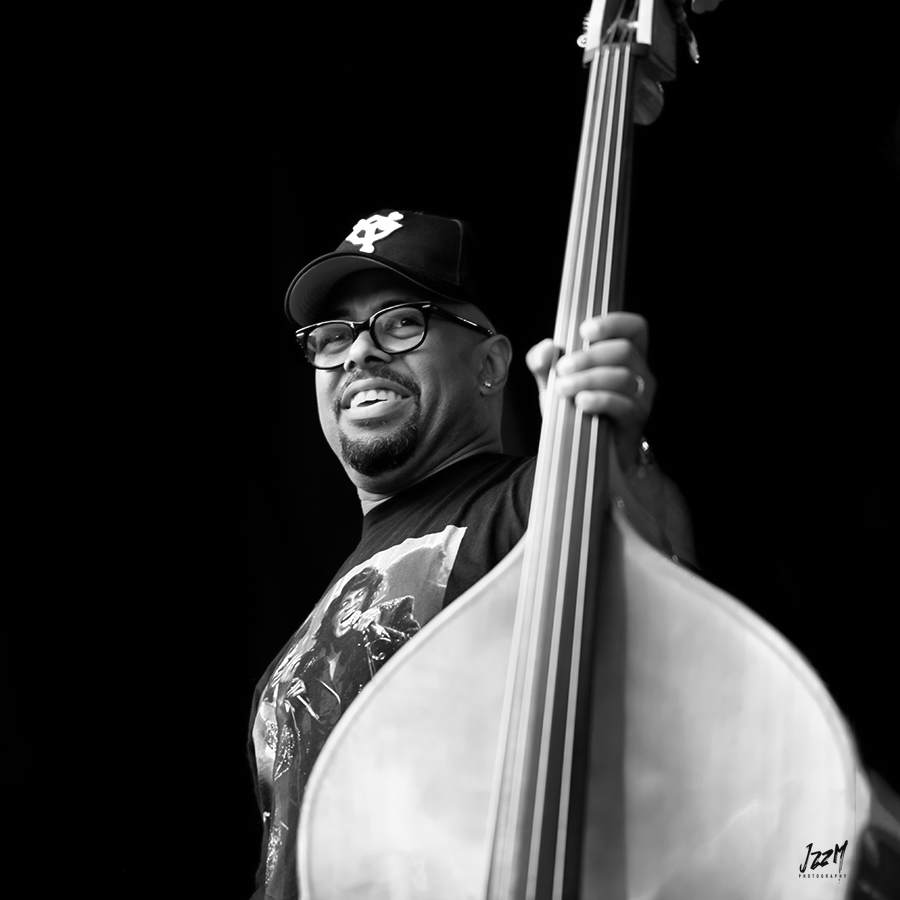 Line Up :
Patrice Rushen, keyboards, Alyson Williams, voice, Ron Blake, saxophone and  DJ Logic & Jahi Sundance Lake platines.
To close this edition of the festival, Ibrahim Maalouf, a regular, had invited Haidouti Ochestra, his brass and percussion dazzling.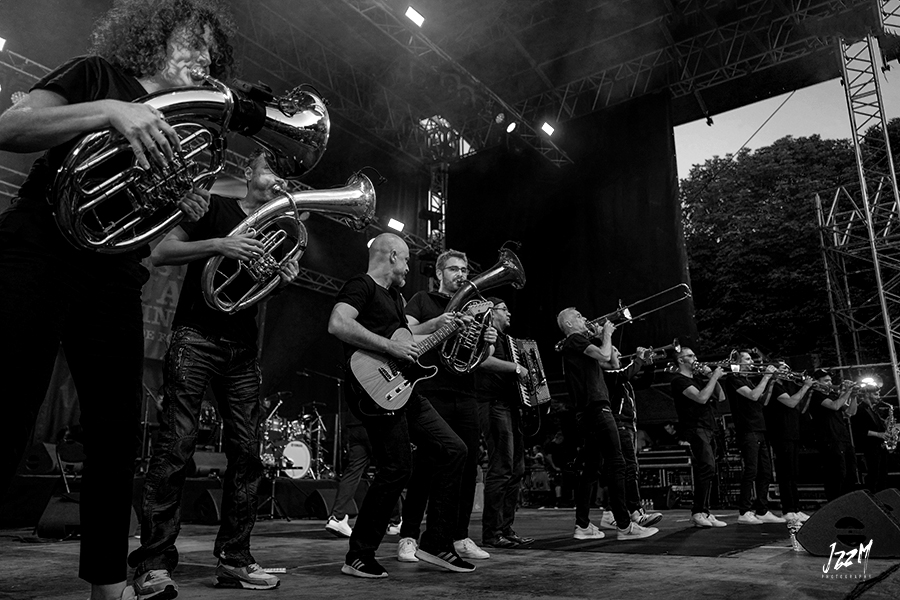 …As well as young dancers, for a late evening when the public showed itself in many very inclined to jiggle until the end of the night.
Line U :
François Delporte : guitar ; Jacques Colas : voice; Edika : choir ; Sylvain Dupuis : drums ; Tapan Dogan Poyraz : percussions ; Amar Chaoui : derbouka; Mihai Pirvan : saxophone ; Martin Saccardy, Yvan Djaoudi , Manel Girard and Yasha Berdah : trumpets ; Charlotte Auger, Alon Peylet et Julien Oury : tuba; Edi Negon Borges, Daniele Israel : trombones ; Denys Danielides : helicon ; Nuria Rovira Salat : danse ; Jasko Ramic : accordion.
The Festival also sometimes reserves surprises, back Stage !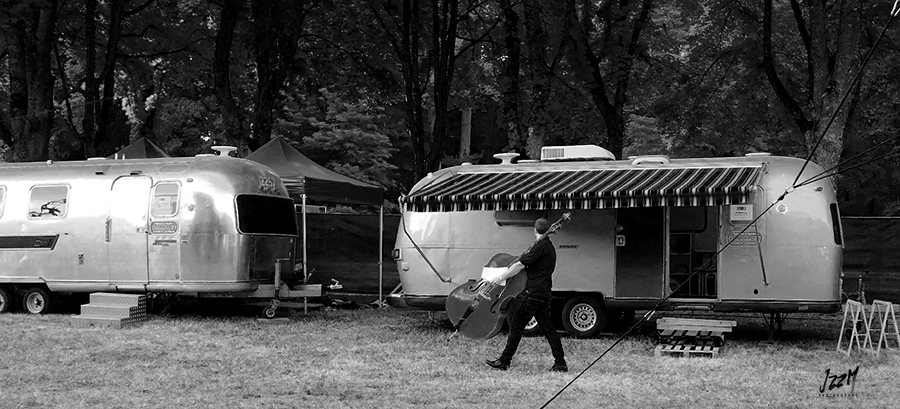 ©All Photos Patrick Martineau / JzzM pour Couleurs Jazz Media.