In June 2022, a tasting of the seven appellations of the State of New York was held at the Hôtel de Talleyrand, at the corner of the Place de la Concorde in Paris.
Accustomed in this media to deal with the wines of the World and the Jazz of the mythical clubs of New York, we were curious to shake up our beliefs and habits by doing the opposite.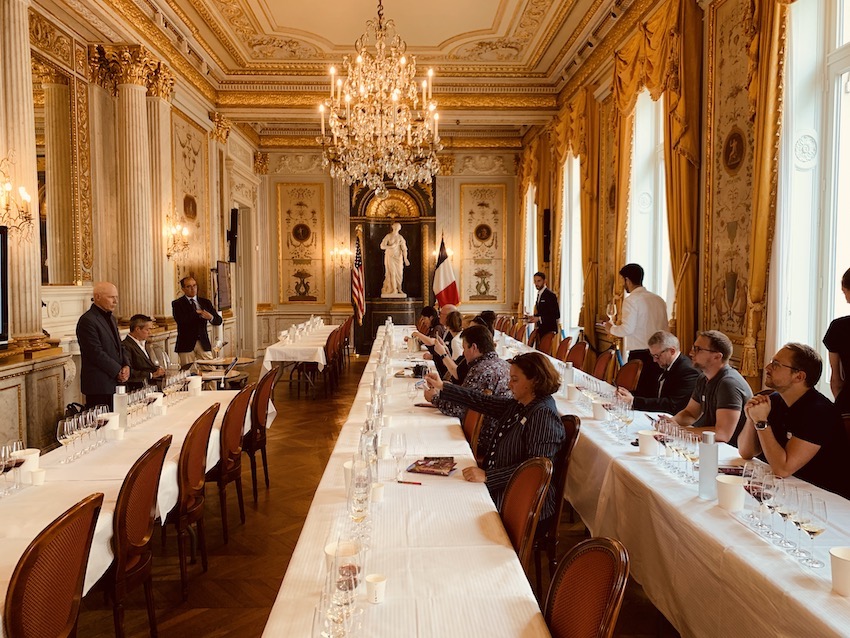 Did you know that New York is the most diverse region in the United States for winemaking? From Long Island to the rich soils of the Finger Lakes (60%) to Lake Erie, the Niagara Escarpment, the Champlain Valley, the Upper Hudson and the Hudson River Region.
The overall quality of these regions is the temperate climate (at least part of the year), due to the proximity of the lakes and the Atlantic Ocean. In any case it is not too hot. Vines have been cultivated in these regions since the 17th century. However, the seasons are shorter than in Western Europe due to the more intense cold in winter.
The business represents (it is always necessary to speak dollars in the United States) all the same 6,65 billion dollars for 57 000 tons of vineyards.
What are the main grape varieties? Riesling, Cabernet Franc, Pinot Noir, Chardonnay, some Syrah and Blaufränkish, Gamay and Merlot. But also Marquette, a red grape variety from hybrid vines created in the laboratory because of its greater resistance to the northern climate of Quebec, Chenin Blanc, Petit Verdot…
Overall, 18 producers had brought two or three different bottles, representative of the know-how of their wineries. Well-made wines, where the fruit is respected, well raised and pleasant to taste. Perhaps, if we want to express our inevitable chauvinism, they lacked overall length in the mouth…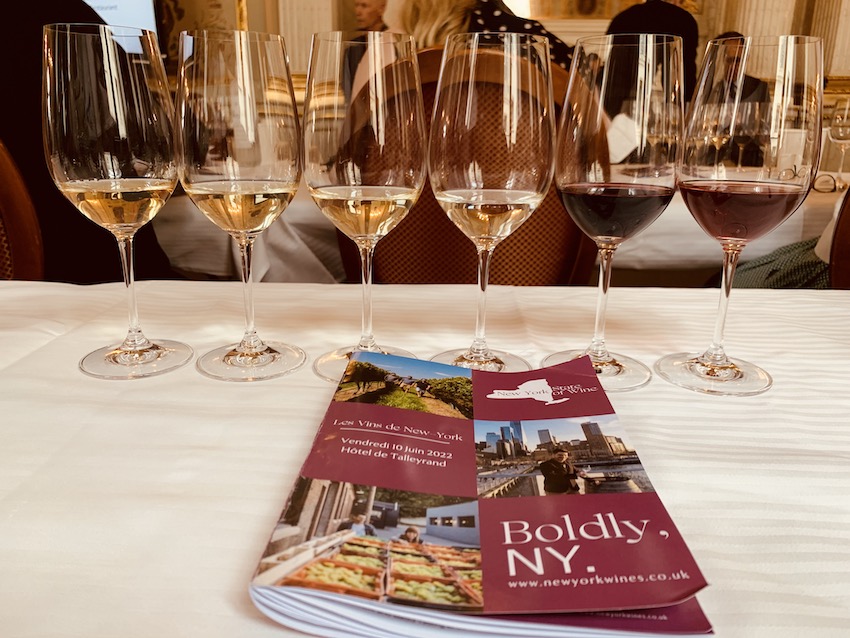 But it was mostly an opportunity for some nice surprises, among them, at Element Winery in the Finger Lakes, the 2016 Can't Stop/Won't Stop a clever blend of Cabernet Franc, Pinot Noir, with a cloud of Syrah, Blaüfrankish, Gamy and then Merlot, in the order of appearance in the blend ($50 all the same). On tasting, nice, very pronounced fruit. Also a 100% Pinot Noir with a nice nose and balance ($50!).
Or a 2015 100% Cabernet Franc with notes of dry fruit, prune and licorice on the finish (…all $50).
At Louis Barruol's Forge Cellars (owner also of Chateau de St. Cosme in Gigondas) with Richard Rainey, different 100% Rieslings, nicely balanced with in particular this 2015 Breakneck Dry Riesling ($26) which has nice acidity and lots of freshness and is not unlike white Burgundies, more so than Alsace wines.
At Four Maples, in the Champlain Valley surrounded by the Adirondack Mountains near Lake Champlain, they blend Marquette and Frontenac. Be surprised by the 2017 Cuvée du Pétit Champlain(with accent on Petit!).a fun wine with strong ripe cherry aromas($25)
More seriously, these last two Winemakers, Wagner Vineyards, of Finger Lakes who offered a Dry Riesling 2020, 100%, showing nice typicity with perfect acidity ($16); then a Dry Rosé of Cabernet Franc 2021, 100% Cabernet Franc very cool and straightforward from the neck up ($16); and finally a Caywood East Dry Riesling 2020, with delicate white flower notes ($25).
And finally, a family of Mexican winemakers RGNY on the North Fork had brought three fine wines, meticulously blended and vinified.
Starting with a white, a 2019 Scielo Sauvignon Blanc.  100%, to climb to the sky in first class; then continue to soar with this 100% Riesling this time, a 2019 Scielo Riesling. Perhaps the most authentic Riesling of this presentation, according to our criteria which are our own.
Then finally to come down to earth, a Scielo Tinto 2019 with 43% Merlot, 37% Cabernet Sauvignon, 10% Cabernet Franc and finally 10% Petit Verdot presenting a lot of roundness and delicacy. From $25 to $30
A tasting and a masterclass of high quality, perfectly organized, in a place full of history.
We would have liked to help us to meditate and concentrate, to awaken our senses beyond the nose, the taste buds and the sight of all these beautiful dresses, our auditory sensations with, for example, "A Little Taste" by one of the best voices of current jazz, residing in New York, with a relentless swing and such elegance: Veronica Swift!
Finally, to learn more about New York wines:
https://www.newyorkwines.co.uk/
https://newyorkwines.org/
Translated with www.DeepL.com/Translator