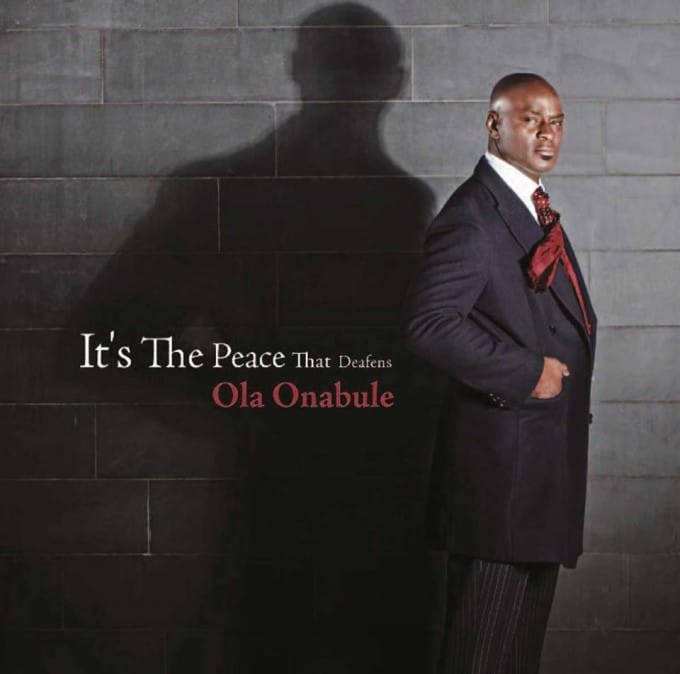 Somewhere in the late summer of 2015 I was introduced to the musical artistry of Ola Onabulé by a friend who was the artistic director of the Sutton Jazz Festival that takes place in the Eastern townships one hour outside of Montreal. At some time before that Ola had already appeared on the main stage of the Montreal Jazz Festival. Subsequently, in the process of trolling through YouTube to see and listen to what this artist was all about I was thoroughly amazed at what I discovered. I read everything I could find to get an in depth view on his background to find that I had fallen upon an original singer, songwriter, performer, arranger, producer all wrapped up in a unique package quite unlike any of the male Jazz / Soul /Blues vocalists in today's international music world of concerts and festivals that present a wide range of singers, and instrumentalists.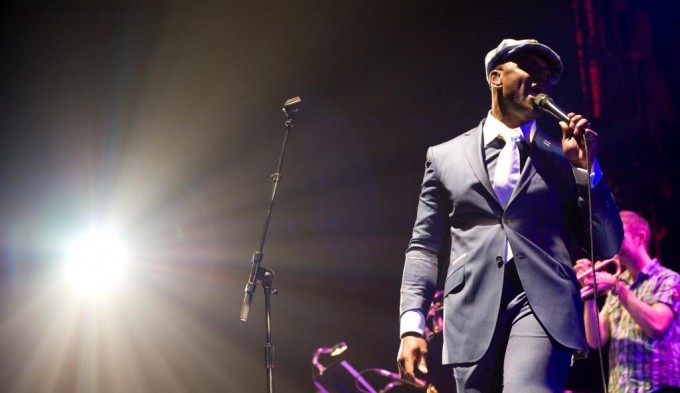 There have been as history indicates a number of notable male Jazz / Soul / Blues singers some of whom are present at this time. The examples are singers like George Benson, Al Jarreau, Kurt Elling, Kevin Mahogany and others from days of yore like Nat King Cole, Billy Eckstine, Joe Williams, Leon Thomas, and several who are singer songwriters such as B.B King, Donnie Hathaway, Stevie Wonder and Luther Vandross. Yet we must take into consideration the depth of originality expressed in the work of these great artists / performers and what distinguished them in today's world of male vocalists.
Over the many years that I have witnessed, listened to and enjoyed the pleasure of many of these greats I found it very refreshing and wonderful to see and hear that Mr.Onabulé's work is not only grounded in the ideals and tradition of his Nigerian roots.  His style is highly personal and original yet combined with respect to the source of his inspiration as he expands that creative foundation on which he continues to build on the shoulders of those greats who have gone before while taking what he does to another level.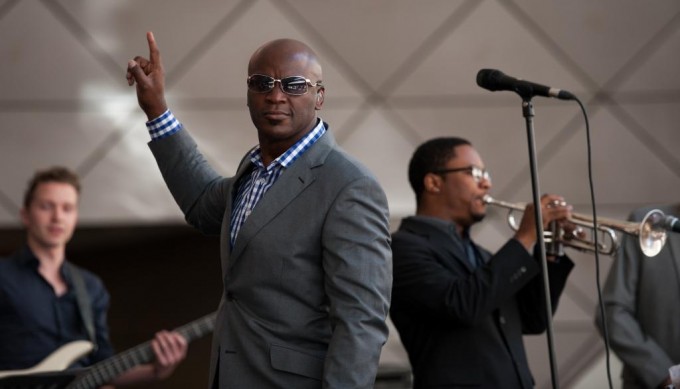 And if the question was asked, do any of those greats may have a presence in Ola's style and delivery?  On close listening it is apparent in how Ola infuses the elements embedded from the very beginning in the traditional use of the shout, the humming, the cries and the moans vocalists used as an essential part of their expression. Based on that, from my point of view Ola's vocal work is a pure historical representation of that tradition brought into a 21st century setting to today's audience many of whom have no idea of the history or of what went on before but are touched by that energy, the intensity and meaningful stories built into his songs and performances. Therefore, it might seem somewhat remarkable that a totally self contained artist such as Ola Onabulé comes along in this era and even more importantly in the jazz idiom. It is clear with his self assured approach as a consummate entertainer he invokes all that is contemporary at his disposal with his performances not limited to being just accompanied by a small group but also includes the power of the big band.
Moving further along I also found Mr. Onabulé perception of this business of music interesting. Because, back in the day many of the great singers had individual styles, some rose to prominence while others may not have had a durable impact because of the nature of the record business during the past century. The reason for that was a result of having little or no control of the production of their work, yet some managed to have their own labels, like Brother Ray and B.B King. However, many were still at the mercy of the prominent labels and were more often than not subjected to the whims of what those companies considered marketable which was often in opposition to the choice of the artist. However, much of this has changed because of today's technology. Artists are now able to record, stream and market their work on the internet independently and consequently a number of the major labels are experiencing difficulty dealing in this new competitive paradigm.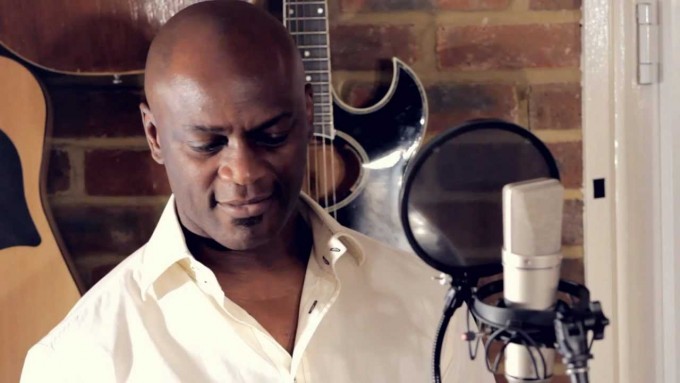 Early on in Ola's career he found his encounter with a major label had fell short of the mark from his creative point of view and the promotion of his product. One might say it was a blessing in disguise that emboldened and empowered him with the courage to take full control of his artistic destiny by creating a label of his own. In doing so what was formidable in his development process he set about acquiring the skills necessary that cover all aspects from creation of the song, the arrangement, the recording techniques and the command of the production in the studio became his creative musical tool box and over time to date with 8 albums to his credit stands strong and continues to move forward. All this in addition to the awareness and application of business and marketing principles that more and more over the years have even been included in the curriculum of the music educational sector as important tools to be mastered and Ola is totally conversant in these skills.
Yet there is more said about the man himself of his creativity, his intention, his versatility, his rectitude and clarity with which he approaches his work. He was recently asked in an interview about of the variations of content evident in the song he sings, how does he in the course of composing a song define what category it belongs? He responded saying that the content of the song determines its place by its final outcome, be it jazz, soul, blues or ballad oriented or based on a character or timely event being described manages to find its place of its own accord. With that approach as his guide and since it comes from deep within, he is adamant about the sense of honesty that goes hand in hand from that inner source. Usually the music industry likes to place the artist's work in what may be referred to or called a recognizable marketing reference. However, since the very nature of Ola's work can vary from one song to another does not fall or fit into that kind of marketing structure means he cannot be put into a box, labeled nor categorized and must be accepted in all of its subject matter and musical variations and universal in quality. And in his performance as the artist he is the message that he brings all of which is as the Duke used to say is "beyond category".
As a matter of adding heft to what has been said thus far about Ola Onabulé, his steadfastness about his work in a similar manner runs in parallel in what can be found in a new documentary about the great Mary Lou Williams, The Lady that Swings the Band," a Jazz pianist, composer, arranger who is somewhat little know, yet was known to a special few in her time. Because she being a woman in a male dominated music world there is a part in the documentary trailer called," Behind the scene." When listening to how the late Hank Jones jazz pianist extraordinaire describes the strength and mettle of Mary Lou Williams' indomitable will and creative character, I could not help thinking how the description so well suited to the integrity of Ola's personality and seemed to fit like a glove. It said it all.
So by now it must be obvious that I'm all for Ola Onabulé who, because of his innate creativity is a superb standalone artist, which for some might be considered a lonely place, yet with no comparisons to be made I conclude that this artist is to be embraced and accepted for who he is and for what he does and the joy in his heart he shares and brings to his audiences.
Today, so much has been said of his success in interviews, record reviews and live performances and even on YouTube is left to the reader and listener to form his or hers own assessment and conclusion which for the most part is sure to wax positive.
Written by  Alfie Wade, Jr.
Président Odyssey 21st Century Communications
Représentant international Duke Ellington Center
Harlem Sète Montréal
Discopgraphy
More Soul Than Sense                            (CD Album)      Rugged Ram Records   RAMMOO5CD 1995
From Meaning Beyond Definition            (LP Album)       Rugged Ram Records   RAMMOO7CD 1997
Precious Libations For Silent Gods          (CD Album)      Rugged Ram Records   RAMMOO8CD 1999
Ambitions For Deeper Breath                  (CD Album)      Rugged Ram Records   RAMMOO9CD 2002
In Emergency Brake Silence                   (< 2 versions)   Rugged Ram Records                       2004
The Devoured Man                                  (< 2 versions)   Rhythm Attack                               2007
Seven Shades Darker                              (< 2 versions)   Rugged Ram Records                      2010
The Peace That Deafens                         (LP Album)       Rugged Ram Records   RAMMOO14CD 2015