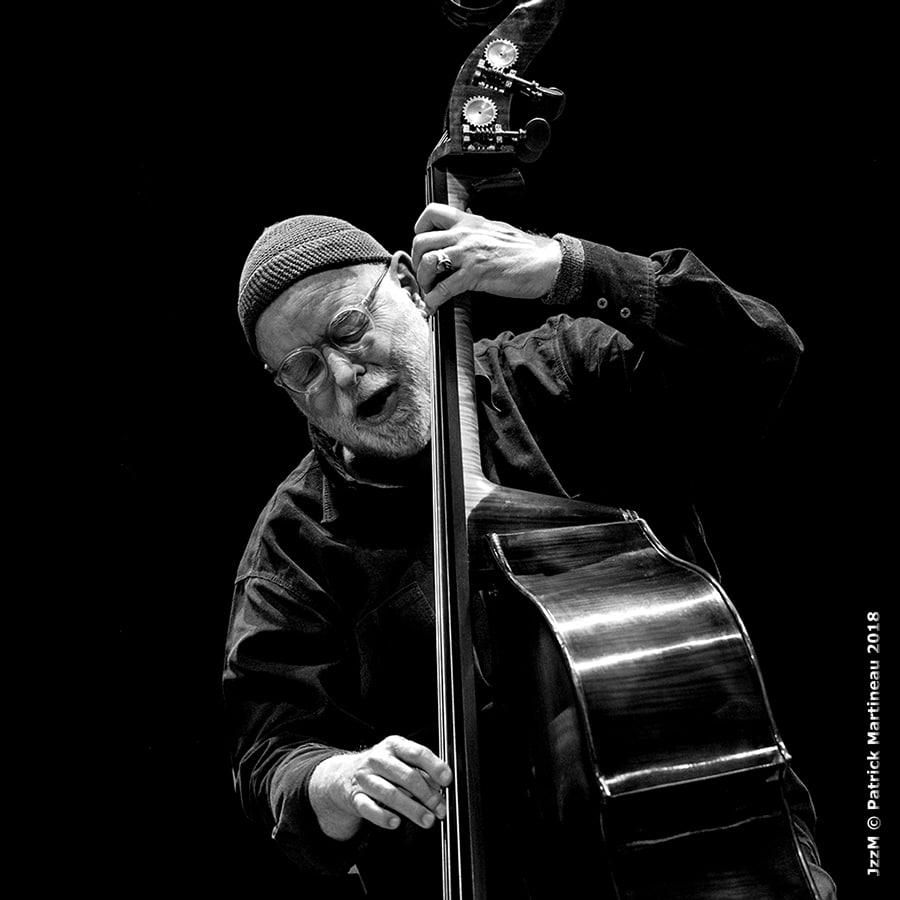 A legendary figure in European jazz, Henri Texier owes a lot to his double bass. Coming from a modest background, his love for music will be made a hundredfold: he has toured the world, recorded more than a hundred records (including twenty under his name) and collaborated with big names as of Bud Powell , Kenny Clarke, Don Cherry or Dexter Gordon. His fellow travelers are Aldo Romano and Louis Sclavis.
His curiosity led him to projects where music intersected cinema, dance and circus. At the height of his 73 years, at the turn of an additional memory, he admits, however, with blue and bright look: "The experience does not change anything. When we get nervous, we get nervous. "
This March evening at the Centre des bords de Marne, he played with his Hope quartet for the Jazz Biennial, and I was the Couleurs Jazz Digital Magazine's special correspondent for the evening. Before the event, sheltered in a corner of the cafeteria, we joined the brittany and New York cobblestones…
« I played at the Newport Jazz Festival on the same stage than James Brown and Miles Davis, I was 24… I stopped being black and American so far this day. »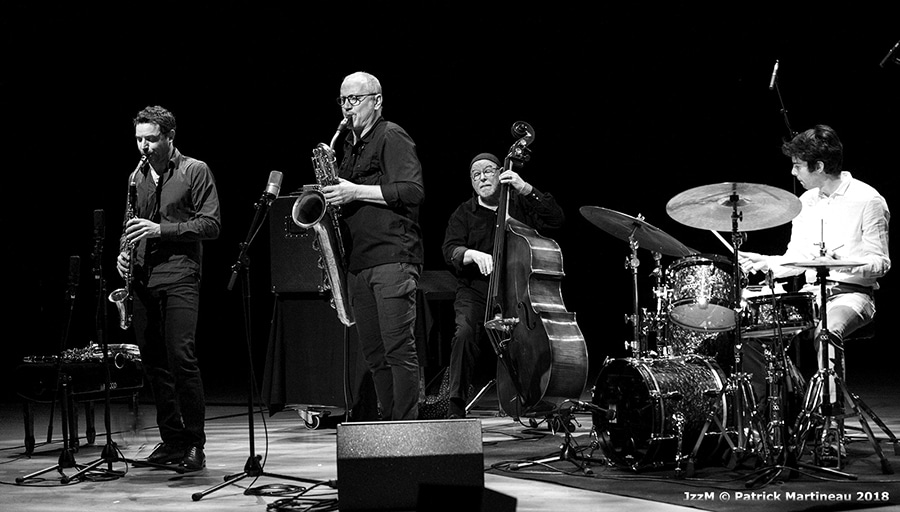 Henri Texier (b); Sébastien Texier (as, cl) ; François Corneloup (bs) ; Gautier Garrigue (dm)
Who influenced you most musically during your journey?
I am a son of Breton emigrants, my family came to seek work in the Paris region after the war. Most of them settled in Montparnasse at the time, we lived in Batignolles, a neighborhood very trendy today but which was a landmark of workers and Maghreb. My father was a salaried employee at the SNCF (French Railway Cie), he had an official residence in this gigantic freight station which went from the avenue de Clichy to the boulevard Pereire. I grew up in a very popular environment. We had jazz in the ear. I had heard on the radio before I even knew what it was. Sidney Bechet was a huge star, as much as Edith Piaf or Maurice Chevalier. At the age of 8, my mother forced me to take classical piano lessons, which I did not like at all. I had an uncle who worked as a bus driver at the RATP (Paris metro), he played drums in dancing halls in Brittany but also fiddled. One day, as I was bored with my instrument, he began to play one of the most primitive forms of blues on the piano: boogie-woogie! Since then, I am a bluesman. My biggest musical discoveries date back to my 12-13 years, with my childhood friend Alain Tabar – Nouval. He played guitar and clarinet, me piano: we became addicted to music! I swapped my keyboard for a double bass at the age of 16, and a year later I was already playing in major Parisian clubs. However, my biggest slap was probably in the first six months, when we went to play at Quiberon Casino with our "student band". While strolling on a Sunday morning, I crossed Lann-Bihoué's bagad (the traditional Breton band). All the great Breton ringers were doing their military service in this regiment, towards Lorient. I did not know anything at all, I was fascinated: it really swung! For the record, I made a composition in the late 70s on which I play the bombard solo: the piece was taken by the bagad of Quimperlé, and the famous bagad Lann-Bihoué, who heard, integrated it into its repertoire … The loop was complete!
I was also very influenced by world music throughout my career. In the bistros of boulevard de Clichy, when I went to play football with my friends, we heard oriental melodies, African. Until I turned 20, jazz seemed to me to be essentially the sound of African-American musicians. Then we started to discover Ravi Shankar, the Drums of Burundi … it happened at the same time as Sonny Rollins' A Night at the Village Vanguard with Elvin Jones, at the same time as Ornette Coleman … an absolute explosion! I apprehended all these musics at the same time, they are part of what I am now.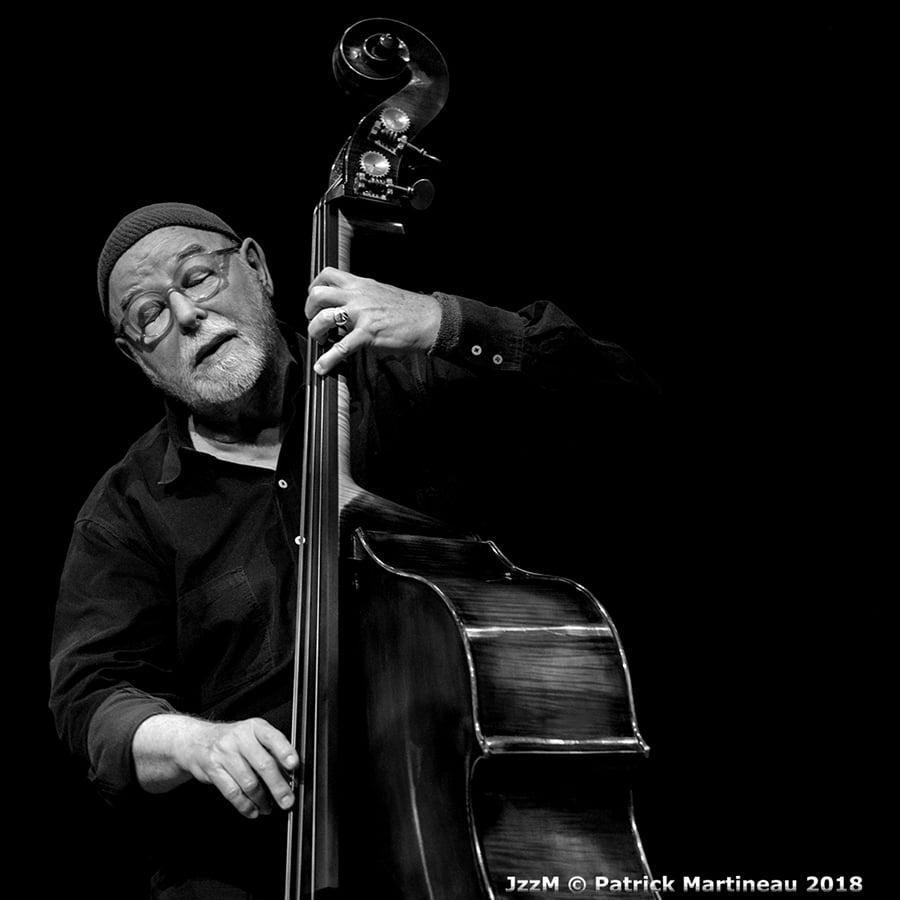 If you could go anywhere, where would you like to play?
I dream of playing, simply. Wherever it is. I can say to myself today that I would like to do a series of concerts in an apartment with 40 people, and want to replay tomorrow in the Grande Halle de la Villette or at the Théâtre du Châtelet. I had a busy life, I found myself in very different circumstances. I played for 2 people in shabby cellars and for 70,000 spectators at the Newport Jazz Festival. The dream that I have undoubtedly fully realized is to play in the United States. My first big trip was at the time of Phil Woods And His Europeans Rhythm Machine, with Daniel Humair and George Gruntz, we went to play in Newport. It was the biggest jazz festival of all time. In '68, he was at its peak and began to welcome music such as rock, soul. I saw incredible musicians: James Brown, Miles Davis, Herbie Hancock … they were all there, and I played on the same stage as them, at 24 years old! On my way back, I took a terrible old blow. I could not be a kid in absolute admiration of American jazz musicians. I stopped being black and American that day. Before, I really believed myself. America, however, had never been a fantasy for me. But I dreamed of going to New York and Los Angeles to play with the West Coast musicians who were my idols … There I made jam sessions with some of them: I took a moment to give me back!
So "dream" strictly speaking I have more, or I have all the time. Honestly, it makes me dream to playing tonight at Perreux-sur-marne!
Do you have a favorite musical place to introduce to our readers?
It's more the musicians that interest me than the places themselves. I met very bad jazzmen in New York and discovered outstanding artists in Ghana at the corner of a street … If we can travel, we must go to Marrakech to listen to the real gnawa musicians: they are incredible! Otherwise, in Paris, one of the places that seems to me the most interesting is Le Triton, Les Lilas. You can discover a wide range of current music. It is an invented place, which has nothing institutional, a cultural place in the true sense of the word. We see dance, we hear music, we listen to poetry … it's an echo of the world.
« Three questions to… » is a topic initiated by Nadia Aci on her blog « Hit The Road » that allows readers to discover an artist through brief confessions about his relationship to travel and music.
©Photos Patrick Martineau – JzzM (during the Jazz Biennale at the Centre des Bords de Marne)