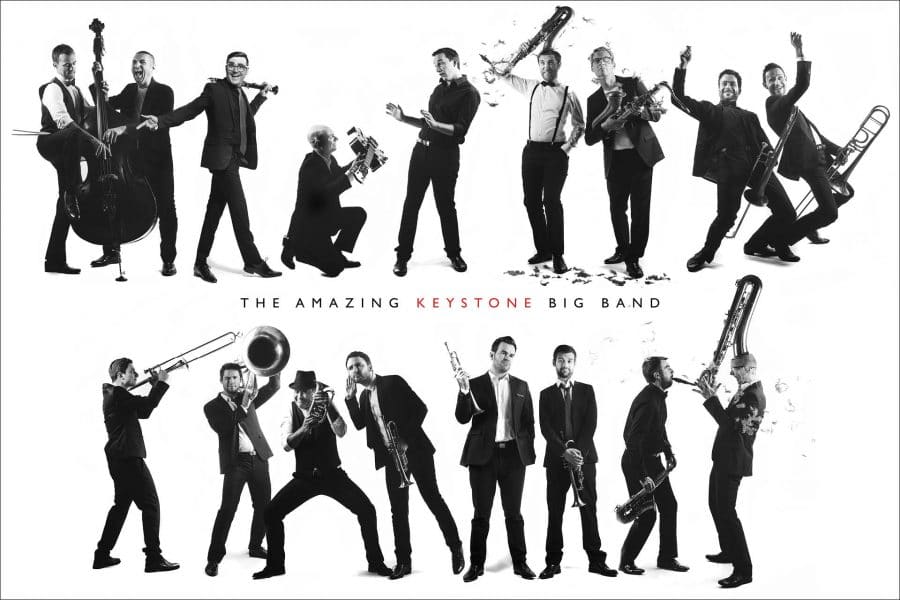 Feb 10 – O8:00PM Auditorium de Lyon
from The Carnival of the Animals
Camille Saint-Saëns (1835-1921)
Taï-Marc Le Thanh tale
Here the donkey is bebop, the chickens and the cock are funky, the rabbits rather groovy, the birds dance the samba and the fossils a lindy hop …
Trumpets cackle, trombones roar, saxophones picille …
Inventive, bubbling, The Carnival of the Animals is a joyful musical tale for the whole family!
An unconventional version of Saint-Saëns' classic which restores intact the caustic humor of the original work. This adaptation was specially composed by and for The Amazing Keystone Big Band, a young orchestra of carefully selected musicians who experiment with new ideas while revisiting the repertoire.
In the same way that Saint-Saëns presented the classical orchestra by associating a musical instrument with an animal, the show shows the public the instruments of the big band: the piano stride plays the leaps of the kangaroo and the tuba naturally embodies the elephant. The fish swims with the flugelhorns and the flutes cross the whole aviary. The cuckoo stands out with the clarinet. Each animal has its instrument and all together form a swing orchestra!
It is also the history of jazz that the big band revisits: from bands of New Orleans to free jazz, passing by bebop and swing. For the occasion, an original fairy tale was written by Taï-Marc Le Thanh. The animals come to life under the author's pen, which lends a playful verve to this barnyard. (©DR)
(*) Many other dates for one of the most beautiful and exciting Jazz shows!
Other dates and informations on the Amazing Keystone Big Band, this young and virtuoso Big Band.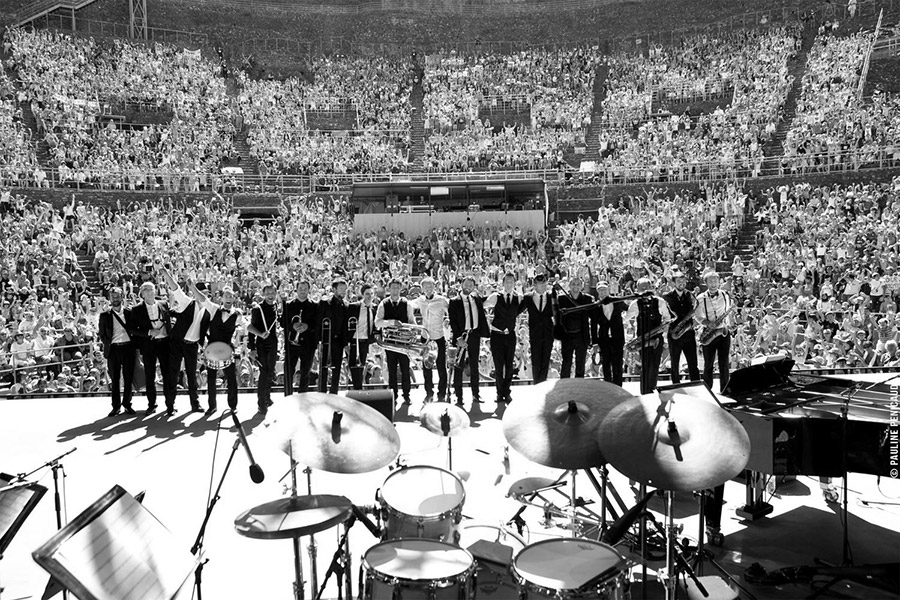 Vienne, in front of thousands of children ©photo Pauline Penicaud
Line Up:
Trumpets : Vincent Labarre, Thierry Seneau, Félicien Bouchot et David Enhco.
Trombones : Aloïs Benoit, Loïc Bachevillier, Sylvain Thomas et Bastien Ballaz.
Saxophones : Pierre Desassis, Kenny Jeanney, Eric Prost, Jon Boutellier et 
Ghyslain Regard.
Rythmic : Thibaut François (guitar), Fred Nardin (piano), Patrick 
Maradan (Double bass), and Romain Sarron (Drums).
Direction : Jon Boutellier, David enhco, Fred Nardin, Bastien Ballaz.