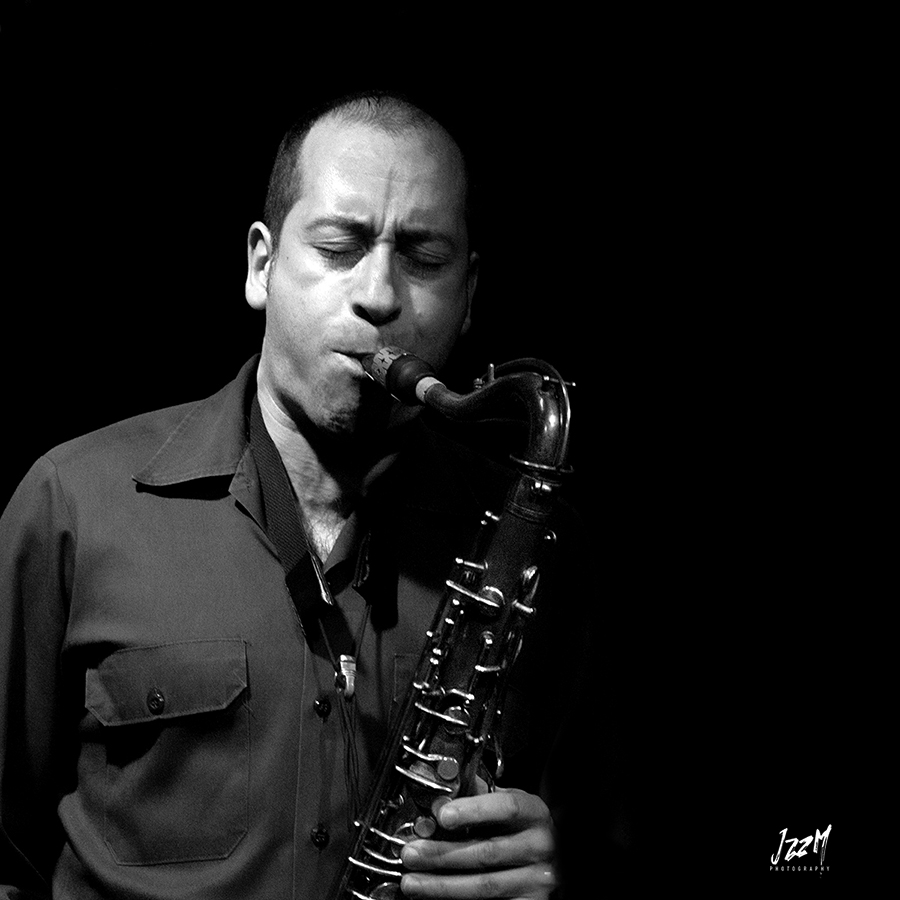 Jerome Sabbagh, Mark Turner, Johnathan Blake and Joe Martin performed at the Bayeux Bar in Brooklyn, New York, on May 29, 2019.
American jazz venues where the audience is not only present but actively participates are the ones which do the best job of keeping the spirit of jazz alive. The 'Bar Bayeux' on Nostrand Avenue in Brooklyn, nested in the emblematic jazz capital that is New York, is a perfect example of such a venue.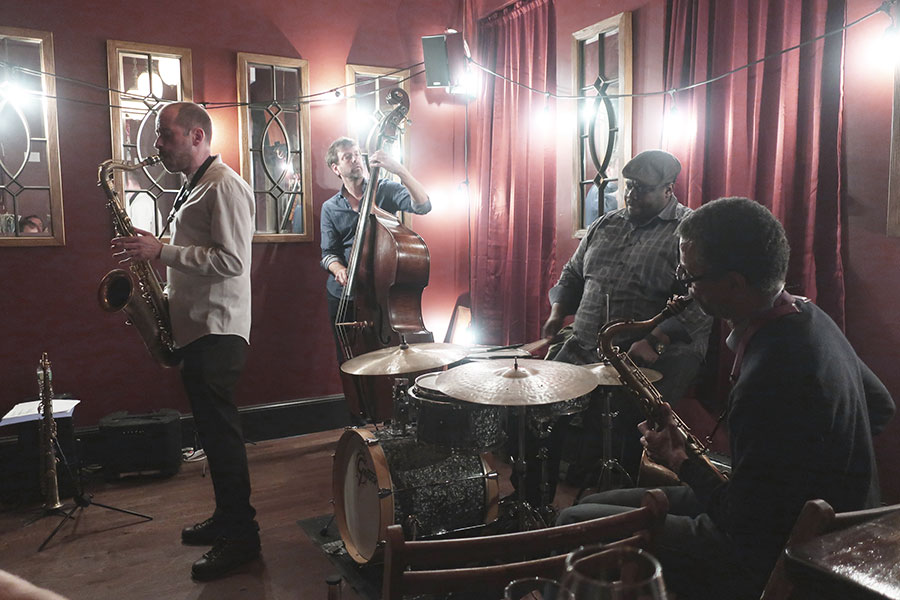 ©Photo Jean-Pierre Alenda
What struck me first was how young the audience was; a vibrant crowd of aficionados who braved the Big Apple's evening storm to savor a jazz that's true to its roots and historical identity. The magnetic effect of the group's simply brilliant performance, their total commitment to a noble cause, and the audience's enthusiasm sealed the deal.
The first two tunes of the set list highlighted two giant composers-pianists: Thelonious Monk's "Reflections" and George Shearing's "Conception". Without a keyboardist in the group, the vivacious tempo and execution conjured up the spirit of Bud Powell even more than that of the composer.
Next up was "Body and Soul," popularized by Coleman Hawkins, with its long, smoky introduction, recalled the legacy of such greats as Warne Marsh and Lee Konitz.  Jerome Sabbagh's "The Turn" left no shadow of a doubt that the Brooklyn-based French sax player has become a musician to be reckoned with.
American by adoption, Sabbagh has long been recognized for his work on tone and interpreting ballads. Today it's apparent that his playing has gained power and magnitude. He tackles the up tempos head on and gives subtle nods to some classic takes whose brilliance indelibly marked his musical identity. Such a delicate balance is not an easy task, especially when teaming up with the likes of tenor sax star Mark Turner. Turner's raucous playing is reminiscent of Sonny Rollin's "Strollin'" period. It makes its present felt – inspirationally, musically and in general. Sabbagh and Turner conversed ever so smoothly, without breaks in tone or style, aided considerably throughout the concert by bassist Joe Martin's infallible sense of groove ("I could've sworn there was a full rhythm section!")
The sax duet then used Cole Porter's "You'd Be So Nice To Come Home To" as a tribute to the legendary Art Pepper quartet. It also showed just how rewarding it can be to have two saxes on the front lines, a bold and relatively rare choice.
For "We See", another tune by Thelonious Monk, Sabbagh demonstrated great versatility on the soprano sax, his other long-time instrument. He then returned to the tenor sax for "Ask Me Now", yet another tune by Baroness Pannonica's protégé. Monk's talent as a composer can never be overstated, but its uniqueness could be considered even greater than the brilliance of his playing.
Dizzy Gillespie's "Con Alma" bore witness to the quartet's verve, especially with Johnathan Blake's virtuosity on the drums. The band finished its Bayeux stint with John Coltrane's "Lazy Bird", making it soar through the stratosphere with strenth, reverence and unforgettable talent. Paradoxically, Mark Turner's unparalleled sound and phrasing makes it seem like the man disappears so as to better serve the music. The quartet managed to make the iconic Coltrane tune shine bright as ever, setting the Bayeux stage aflame with the spirit and memory of Trane.
We had to pinch ourselves to believe the sheer quality of what we saw and heard that night, surely worthy of the world's greatest concert halls. We left in awe of the group's deep respect for jazz fans and feeling blessed for having witnessed a concert that transcended the place, the time and the situation.
"No one knows what lies here, but my heart is full of gratitude and tears are in my eyes".
Saigyö Höshi, 12th century Japanese poet monk.
The place to be.
Jérôme Sabbagh : soprano and tenor saxophone,
Mark Turner : tenor saxophone,
Johnathan Blake : drums,
Joe Martin : double bas.
Translation by Eliz Corbett