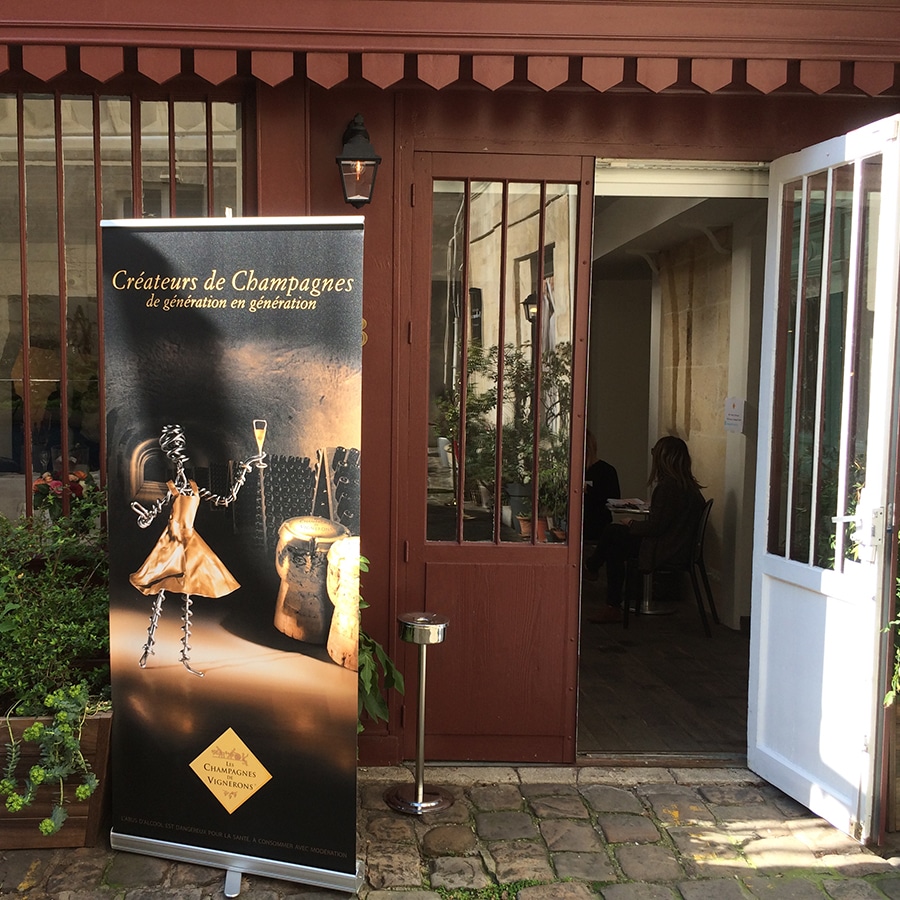 The Siberian cold that invaded Paris has moved along its path, temperatures rise like the swallows that arise on the wires, the budding nature announces Spring… and my senses turn to new tasteful discoveries.
In a few strokes my Parisian bike take me to the heart of the Marais, for a tasting of rosé champagnes, organized by Champagnes de Vignerons. A dozen winemakers present their rosé wine in food-wine pairing made by the Geoffrey Orban oenologist on the different meal courses. Open your tastebud's imagination to enjoy this different experience …

©Photo Couleurs Jazz – "nuancier chromatic rose"
For starters…
Champagne Guy Larmandier, vintage Rosé Brut
A very good balance for this first glass: the freshness and elegance of Chardonnay contrasts with the controlled power of Pinot Noir from Vertus, a rarity on one of the Grands Crus of the Côte des Blancs. This brut rosé accompanies with a subtle delicacy a pink grapefruit spring roll – prawns and shrimp, with Japanese flavors.
Guy Larmandier Estate at Vertus – Rosé brut : 80% chardonnay, 20% pinot noir
Champagne Dom Caudron, Cuvée Fascinante
An original blend of Pinot Meunier and a hint of woody Chardonnay. The nose quivers with notes of pink grapefruit and red berries reduction where the strawberry comes out at the end. A different pleasure in the mouth, where the Chardonnay with this light oak aroma decorates the structure of the Meunier. And the zucchini-tomato-pepper bite associated with a black olive melts tenderly with the Chardonnay flavor and its small pepper note like a wooden area.
Dom Caudron Estate in Passy-Grigny – Fascinante cuvée, brut : 80% Meunier, 10% Chardonnay aged in oak barrels, 10% Meunier in red wine
Champagne CL de la Chapelle, Nuance Rosé vintage
Pinot Noir's straight-line structure is supported by the Meunier, with Chardonnay bringing freshness to the finish. The palate is dominated by the gourmand side of red fruits with a very beautiful persistence of these aromas. Very nice with a salmon marinated in Nepalese pepper from Timut: the Pinot Noir and salmon melt in your mouth with a happiness stitched with this subtle peppery touch.
CL de la Chapelle Estate in Villedommange – Nuance Rosé, brut : 55% Meunier, 30% Pinot Noir, 15% Chardonnay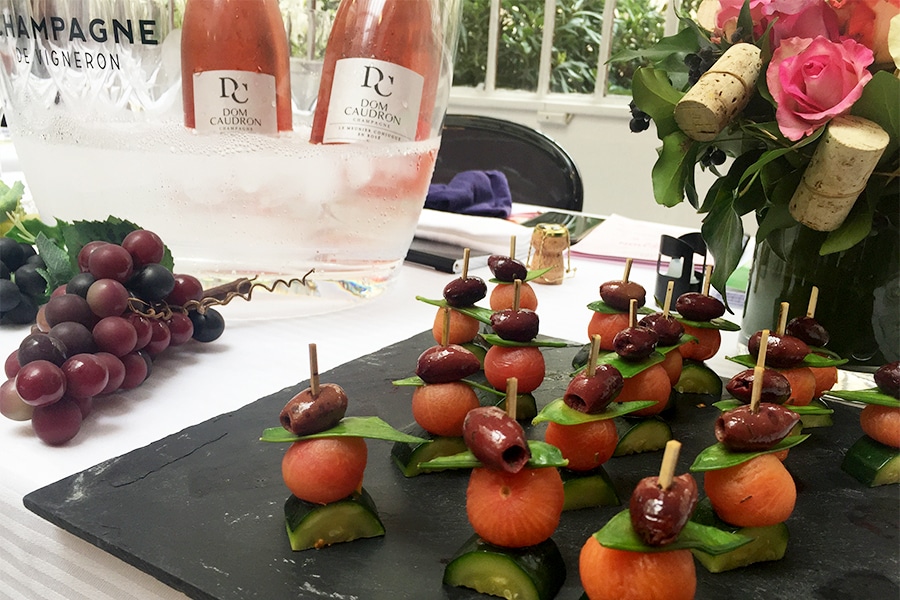 © Photo Couleurs Jazz
For main course…
Champagne L'Esprit de Chapuy, Rosé cuvée
The Pinot Noir from Monthelon overrides the Chardonnay to structure the mouth, even if the freshness of the white grape of this Grand Cru d'Oger persists. The pair of a carrot-celery-orange and pea sprout vertical is crunchy, so pleasant in this sweet-salty tone.
A small note to report four plots of Chardonnay worked in sustainable viticulture using horses, to develop a plot of Blanc de Blancs vintage.
L'Esprit de Chapuy Estate at Oger – Rosé, brut: 51% Chardonnay, 36% Pinot Noir, 13% Pinot Noir vinified in red
Champagne Gabriel-Pagin Fils, Rosé vintage
Very surprising for a 100% Pinot Noir! The delicacy of red fruits reveals a roundness, combined with a freshness due to tillage in plowing – the exploitation works its vineyard certification High Environmental Value that intenses the minerality. The structured power of Pinot Noir supports this "gourmet" deal with a vertical of Golden Burpee beet, Stroganoff beef and mushroom in a very gourmet mouth.
Gabriel-Pagin Fils Estate in Avenay-Val-D'Or – Rosé, brut: 100% Pinot Noir whose 30% in red wine
Champagne Lamoureux Jean-Jacques, Brut Rosé cuvée
An intense delicacy in the palate with nice notes of red fruits, power refreshed by this rare grape of Pinot Blanc in champagne – a new discovery of these forgotten grape varieties of white, authorized in Champagne appellation, four in number: Pinot Blanc, Pinot Gris, Arbane and Petit Meslier -. The structured palate elegantly accompanies this bite of Thai-style beef, where the sweet and savory flavors harmonize beautifully.
Lamoureux Jean-Jacques Estate at Les Riceys – Rosé de saignée, brut : 76% Pinot Noir, 24% Pinot Blanc
For cheese…
Champagne Michel Gonet, cuvée Brut Rosé
The strength of Pinot Noir harvested in 2007 naturally deserves a Pélardon, creamy goat cheese from Languedoc. A blooming structure for this 100% Pinot Noir "rosé de saignée", with a beautiful expression of matured notes, evolving to Madeira taste, classic for a 10 years ageing vintage. An interesting pairing where characters of two products melt with strength.
Michel Gonet Estate at Avize – Rosé de saignée, brut: 100% Pinot Noir
Champagne Phal B. de Beaufort, cuvée Harmonie
The power and tonicity of Bouzy's wine contrasts with the freshness of Chardonnay, which harmonize in a structured mouth. The pairing on L'Etivaz, Swiss Comté style cheese, with a cherry jam and pecan nuts is a real pleasure.
Maison Phal B. de Beaufort at Bouzy – Rosé vintage 2012, brut: 86% Chardonnay, 14% Coteaux Champenois Bouzy
Champagne Robert Barbichon, cuvee Rosé de saignée
Again, a well-structured Pinot Noir, with gourmand notes of red fruits on the palate. The power of this champagne is brought by a harvest of grapes with strong maturity, where pleasant notes of strawberry and raspberry express themselves then. The structure compliments with pleasure a Basque cheese of Ossau-Iraty all in character.
Robert Barbichon Estate in Gye-sur-Seine – Rosé de saignée, brut: 100% Pinot Noir harvested in 2012
And for dessert …
Champagne Rafflin-Lepitre, cuvée Rosé
Back to the three traditional grape varieties blend, where the nose and the mouth are gourmand of red fruits. The mineral freshness of Chardonnay complements the flavors of Pinots with joy for a gourmet pleasure of a strawberry tartare.
Rafflin-Lepitre Estate in Chigny-les-Roses – Rosé, brut: 43% Meunier, 37% Pinot Noir, 20% Chardonnay
Listen for the "jazz & wine" pairing, a new interpretation of "La Vie en Rose" by François Moutin & Kavita Shah.