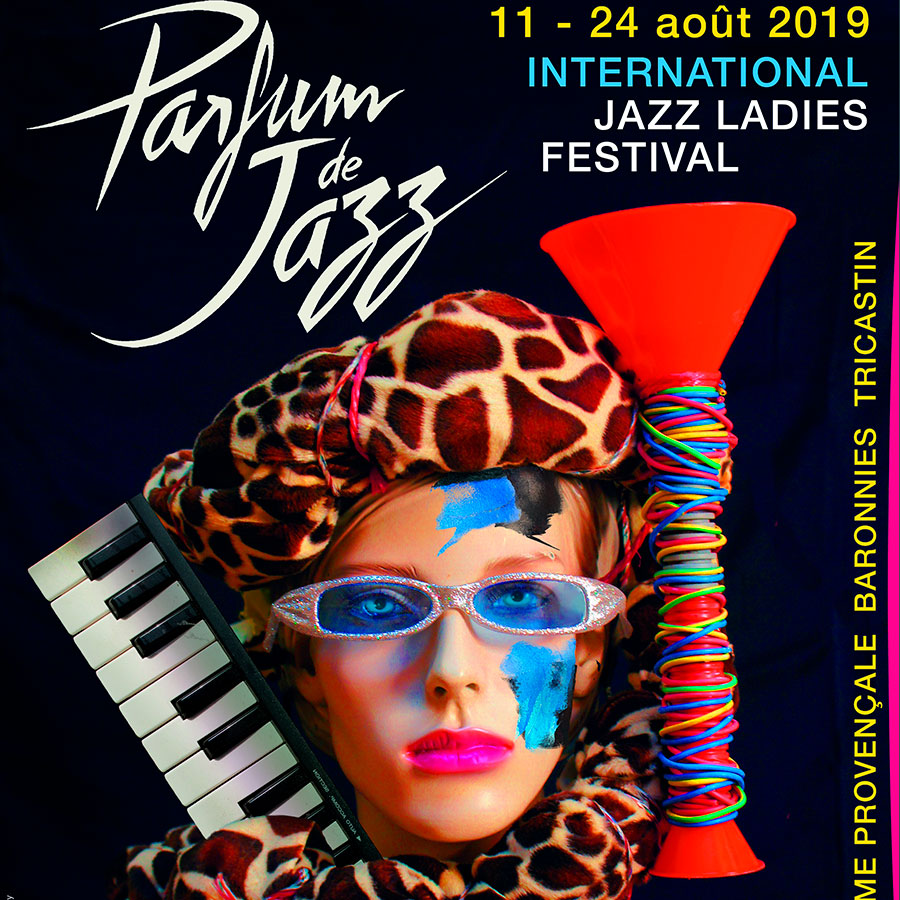 Qualified as "International Jazz Ladies Festival", the 2019 edition of the Parfum de Jazz festival in the Drôme Provençale honored jazzwomen (instrumentalists and singers) such as Line Kruse (violin), Cécile McLorin Salvant or the any young Rita Paid (trombone).
Imagine the Drôme Provençale, its cicadas that begin to sing from 25 ° celsius, its lavender fields or its Côtes du Rhône vines (to consume with moderation !!!!!!).
Imagine a small village, Buis-les-Barronnies. Where in 1811, the Emperor (Napoleon, I presume …?) Offered eight plane trees to celebrate the birth of the King of Rome, which were planted on the Quincunx Square where a part of the festival takes place off.
Imagine a jazz festival with a human face in which the gauge is not necessarily a priority. Rather be between friends and fans.
Imagine a jazz festival entirely dedicated to women (trend required!) Organized by its artistic director Alain Brunet, also trumpet player.
Here, the stage is set!
You said women! But not only….
Line Kruse was in charge of a septet composed only of male elements.
Cécile McLorin Salvant and her man (on stage as in civilian life), pianist Sullivan Fortner.
Same thing for Rita Payés, with the younger generation of jazzmen.
Women in jazz? There have always been some.
A demonstration supported and argued by three speakers: Sarah Brault, "Why so few women play jazz", Jean-Paul Boutellier, former director / founder of "Jazz à Vienne", "The great female orchestras of jazz "and Pierre-Henri Ardonceau, member of theFrance Academy of Jazz," Nina Simone, singer engaged and enraged ".
Performances
Based in France for several years, the Danish violinist Line Kruse, after having long frequented the community of South American musicians in Paris, now opens new musical spaces whose essential elements are writing and arrangement.
Accompanied by a septet from which emerge mainly Pierre Bertrand (saxes, flute), Denis Leloup (trombone) and his compatriot, Jesper Riis (trumpet), it delivers a form of jazz – always very marked at times by the south movement. American, like that air of "Danish tango" (!) – very written, elaborate and constructed, with particularly sophisticated and complicated arrangements, which leaves little room for inspiration and immediate spontaneous expression.
It will almost wait for the second set, which starts on a more swing version of Fascinating Rhythm of Georges Gershwin, so that the soloists can free themselves from the frame and express themselves with ease, power, lyricism and passion.
The elegant leader reserving some soli removed and inspired by the bow and pizzicato. His new CD, Invitation (Continuo Jazz), recorded in particular with Harold Lopez-Nussa (piano) and strings, is expected in the racks for the month of October.

© Photo Jazz Rhône-Alpes
Tell me about Love…
Jazz is a vector of love. For this, just listen and especially to see the performance offered by the singer – multi awarded at the Grammy Awards – Cécile McLorin Salvant and her pianist Sullivan Fortner.
© Photo Jazz Rhône-Alpes
Everything in their eyes, in the choice of their repertoire – in which the French existentialist song (Damia, Ferré / Aragon, Juliette Gréco) holds an immense position – in their attitude, their gestures breathes more than connivance or complicity. Love and tenderness simply! Shared with an absolutely conquered public! (The gauge of La Palun's stage was full!)
If the Diva alternates standard Speak Low, Jeepers Creepers, etc. and French song lyrics, all beautifully supported by a pianist strongly inspired by Earl Hines who knows how to be elegant, delicate and eloquent in harmonic and melodic dressing, the question could arise: is Cécile McLorin Salvant is an existentialist jazz singer or a jazz existentialist singer?
One thing is obvious: as a duet in love, she knows how to make these two schools exist.
Before concluding her show – and two reminders – with the one who discovered it a few years ago at the Conservatory of Aix-en-Provence. More emotion!

Barcelone's school
Catalan bassist Juan Chamoro is a musician with flair. After discovering trumpet player Andrea Motis, here is another of his discoveries, trombonist and vocalist Rita Payès.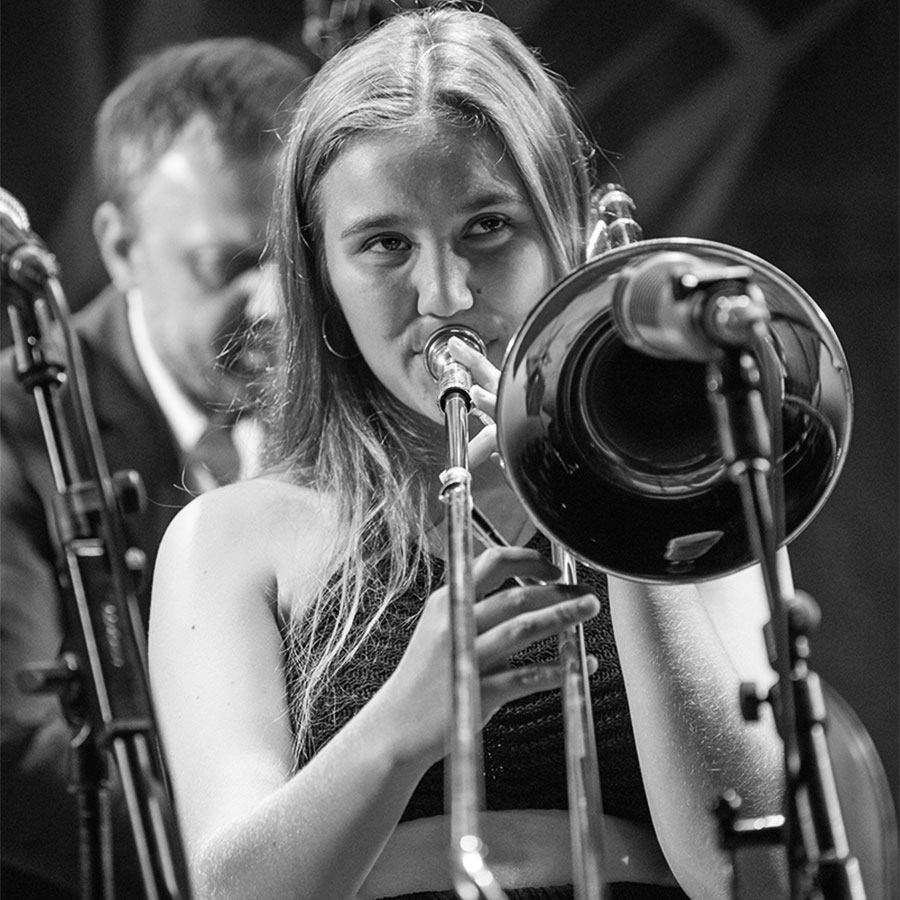 ©Photo André Henrot.
At barely 20 years old, the youngest and youngest women performed at the head of a 100% male, where Fabien Mary (trumpet) and Vincent Bourgeyx (piano) emerged around a 100% gentile repertoire. standards that flourished the years Jazz Messengers, Horace Silver and jazz West Coast.
If the saying of Pierre Corneille – "to well-born souls, the value does not wait for the number of years" – finds with it its meaning, it must however be recognized that the way to go for the trombonist is still quite long, especially at the vocal level. Courage!
Parfum de Jazz continues its programming until August 24 with Sarah McKenzie (piano / vocals) and a highly anticipated vocal duet, Anne Ducros and the Japanese singer Charito, about the repertoire of Michel Legrand.
Finally, I wish to send a huge thank you to all the great team that organizes, animates and makes live this festival that exudes friendship and fraternity!
Je vous aime à la Folie !!!!
© Photo Header Jazz Rhône-Alpes