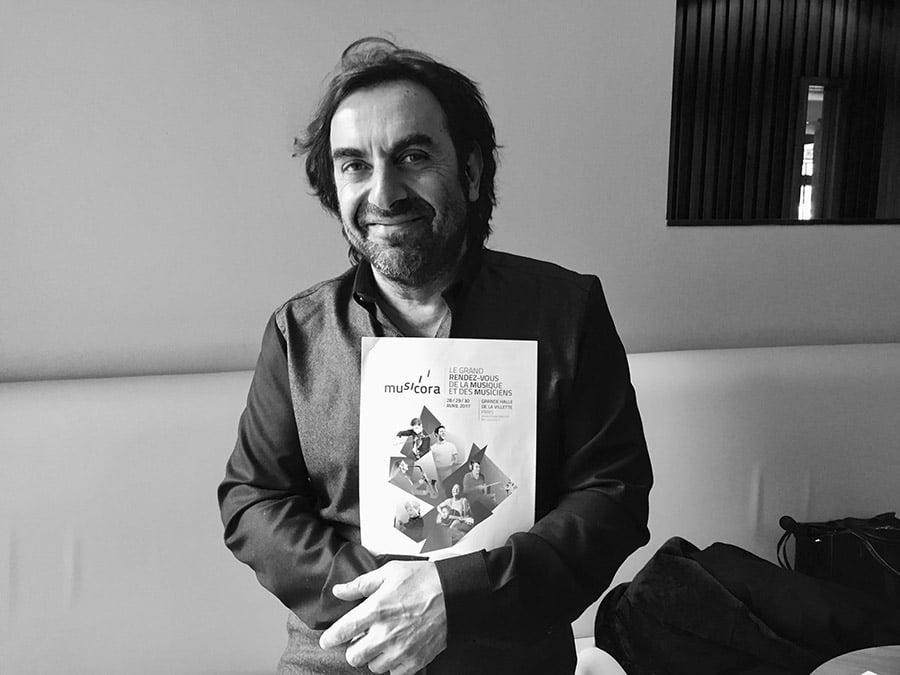 Already the 28th edition of MUSICORA!
At the controls for 3 years, the new team has repositioned the largest music fair in France towards the instrumental practice. The aim is to present everything that revolves around the instrument: manufacturers, practical workshops, stage and musical performances, media, festivals, meetings with artists, publishers, labels, associations and teachings, innovations and live performances. This year will focus on amateur involvement, training for music professions and the future of musical education featuring many concerts of young people…
After Marianne James, last year's sponsor, what is more logical than to choose a partner in crime: André Manoukian – mischievous musician, creator, animator, cantor of all music, culminating in jazz – to be the sponsor of this event.
In the exclusive interview that follows, André Manoukian (*) reminds us of some truths about the teaching of music to our children:
"The paradox of the child facing an instrument is first his spontaneous desire to touch it, to feel it, to make it sound, but afterwards, it becomes complicated to play … and music theory is the first hurdle!
In many countries or world cultures, music is discovered with the instrument, notes, tones and rhythms are learned, jazz lessons appear… until one day, learning to read a music score becomes necessary.
In these videos, the artist introduces us to his vision of this great music festival that is MUSICORA, classical music that is the origin of jazz, his definition and his colors of jazz, his dream musicians to accompany him, and finally his exceptional concert on April 30, the last day of the Fair, to celebrate International Jazz Day.
COULEURS JAZZ will be present on a stand, located in aisle La7, to offer you showcases and signings throughout the fair. And for the release of the biopic on Django Reinhardt, Saturday will be mainly dedicated to gipsy jazz where musicians will be able to play with the guitars manufactured for the film.
Showcase Program:
Friday, April 28
2:00PM                  Stéphane Tsapis (piano)
3:30PM                  Nico Morelli (piano)
4:00PM                 + Victoria Rummler (voice) – new album
6:00PM                  Ludovic de Preissac (piano)
Saturday, April 29
2:00PM               Aurore Voilqué (trio)
From 3:00PM      Gipsy jazz with the guitars of the film Dango played by Angelo Debarre, Tchavollo Schmitt, Yoann Kempst …
Sunday, April 30
12 noon            Classic Jam 4tet
1:00PM             Thierry Maillard (piano) – new album
2:00PM             Yoann Kempst (trio) – new album
3:00PM             Médéric Collignon (bugle and voice)
4:00PM             Francis Lockwood (piano)
(*): André Manoukian + guests will give an exceptional concert (fusing orient and occident) on Sunday April 30th at 4pm