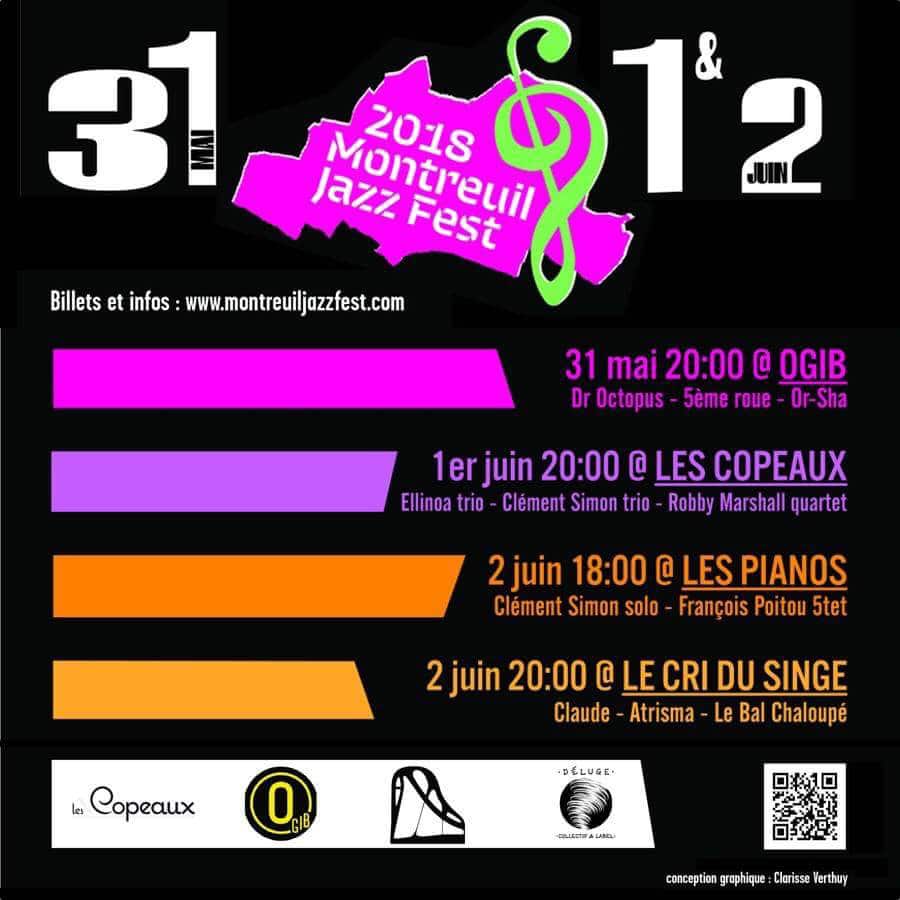 From May 31 to June 2, the Montreuil Jazz Festival * offers three days of musical discoveries, on the 
Paris' 
edge.
The three evenings are dedicated to the exploration of new sensibilities in boiling jazz scene .
Les abonnés de Couleurs Jazz connaissent déjà François Poitou ou Clément Simon à qui la rédaction a attribué des "Hits Couleurs Jazz" pour leurs plus récents albums.
Couleurs Jazz subscribers do already know François Poitou or Clément Simon to whom the magazine has awarded "Hits Couleurs Jazz" for their latest albums.
Between Robby Marshall Quartet catchy class  and Ellinoa's multi-faceted voice, let yourself be carried away by the feverish post-bop of The Fifth Wheel and Dr. Octopus' crazy copper experiments.
Then take your breath with the delicate strings of François Poitou Quintet or Clément Simon Trio's Jarrettian melodies, to better immerse yourself in Claude's incandescent saxophone.
Electric combos lovers, you will not be left out with Atrisma's  unstoppable grooves, as well as Or-Sha and his hiatus-kayotesque vibrations. And to end the festivities, the Bal Chaloupé will make you dance until the end of the night! Each of their appearances bring collective fever and manic swaying …
The concerts take place in four emblematic places in Bas-Montreuil: the unmissable O Gib, the artists' workshop Les Copeaux, the restaurant Les Pianos and finally Le Cri du Singe, the last darling of night owls in the south-east of Paris.
An exceptional course orchestrated with the help of the collectif Déluge, new spearhead of parisian-Bordeaux jazz.
Reduced rates for students, unemployed and seniors. Acces, schedule and ticketing.
…And for the pure Parisians: no excuses, it is ten minutes from Robespierre subway and Croix de Chavaux!
PS: for the stunned, do not confuse with Montreux… 😉 Montreuil Jazz Fest is Festival qui monte (3ème édition)