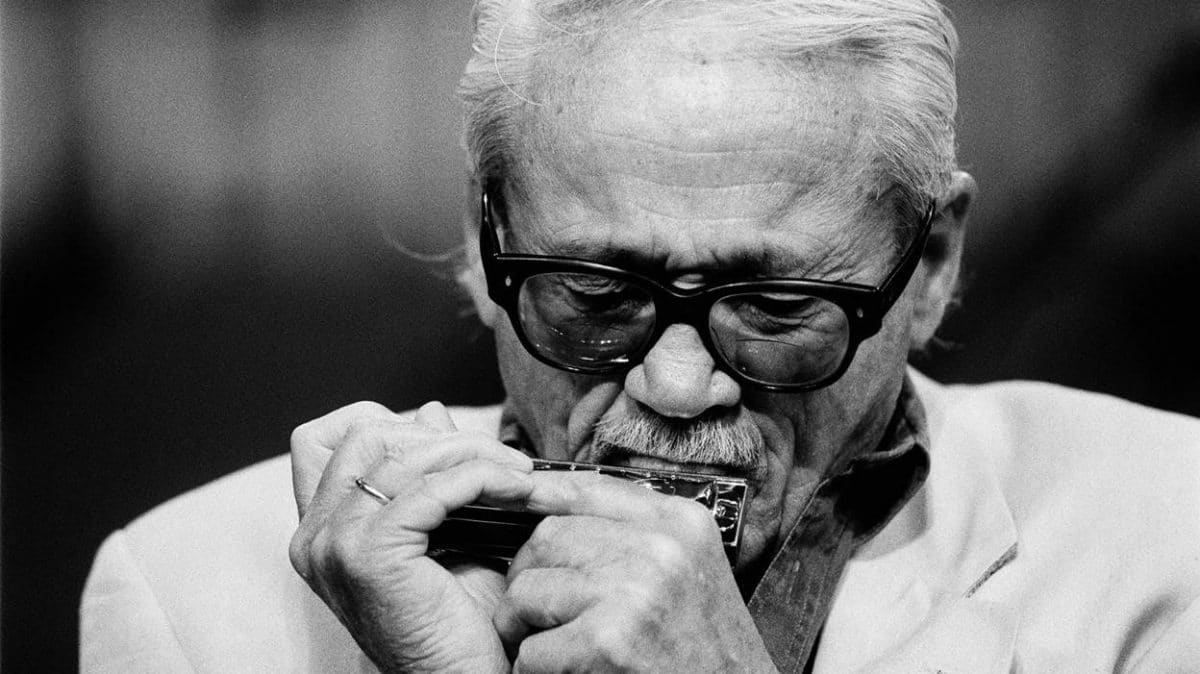 "Toots, the way you play the harmonica, they should not call it a miscellaneous instrument."
In many ways this comment from trumpeter Clifford Brown in the 1950s sums up how Toots Thielemans was able to transcend conventional labels in his music, his choice of instrument and his approach to performing. Thielemans said he always wanted to play notes somewhere between a smile and a tear. More often than not, he achieved that goal from an instrument he could keep in his breast pocket close to his heart.
Bill Evans – acoustic & electric pianos Marc Johnson – upright bass Eliot Zigmund – drums Larry Schneider – flute, tenor saxophone, soprano saxophone Toots Thielemans – harmonica  "I Do It for Your Love" (Paul Simon) – 7:16 "Sno' Peas" (Phil Markowitz) – 5:51 "This Is All I Ask" (Gordon Jenkins) – 4:14 "Days of Wine and Roses" (Henry Mancini, Johnny Mercer) – 6:40 "Jesus' Last Ballad" (Gianni Bedori) – 5:52 "Tomato Kiss" (Larry Schneider) – 5:17 "The Other Side of Midnight (Noelle's Theme)" (Michel Legrand) – 3:17 "Blue in Green" (Miles Davis, Bill Evans) – 4:09 "Body & Soul" (Edward Heyman, Robert Sour, Frank Eyton, Johnny Green) – 6:16
Jazz was his first love, and according to an interview on National Public Radio in the United States, even toward the end of his career, he would begin every morning with practice on the complex changes to John Coltrane's "Giant Steps." Harmonica player Howard Levy says Thielemans kept pushing himself to expand his musical vocabulary in an emotionally compelling way.
Thielemans was a musician's musician. A cursory look at those that he had played with reads like a who's who in jazz and popular music. Charlie Parker, Benny Goodman, Bill Evans, Dizzy Gillespie, Ella Fitzgerald, Pat Methany, George Shearing, Jaco Pastorius, Stevie Wonder, Oscar Peterson, Paul Simon, Julian Lennon, Billy Joel, and the list goes on and on. Those that worked with him shared a deep affection for him as a musician and friend. Record producer Quincy Jones was quoted as saying on Thielemans's web site: "I can say without hesitation that Toots is one of the greatest musicians of our time."
Thielemans may have became prominent the world over for his chromatic harmonica playing, but he was an accomplished guitarist and whistler as well. In 1961, he used these latter two skills in unison in his first international hit in the jazz-waltz Bluesette. It was a crossover tune that brought him acclaim and a broader audience, even if he was already well regarded by discerning musicians.
In addition to his jazz recordings he also was active in recording for films, commercials and television. Among the firms scores he recorded were the themes to "Midnight Cowboy" and "The Getaway." He whistled for an Old Spice deodorant commercial. Using the harmonica, Thielemans recorded the theme to Sesame Street, one of the most beloved children's television shows of all time. It is appropriate that almost everyone under the age of 50 has been touched by Thielemans's harmonica playing without knowing the name of the man playing the notes.
With large eyeglasses, bushy mustache and ready smile, Thielemans approached his virtuosity on the harmonica with humor. He described it to audiences as eating a broodje (Belgian for small baguette), or before he began to perform that he was going to "now play his social security number"(referring to the numbers above the blow and draw holes on a harmonica).
According to the New York Times, Jean-Baptiste Frédéric Isidore Thielemans was born on April 29, 1922, in Brussels, where his parents owned a cafe. He never lost a sense of where he came from and was well liked for his modesty and kind demeanor in his native Belgium. He was known for describing himself as a Brussels "ket," which means "street kid" in old Brussels slang, according to Wikipedia.
He offered various explanations over the years for how he came to be known as Toots, sometimes saying he chose the name himself and at others saying it was given to him; whatever the truth, the name was apparently borrowed from two American jazz musicians, Nuncio Mondello and Salvador Camarata, who both went by Toots, The New York Times said.
Musically inclined from an early age, he began playing the accordion at three and took up the harmonica in his teens. He went to university to study mathematics, but hearing Louis Armstrong changed all that and he decided to play music instead. Inspired by Django Reinhardt, a fellow Belgian, he began playing guitar, as well. By the end of World War II he had become a full-time musician, the New York Times reported.
In 1949, he shared the stage with Charlie Parker at the Paris Jazz Festival, and a year later he toured Europe as the guitarist in a sextet led by Benny Goodman, The New York Times said in its obituary. He came to Goodman's attention after Goodman heard an arrangement Thielemans did of Hoagey Carmichael's Stardust. Thielemans moved to the United States in 1951 and eventually became a citizen. From 1953 to 1959, he was a member of the British jazz pianist George Shearing's popular quintet. He mostly played guitar with Mr. Shearing, but his harmonica work was featured on at least one number at every performance, the New York Times reported.
Despite suffering a stroke when he was in his 60s, Thielemans recorded and played live consistently in the remaining decades of the 20th Century, increasing his scope and range as well as his circle of musical collaborators. He championed world music before it was a category. According to the Guardian, Thielemans frequently worked with Quincy Jones and in the 1970s issued a stream of inventively contemporary albums including the dynamic Images with the pianist Joanne Brackeen. He partnered Oscar Peterson, Dizzy Gillespie and the popular Cuban Latin-jazz saxophonist Paquito D'Rivera at the Montreux jazz festival in the 70s and early 80s, played with the pianist Bill Evans's trio on Affinity in 1979 and also made a superb bop-oriented 1980 live album with Peterson's sidemen Joe Pass and Niels-Henning Orsted Pedersen on guitar and bass. In 1992 Thielemans performed on Pat Metheny's intimate Secret Story, and on The Brasil Project with Brazilian stars including Caetano Veloso, Milton Nascimento and Gilberto Gil.
Thielemans still possessed his old wit and lyrical elegance well into the 21st century, according to The Guardian. Thielemans made a sequence of fine recordings with a group including the Dutch bassist Hein Van de Geyn and the pianist Karel Boehlee. In 2009, the US National Endowment for the Arts made him a Jazz Master. His 90th birthday guests at Lincoln Center in 2012 included Herbie Hancock and the Brazilian singer-pianist Eliane Elias, and he continued to play in public until declining health led to his retirement two years later.
Thielemans passed away on in his sleep on August 22, 2016 at the age of 94. His music and influence, however, will live on forever.
Original reporting for this story was augmented by obituaries from The Washington Post, New York Times, The Guardian, National Public Radio (NPR), Wikipedia and other sources.