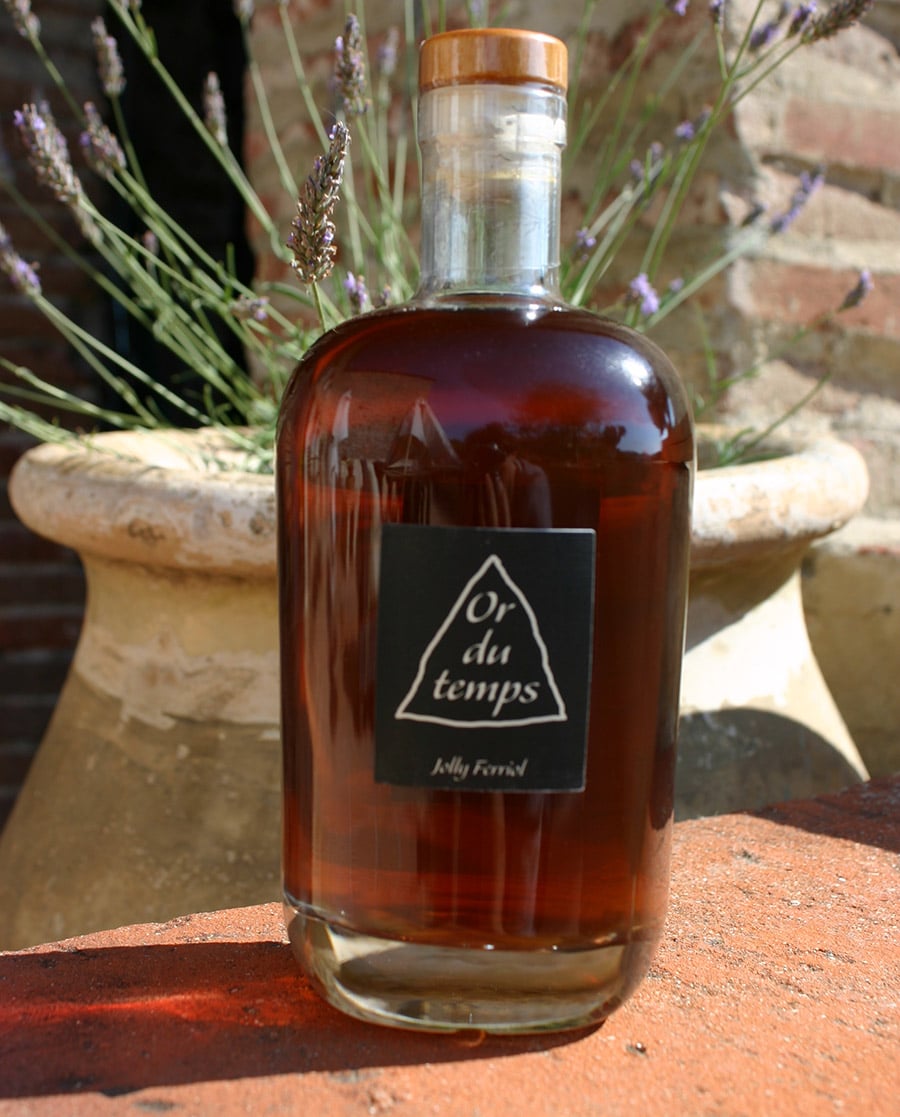 Domaine Jolly Ferriol, Espira de l'Agly, Roussillon – France
What a reception!
Isabelle welcomes you as a friend and get you to follow her world by serving you the first glass of an unusual tasting, while detailing the specificities of the vineyard turned towards organic cultivation, without adding artificial or sulfite.
Muscat of Rivesaltes 2008
50% Muscat small grain, 50% Muscat of Alexandria.
Pleasant, silky, with accents of candied fruit. It is an aperitif wine that will go very well with foie gras, Roquefort and curry dishes. The desserts will also be accompanied with this soft beverage.
After this initial introduction to the palate, I discover a very original range of "old wines", offering qualities close to Armagnac, without having the degree of alcohol (40°). They titrate between 15° and 16°.
Plunge in the flavors of these wines out of age, which are elaborated per ancestral methods by Jean-Luc.
The first two cuvée are Natural Sweet Wines, bred in permanent barrels. To enjoy the treasures discovered in the cellar, the barrels were initialized by a third of wines aged 70 years completed with the first cuvée of 2006. After seven years of patience, only 10% of the barrel is bottled, then the missing 10% need to be replaced. We still wait five years before doing the same thing. Since the level has declined, the famous "share of angels" evaporation, we can talk about "breeding in oxydative mode".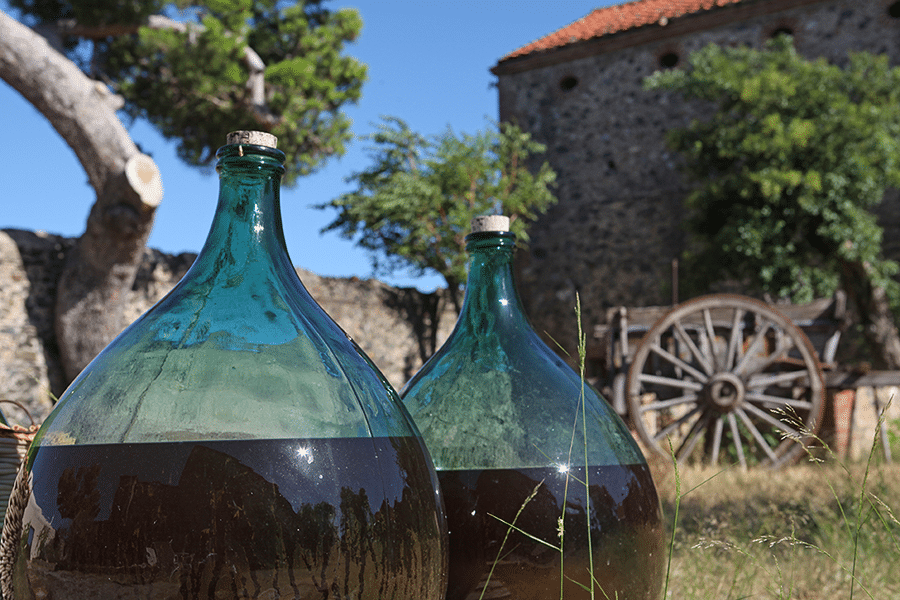 The last cuvée benefits from another exclusive method. For two years, very old wines are laid out in the sun in "Dame Jeanne" bottle. Then they are breed in Solera mode: a pyramid of barrels where the top one receives the wines from the Dame Jeanne. Each year, the barrels below are covered with 10% from the upper level … And the beverage to fill the bottle is collected at ground level to obtain a dry Rancio.
This range of exceptional wines is presented in three identical gorgeous bottles with sensual curves, mixing tradition and modernity: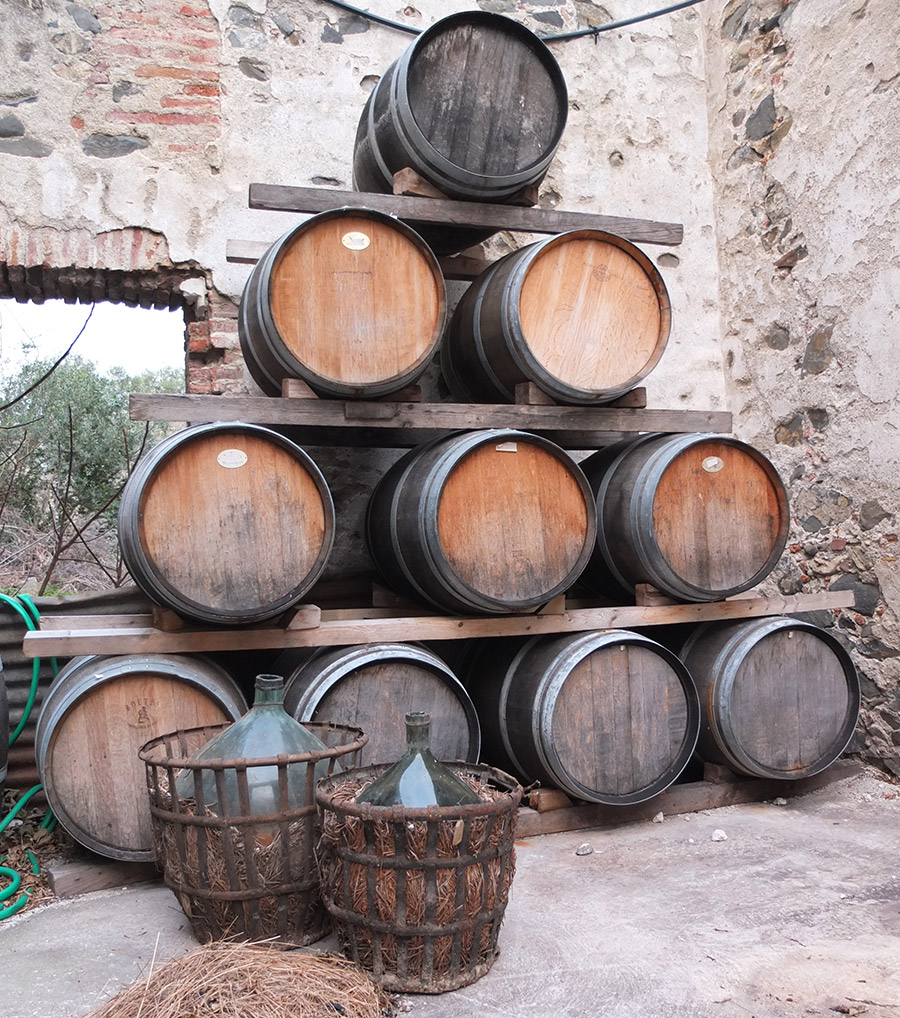 Or du Temps – natural sweet wine, 16°
Grape: 50% Muscat small grain, 50% Muscat of Alexandria.
The amber color is more intense than that of the Sauternes. The nose is tender with notes of candied orange. In the mouth, we taste fruits with honey …. The persistence is lively where the aromas of candied citrus dominate. This wine is ideally suited with blue cheeses.
Passe-Temps – natural sweet wine, 16°
Grape: 70% Maccabeu, 30% gray Grenache.
It's beautiful! Your nose hints nuts, tobacco, coffee. The silky mouth expresses caramel and banana cooked with rum. The finish is lively where the sultana and walnut dominate.
After the aperitif, it matches wonderfully with chocolate or is accompanied by a cigar. Especially, it is a soft digestive to taste in the evening around a fireplace.
Fil du Temps – Rancio sec du Roussillon
Grape: Maccabeu and Carignan.
Always a beautiful color where the intense red reflect within the amber. On the nose, we taste accent of nuts. The mouth is silky with scents of tobacco and white truffles. The persistence lasts pleasantly with nuances of bitter almonds.
To stimulate the palate, I eat a bit of refined cow's Tome coming from Larzac, and wash it down with a sip of this Rancio. The aromas of the cheese blend into the flavors of the wine, what a pleasure! This tasting pairing will be as pleasant with an old Mimolette or an old Gouda.
What a pleasant moment…
This trio offers ideal vintages to be enjoyed between friends while listening to the new album of pianist Enrico Pieranunzi in trio with André Ceccareli on drums and Diego Imbert on bass: "Ménage à Trois", for example in "Mein Lieber Shuman 2"
Domaine Jolly Ferriol – Family vineyard. Cellared & bottled by the winery. 10 hectares.
(*) : "45 seconds … It is exactly the time necessary, after having swallowed or spat, to develop fully and irreversibly, your judgment… on a wine."
"Les 100 mots du vin", Gérard Margeon, Chef sommelier of Alain Ducasse's restaurants.