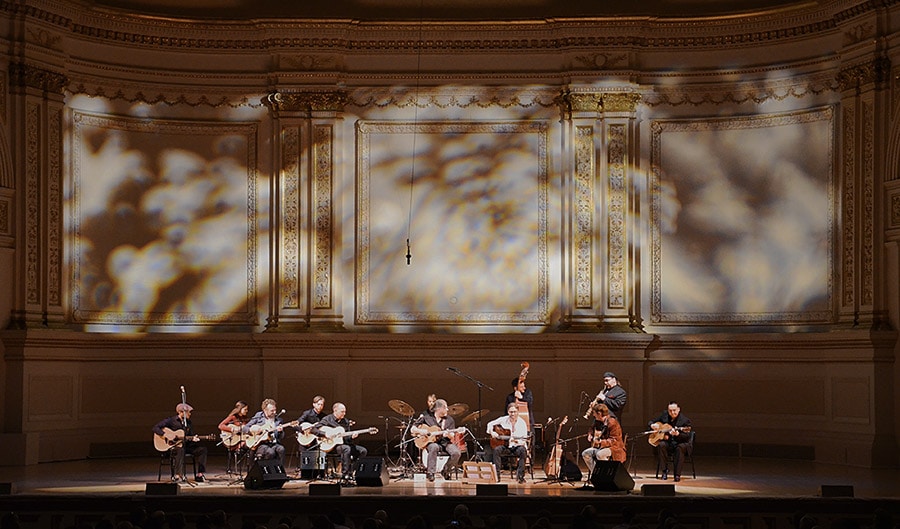 For the 10th annual Django-A-Go-Go Festival on 3 March, guitarist Stephane Wrembel knew it would be a special event.
First he had the incredible music of Django Reinhardt from which to draw upon. "No music is like Django's. It's not just his playing, but also his compositions. And no other musician has had a following like Django: Not Charlie Parker. Not Jimi Hendrix … It's incredible." Reinhardt came to prominence in the 1920s and 1930s playing a style of music called Gypsy Jazz. He is believed by many to be Europe's most important contributor to jazz in its formative decades.
Second, Wrembel had secured an incredible venue (it was the first time the festival would be held at the prestigious Carnegie Hall in New York City). Third, he assembled some of the best pickers, strummers and acoustic guitar technicians alive today: Among them Al Di Meola, Stochelo Rosenberg and Larry Keel. All he needed to complete the scene was an audience eager to share the experience and he was guaranteed that with a sold out show. 
His goal wasn't to recreate Django Reinhardt's sound or note for note performances of his compositions. Instead he aimed to extend the spirit of Django from those who are known practitioners of the Gypsy's music to those not known for playing it but who possessed characteristics of his style. The result was an evening filled with a fusion of styles, virtuosity, storytelling and humor that turned Carnegie Hall into a guitar Gypsy camp master class.
To kick off the performance, Wrembel took the stage alone and played solo on his guitar. It was an intimate moment between artist and audience that would set the set for the rest of the evening. Then he called the rest of his band, which consisted of Thor Jensen (guitar), Ari Folman-Cohen (stand up bass) and Nick Anderson (drums), to play his Reinhardt-inspired original composition "Prometheus." The smile on his face and interaction with the band was an indication that he was enjoying the moment and the anticipation of what the evening had in store.
David Gastine, vocalist and master of Gypsy rhythm guitar, joined the stage to sing a French song and then to accompany Wrembel on "Bistro Fada," which Wrembel had written for the Woody Allen movie "Midnight in Paris." The composition is a roller coaster of chords under an obstacle course of scales and runs. The cascade of notes was an expression of joy, love and inspiration from Wrembel and his band.
The first extension beyond the European folk influence of Reinhardt's music came with the introduction to the stage of bluegrass guitarist Larry Keel (www.larrykeel.com), who has been described as one of the best flat pickers performing today. He eased into his seat with a friendly "Hi y'all!" before launching into a tribute to Doc Watson that he performed solo. The rest of the band became enraptured listeners as Keel showcased his fret board and picking dexterity.
Then, as if to inject a moment of levity and the unexpected–but in keeping with its motif of honoring great folk guitarists–Wrembel announced his next song. "My friend David here said 'One day, if we ever make it to Carnegie Hall, how great would it be to play this [next] song?' Now we're here. We have to let him play it. It's not French." With the opening chords and verses, Carnegie Hall was transformed into a sing-a-long of John Denver's "Country Road." The song finished to rapturous applause, hoots and laughter.
Soprano saxophonist Nick Driscoll joined the stage next for an Indian-Gypsy fusion where solos were passed from musician to musician over a steady Far Eastern tone. Driscoll is featured on Wrembel's "Django Experiment" and on the two new CDs released that night. His sound brought the Django theme even further beyond the original traditional folk sound and into new musical territory for Reinhardt purists.
How Do You Get Back to Carnegie Hall?
Already flying at a high altitude, the group reached further heights when Stochelo Rosenberg, a legend and grandmaster in the world of Reinhardt's music, walked on stage. The Rosenberg Trio performed the soundtrack to the upcoming movie "Django," which premiered at the Berlin Film Festival at the end of last year (www.therosenbergtrio.info).
"I'm finally back at Carnegie Hall after 21 years thanks to Stephane," Rosenberg said after he settled behind his guitar.
Rosenberg performed one of his first compositions, a song written for his youngest sister. It is a Reinhardt-inspired piece called "For Sephora." The song is a rollicking, joyous current of musical ideas with a generous amount of runs that require no shortage of finger calisthenics. The band then launched into "Coquette," a song performed, not written by Reinhardt. The song again showcased the camaraderie of this assembled super group as they seamlessly traded solos among each other and reveled in each other's musical contributions.
The last guitarist to take the stage at the end of the first set was guitar hero Al Di Meola, who has mastered the electric and acoustic guitar, and is known for his virtuosity of Mediterranean and Latin styles.
"This is amazing," Di Meola said, setting one guitar down on the stage and another in his lap. "The first time I played here I was 19-years' old [and at Berklee College of Music]. I got the call from Chic [Corea] and he said we're playing Carnegie Hall in three days. He didn't even say try out for the band just come play with the band."
Soon after receiving that call, Di Meola said he was standing at the back screen door at his parent's home in New Jersey seeing the surprised expression on his mother's face as she asked him what he was doing back from school. "I'm playing Carnegie Hall," he replied. To which his father sitting in the next room shouted from behind the newspaper, "Get Outta here! You're not playing Carnegie Hall!"
"That was the last time I was here," Di Meola said, before performing a technically beautiful solo piece.
The band then closed out the first set with a musette waltz written by Reinhardt called "Indifference." The musette style is one that frames much of Reinhardt's music.
Like many guitarists of his generation, Wrembel started out on his musical journey wanting to play the music of popular rock bands of the day, such as Pink Floyd, Led Zeppelin and Genesis. However, when he first heard the music of Django Reinhardt, he heard something special and found his calling. He spent time among the Gypsies studying Reinhardt's music and became an evangelist for the music he loved.
Before the Carnegie Hall performance, Wrembel promised the evening would be special and that it was not to be missed. In the end, he and the "Band of Gypsies" he assembled, delivered so much more than that.
As it was not possible to make a video at Carnegie Hall, the one available on Youtube are not good, we propose you this performance of the Master, Stochelo in Italy
(This review is for the first of two-sets performed at Carnegie Hall on Friday 3 March 2017)
Set 1

Improvisation #1
Prometheus
Reverie 
Bistro Fada
Larry solo 
Country roads
Troublant boléro
For sephora
Coquette
Al Di Meola solo 
Indifference 

Set 2
Mediterranean Sundance 
Spain
Nuages
Georgia on my mind
It don't mean a thing
Minor swing