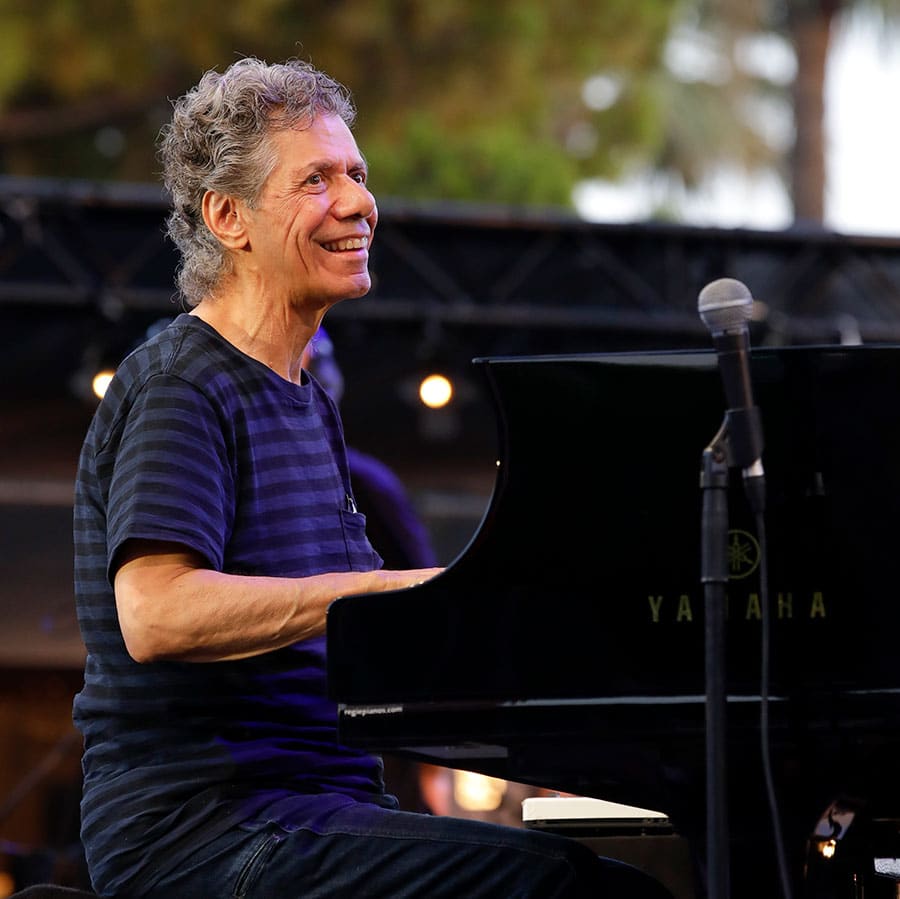 If more than 26,000 people participated in the  Jazz à Juan 58th edition (amputee of a party due to a violent storm), one of the highlights of the festival will remain the Marcus Miller's moving tribute to his father, who died a few months ago.
In perfect French, the electric bass player, with the legendary "pork pie hat" screwed on the top of his skull, was at first confided to some confidences. "My father, William H., who passed away last March at the age of 92, was a pastor in a Brooklyn church and dreamed of becoming a professional classical pianist, but this ambition was abandoned with the birth of two children. As he had to feed his family, he became a bus driver and then a subway driver in the New York City, "he confessed. While continuing to give his son Marcus the love of music – a love shared and maintained by his uncle, former Miles Davis pianist, Wynton Kelly. With first learning the clarinet and then the bass guitar. And it is precisely on the bass clarinet – accompanied only by his drummer and his keyboard player – that the immense jazzman evoked the memory of this father adulated by dedicating a title to him, "Preacher's Kid".
Subsequent moments of intense and extraordinary emotion on this theme very churchy and blusey, reinforced by the grave, dark and imposing sound of the bass clarinet. All this went so far as to fog the eyes, or even to shed a few tears on the listeners cheeks of the Gould Pine Forest who shared – with a feeling of both pain and musical pleasure – this touching paternal evocation, full of a very great humanity and kindness. Congrats and a big thank you to the artist!
The other eloquent moment to credit the excellent and exciting Marcus Miller's performance, whose repertoire was taken from his latest album, "Laid Black" (Blue Note / Universal), was the arrival on stage of the Belgian vocalist Selah Sue for three titles (and the encore). More and more "joplinian", especially in the voice tone, the singer especially delivered a long, removed, inspired, rhythmic and funky version of a standard of the song, "Que Sera Sera". "After the original version performed by Doris Day, then more soul by Sly and The Family Stone, here is the" Marcus Miller version "had fun declaring the bassist, absolutely delightful.
Other highlights:
Among other highlights of the festival that hosted (between July 12 & 22) artists as different as Carla Bruni, Melody Gardot, Norah Jones or Lenny Kravitz, was the Chick Corea concert.
He did first appeared to Antibes / Juan-les-Pins in the Miles Davis band in 1969, gave himself to the head of his magnificent, homogeneous and faithful acoustic Trio for almost thirty years – John Patitucci (bass) and Dave Weckl (drums) – has a great stroll in the standards revisited in his own way and the original compositions. With his unmistakable pianistic style, with rhythmic and melodic breaks supported by fast, sometimes punchy phrasing, the leader reinvented Duke Ellington's "In A Sentimental Mood", which became "Chick's Mood", inspired by Scarlatti to compose "Dom" and rearranged "You and the Night and the Music", composed for a Broadway musical in the 1930s. This is all the art and especially the starry way of making modern from an old and rich repertoire.
Si, dans la même soirée, la musique de David Sanborn a mis très longtemps à trouver son rythme de croisière allant d'une forme de bavardage à – enfin ! – retrouver les accents et le style propre au saxophoniste-alto, il faut saluer le concert donné par le Multiquarium Big Band d'André Charlier (batterie) et Benoît Sourisse (claviers) qui avaient invité Biréli Lagrène (basse électrique) pour un  hommage à Jaco Pastorius (en 1ère partie de Marcus Miller). Et les fantômes de ce précurseur et pionnier de la basse électrique, décédé en 1985 dans des circonstances tragiques à l'âge de 35 ans, tout comme celui de l'emblématique groupe de jazz-rock et jazz fusion Weather Report, auquel il a participé et donné tant de tubes, ont plané sur la pinède. Des compositions comme "Barbary Coast", "Continuum" ou encore "Teen Town" ont donné à Biréli Lagrène, étonnant à la basse électrique, et au puissant grand orchestre, l'occasion de rappeler l'importance et l'influence apportées par un révolutionnaire instrumental trop tôt disparu.
If, in the same evening, David Sanborn's music took a very long time to find its cruising pace from a chatter form to – finally! – find the accents and style of the alto saxophone, we must salute the concert given by the Multiquarium Big Band by André Charlier (drums) and Benoît Sourisse (keyboards) who had invited Biréli Lagrène (electric bass) for a tribute to Jaco Pastorius (in the first part of Marcus Miller). And the ghosts of this precursor and pioneer of the electric bass, who died in 1985 in tragic circumstances at the age of 35, as well as that of the iconic jazz-rock and fusion band Weather Report, in which he participated giving so many hits, hovered over the pine forest. Compositions such as "Barbary Coast", "Continuum" and "Teen Town" gave Biréli Lagrène, an amazing electric bassist, and the mighty big orchestra, the opportunity to recall the importance and influence of a revolutionary musician too early gone.
NB : The 59è edition of Jazz à Juan will be from July 12 to 21,  2019
Jammin' Juan : the jazz professional market which will take place from October 25 to 27, with Hugh Coltman as godfather.
All photos including the cover one are ©Gilles Lefrancq / OTC Antibes Juan Les Pins.