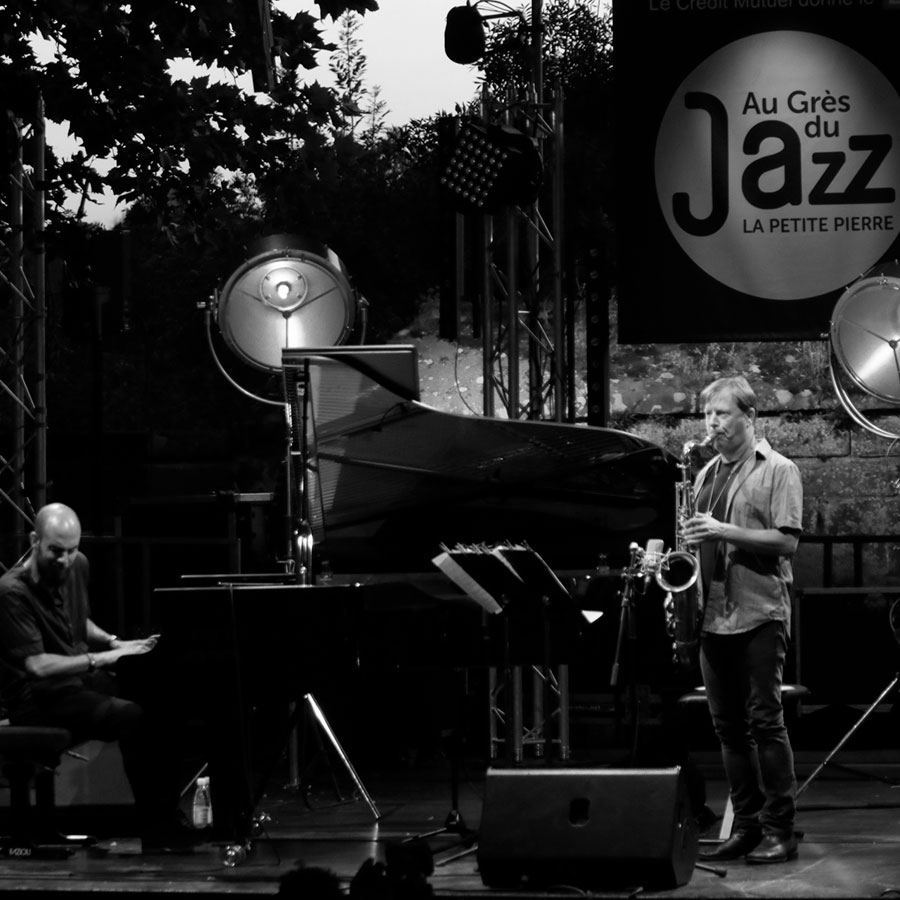 Each festival has its own specificities. For its 2018 edition, Au Grès du Jazz – which takes place in La Petite Pierre, a charming small village (just a thousand souls) typical of the Alsace northern Vosges region – gave pride of place to the duets.
Even if sometimes increased and even if headliners like Lucky Peterson, Abdullah Ibrahim, Melanie de Biaso, Laurent de Wilde and Fred Hersch ensured the reputation of the event in the abundance of the summer festivals.
After an unusual meeting in 2017 between two giants of free jazz, the "nouvelle chose" (New Thing) and the freely improvised European music that are Archie Shepp (saxophone-tenor) and Joachim Kühn (piano), Au Grès du Jazz wanted to reoffend. And one of the highlights of these "dualities" was undoubtedly the meeting between Shay Maestro and Chris Potter.
(see the cover photo)
The two jazzmen gave for this event 16th edition their first and only concert this summer in France, and the second of their young common career. In fact, the Israeli pianist and the American tenor saxophonist met for the first time last January at the Mezzrow, a jazz club in Greenwich Village, New York City. Shai Maestro (who will meet the acoustic trio of bassist Avishai Cohen on August 31 at Jazz à la Villette in Paris) and Chris Potter (often heard alongside Herbie Hancock and the Mingus Big Band) are primarily two magicians .
On stage for nearly two hours, they first showed – through original and personal compositions and a single standard, "All The Things You Are" by Jerome Kern and Oscar Hammerstein – that the art of dialogue was also the one sharing, complementarity, exchange, complicity and listening to others. Remarkable soloists, they never sought to compete with each other, preferring emulation and stimulation. To practice a jazz, always improvised, lyrical and brilliant, inspired, a sometimes classical approach, but romantic. From an exercise that could be announced daring or difficult (and why not boring!), The two players have foiled all traps with brilliance and sensitivity. Great art!
Other meetings.
It is a cliché to say that jazz (thus improvised music) and classical music operate in two parallel worlds and that successful encounters are extremely rare.
That of the Quatuor Voce – Sarah Dayan, Cécile Roubin (violin), Guillaume Becker (viola), Lydia Shelley (cello) – and two improvisers – Vincent Segal (cello) and Kevin Seddiki (guitar, zarb) – unfortunately did not not escaped the rule. Even though one and the other have tried to break the barriers to meet completely written music and some freed of some shackles, the chemistry has not taken full. Even if the repertoire was a contemporary trip between Bartok and world music.
To the question: is there an "Alsatian jazz school"? The answer is yes ! Until now, his most famous representative was the guitarist (and bassist) Biréli Lagrène.
Saxophonist Franck Wolf and singer/violonist/guitarist Matskat (his real name is Mathias Hecklen-Obermesser, who made himself known by reinterpreting "Do not Worry, Be Happy", Bobby McFerrin's hit on the set of "The Voice" TV show) brought the proof of the vivacity of this movement.
Although it was not until the arrival of the first guests at this evening, played sold out for regional stage. First the guitarist Railo Helmstetter, for a very moving cover of "Envie de toi" by Henri Salvador, then powerful trumpet player Christian Altehülshorst, organist Jean-Yves Jung, then accordion virtuoso Marc Berthoumieux. Once this little world gathered on stage the music became – finally! – festive, funky, groovy and completely furious. Mainly in the end! Like what, the "Alsatian Jazz" of some quietude (or shyness) can quickly turn into a musical hurricane. Hopla!
©Cover Photo: Shai Maestro & Chris Potter, by Marie-Colette Becker