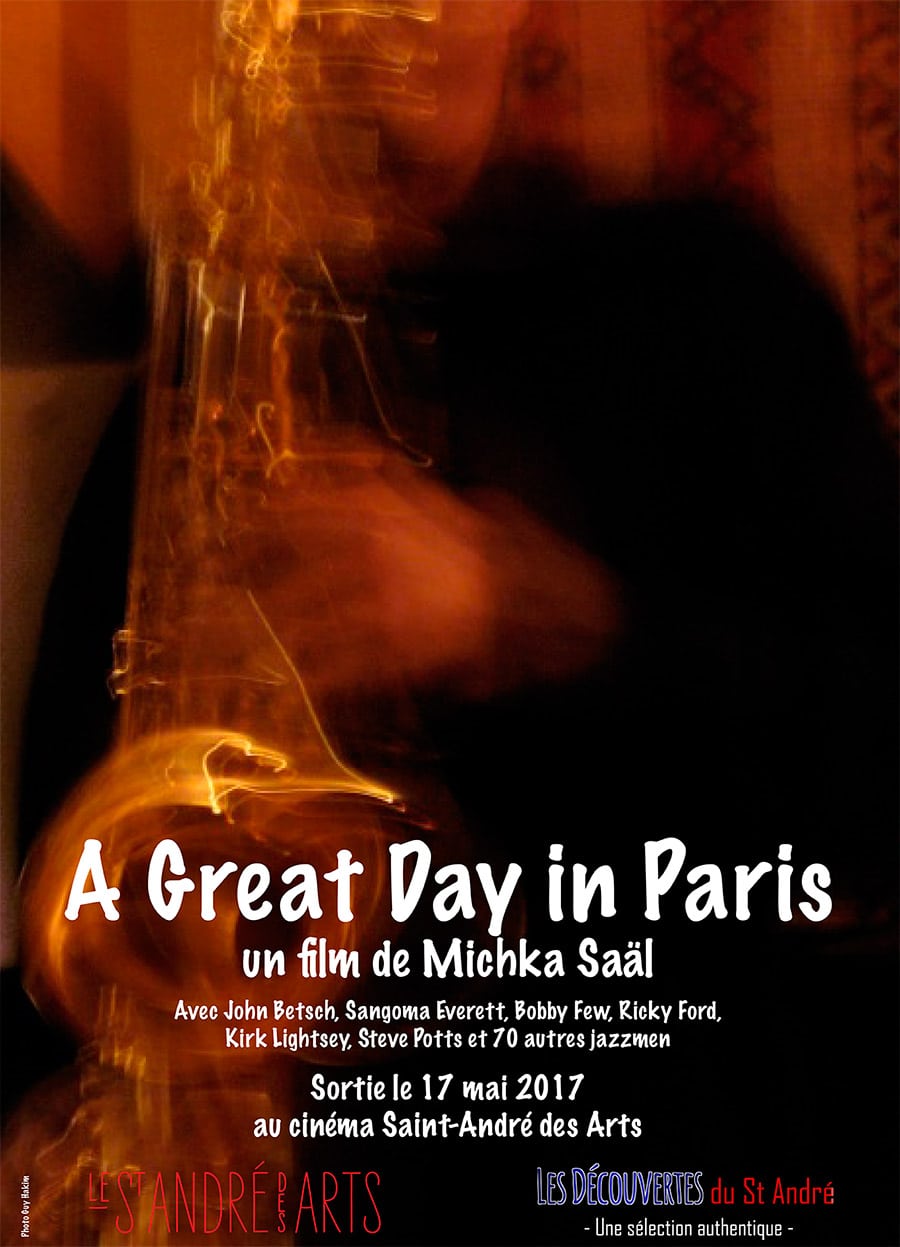 When Ricky Ford surprised me with this accomplishment, upon my immediate review I concluded this "Great Day In Paris" is an important milestone to be added to the pantheon of Jazz history.
The thought, on Ricky Ford's part, was to honor the African-American musicians who chose to live abroad, overseas.. The story's historical format is a dedication to  Art Kane's Harlem 1958 historical photo and focuses on some of these expatriate musicians in a contemporary setting are seen as an essential element to add, as said, to the Jazz historical continuum. Clearly, the combined creative transformative process and energy of Ricky Ford and Director, Michka Saäl shines brightly on the aspects and experiences of the six featured musicians, John Betsch, Sangoma Everett, Bobby Few, Kirk Lightsey, Steve Potts and Ricky Ford, playing their part as musical spokespersons. Their artistry is universal and quite magical in application and most apparent when seen on the expressions of those when they play. And that goes for Ricky too.
The film is bilingual and that's good because, it makes the viewer feel like they are right there harmonizing in the spirit of the love and solidarity they feel in their hearts along with those six musicians and 70 other Women of Jazz and Jazzmen as they get together on that ……"Great Day in Paris."
—-===—
A story of friendship and music which raises the question of artistic exile.
All started by a mythical image and a friendship of thirty years between the saxophonist Ricky Ford
and the Director, Michka Saäl
Initially, one of the most famous pictures in the history of the jazz that, fifty years later, Ricky Ford
dream to reproduce with American jazz men to Paris for a historical photo.  Michka Saäl then decides to make a film.
Seventy-five musicians will answer the call and end up on the steps of Montmartre.
Through testimonials and live concerts, six of them draw a more near portrait of this community.
They evoke artistic exile, the fusion of genres, freedom as absolute condition of any artistic research…
And if the music was the real place of their identity?
With John Betsch, Sangoma Everett, Bobby Few, Ricky Ford, Kirk Lightsey, Steve Potts and 70 other jazz musicians.
—-===—
Coming @ Saint-André des Arts, Paris – 2017 May 17
by Alfie Wade, Jr. Int. Advisory Advocate decfa.org/