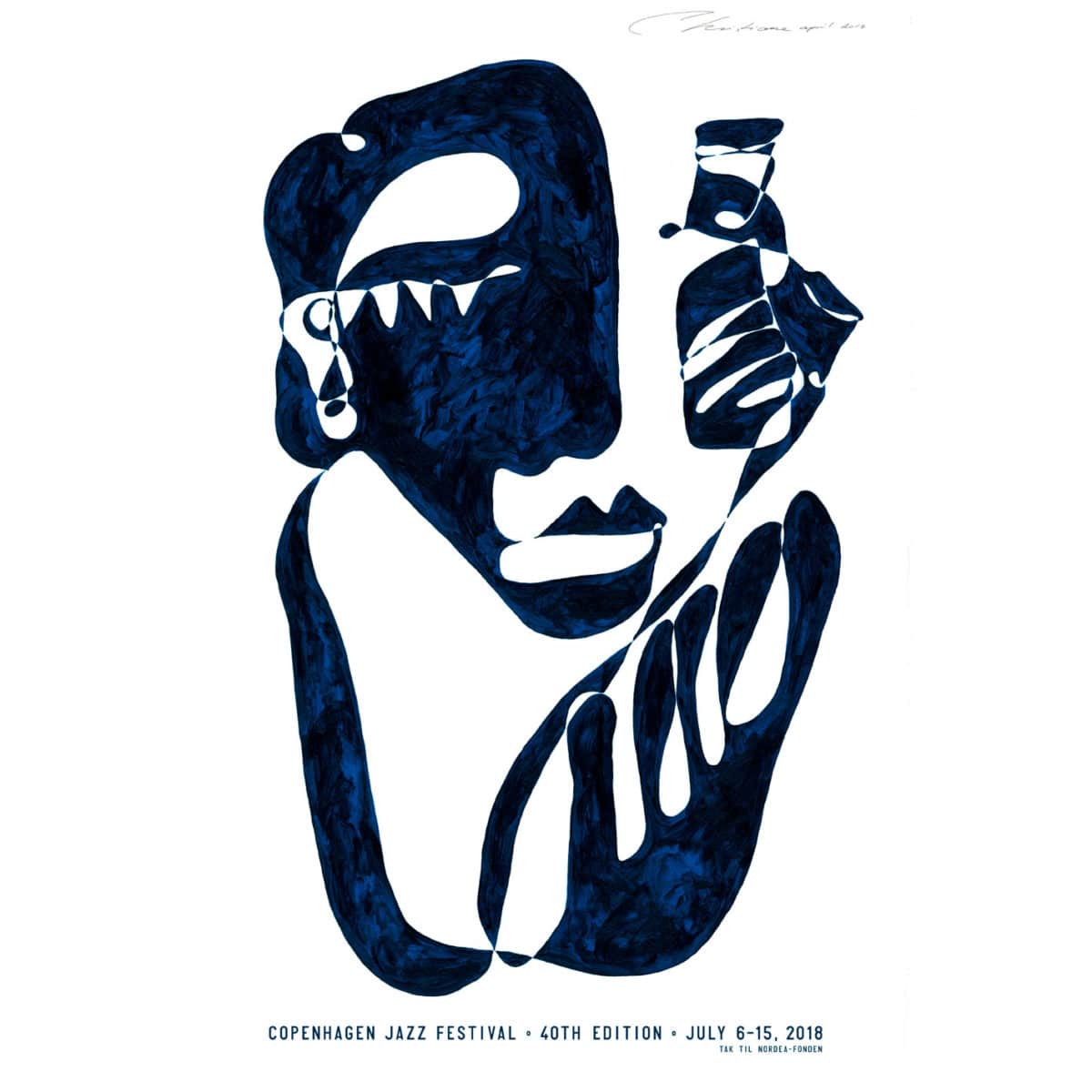 2018 marks Copenhagen Jazz Festival's 40th edition – a citywide celebration with international headliners, strong artistic curation, a wide selection of free concerts throughout Copenhagen and more than 1200 concerts and events in total.
Every single summer since 1979 Copenhagen Jazz Festival has swept across Copenhagen as one of Europe's most important international music events based on eminent artistic quality and a sharp focus on new acts in both Danish and international jazz.
This year, visitors are invited to a grand celebration of the festivals first 40 editions as Copenhagen Jazz Festival envelops the Danish capital, offering a sumptuous musical feast to the 250,000 attendants who attend year after year. There, you can enjoy live jazz on the city's streets, in its clubs, cafés and concert halls, and at open-air night venues – all in the very heart of historical Copenhagen.
This music is so linked to the city's culture, that nobody is surprised to find so many venues hosting all the various events. To dive into jazz is natural for Copenhageners. No need to invite pop, or rock stars. Copenhagen is Jazz for 15 days, as it is all the year long.
As our colleague Laurence Donohue-Greene said : « Copenhagen Jazz Festival is a true treat to attend and absorb as much as you can, from the early afternoon (if not earlier) into the wee hours of the following day every day for almost two weeks straight. Sleep is definitely secondary."
 The art poster for Copenhagen Jazz Festival 2018 is created by Christiane Spangsberg (See our cover image)
Christiane Spangsberg (b. 1989) grew up in Vejle, but is currently living in Copenhagen. She is a young visual artist, enjoying widespread interest in her art despite having no formal artistic education or gallery, with solo exhibitions in Sydney, London and New York. Spangsberg's line drawings and characteristic use of the colour blue, often with a clear nod to artists such as Picasso, Matisse and Derain, underline her artistic values – immediacy, improvisation and intuition.
This year's art poster frames the grand celebration of the 40th edition of Copenhagen Jazz Festival, which has come a long way from its humble beginnings in 1979 to being one of the world's largest of its kind in 2018.
Every year since 1979, Copenhagen Jazz Festival has selected a Danish visual artist to create the official festival poster. These posters, created with a wide selection of artistic media – from paintings to collage, photos and graphic design – are not just a visual identity and an advertisement of the festival's activities, but also art pieces in their own right, leading them to become sought after collector's items. The book "Fyrre kunstplakater – én jazzfestival" (translation: "Forty art posters – one jazz festival") collects these posters from 1979 to 2018.
Try to win 5 Art Posters by Christiane Spangsberg : send your request to  : Couleurs Jazz Digital Magazine: contact@couleurs jazz.fr. with you name, email and post address. Good luck!
Here is a small part of the headliners for Copenhagen Jazz Festival 2018: Snorre Kirk, (DK)  Rokia Traoré (ML), Seu Jorge (BRA), Carla Bley Trio (US), Tim Berne (US), Hailu Mergia (ET), Brad Mehldau Trio (US), Mulatu Astatke (ET), Jeff Beck (UK), Charles Lloyd & Bill Frisell (US), Tomatito & Michel Camilo (ES/DO), Melody Gardot (US), Pharoah Sanders (US – SOLD OUT) and The Roots (US).
Rokia Traore is one of the most inventive female singer/songwriters in Africa today, she is remarkable not just for the range of her powerful and emotional voice but also for the sheer variety of her work.
In celebration of David Bowie's legacy, Seu Jorge, cult star of the Wes Anderson film The Life Aquatic with Steve Zissou, performs a special tribute to the late genius.
Hermeto Pascoal. A true maestro and a cultural icon, he represents the highest level of musical evolution; as a multi-instrumentalist, as a composer, and as an arranger. Once described by Miles Davis as "the most impressive musician in the world"
London reed player Shabaka Hutchings is a relentlessly inventive and tireless musician. In no less than three groups (Sons of Kemet, The Comet Is Coming and Shabaka & the Ancestors) as well as guesting on albums by Yussef Kamaal, The Heliocentrics and more, Hutchings has firmly positioned himself as one of the most sought after and progressive players on the contemporary jazz scene.
One of the most lyrical and intimate voices of contemporary jazz piano. Brad Mehldau continues to garner numerous awards and admiration from both jazz purists and music enthusiasts alike. He will be with one of two of his favorites musicians in trio : Larry Grenadier (bas) & Jeff Ballard (drums)
You won't find another group that straddles the line between rap and jazz as effortlessly as The Roots. Led by founding members Questlove and Black Thought and for the first time in the 40 year history of Copenhagen Jazz Festival, The Roots are taking the festival stage in the DR Concert Hall on July 10th, 2018