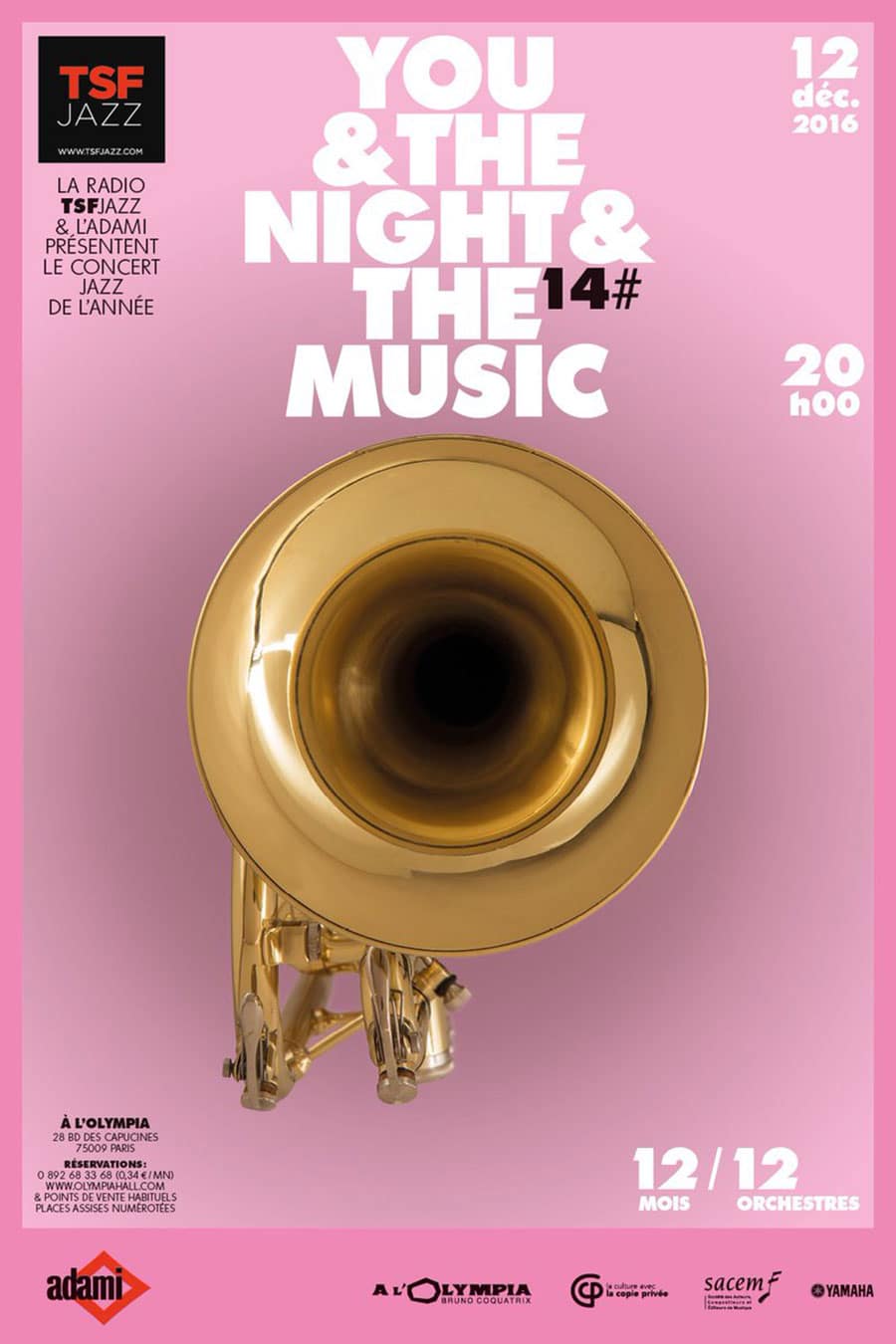 Si il n'y a qu'un seul concert à ne pas manquer… (comme chaque année) !
La radio TSFJAZZ organise le 12 décembre prochain sa 14ème édition de "You & The Night & The Music"
Comme chaque année, une sélection du Best of du Jazz 2016.
Une vidéo de 2011, pour goûter l'ambiance…
Le 12/12, 12 orchestres se succèderont sur la scène mythique de l'Olympia !
3 heures de musique live avec des enchainements de plateaux qui à eux seuls sont autant de prouesses techniques.
Gageons que Sébastien Vidal, l'homme orchestre, l'animateur de cette soirée sans équivalent sera une nouvelle fois sur scène pour nous présenter ces musiciens qui font le Jazz d'aujourd'hui.
Au programme :
Invité d'honneur : Johnny O'Neal
The Red Star Orchestra sous la direction de Johane Myran,avec Thomas de Pourquery
The Amazing Keystone Big Band
Trio Corrente
Big Yuki
Samy Thiebault Quintet
Macha Garibian
Awake
Florin Niculescu
Lou Tavano
Marquis Hill Blaktet
Laurent De Wilde & Ray Lema
Guillaume Perret
Laurent Courthaliac Octet
Mathew Halsall & the Gondwana Orchestra
Fred Nardin – Jon Boutelier Quartet
Lucy Dixon
Jacky Terrasson & Stéphane Belmondo
Yom
Invités Bonus : Mark Turner Quartet feat. Avishai Cohen et Bireli Lagrène